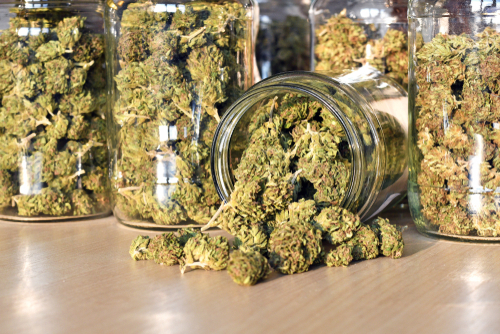 6 Simple Digital Marketing Strategies to Jumpstart Your Marijuana Business
If you've entered the marijuana arena in recent years, you understand how much of a priority digital marketing needs to be in your growth strategy. Whether you choose to pay for exposure through advertising or organically grow your social channels, here are some tips to get you on the right track.
1. Connect with influencers 
If you don't already have a large following online, you can effectively leverage other influencers to promote your message. Influencers can be a great source of traffic that you can convert into sales.
Instagram is a good place to start looking for influencers. Use the google search operator: site:instagram.com "k followers" cannabis.
Twitter is also a great resource. Start by finding reputable authors featured in industry-specific digital magazines, like High Times or Green Entrepreneur. Many journalists have active Twitter accounts that command a lot of attention.
When searching on Facebook for influencers, look for popular hashtags that can lead you to some of the more popular pages. You can target all of the most popular Facebook pages this way. Take a look at this example for the hashtag #cannabiscultureusing this
Another great resource is the second largest search engine, YouTube. You can easily search topics related to the cannabis industry and find relevant YouTubers you can connect with. Check out weedtubers for an aggregated list.
The company Milk Makeup has done an excellent job of using Instagram and YouTube influencers. Check out this YouTube post with influencer Jeffree Star. It's gotten almost 2 million views since it went up and the video has a very positive portrayal of Milk Makeup's new Kush Mascara.
2. Follow popular hashtags on Instagram and add value
This one is simple. Follow some of the best hashtags in the marijuana space and interact with those posts adding some value in the form of insight.
Take a look at the following hashtags as a starting point:
Pay close attention to the top 9 posts. These are usually the accounts that have the most engagement, and also where you can have meaningful conversations.
The key here is to actually be social. If you see something of interest that you like, let them know! Then share some of the content you have posted with the account you are engaging. For this to work, you have to stay consistent and do it every single day.
3. Take advantage of Facebook Groups
Facebook groups have proven to be a highly effective way to build an audience that constantly gives back. You are essentially making a forum without requiring a developer's help, and you can also tap into the largest social network to help with attracting users.
One successful method for building your facebook group is to reach out to people in your industry on Linkedin and invite them to connect. Once you have connected with them, you can invite them to the facebook group that you have created.
Commit to posting new content that promotes engaging discussions to keep the group involved and interacting with one another. You will have standouts in the group, so make them moderators. By involving the most influential people in the group as a moderator, it will give another voice in the group who will be involved in developing threads.
4. Localize Your SEO Strategy
Every now and then you will read an article claiming that SEO is dead. Don't believe it–SEO is more alive than it's ever been, and for companies who are willing to put in the work, it can be one of their best investments.
If your marijuana business has a physical location, you can really take advantage of local SEO. Local SEO strategies remain the same for marijuana businesses, except you will want to ensure you are also in the marijuana-specific local business directoriessuch as Weedmaps and Leafly.
Adding your business to local directories helps Google know that you are a viable business in a certain area. You will want to ensure that the information you enter is consistent and accurate across each directory. A service like Yext can help you do that.
5. Dive Into Content Marketing
Producing quality content that can get you traffic continues to be an amazing source of new customers. In the cannabis industry, new topics are emerging every day. Try to stay ahead of trending terms and be one of the first to publish content on new topics.
Google is valuing creative and fresh content more and more, and creating interesting topics covered by credible resources is a good way to get ahead.
For as good as you are at creating new and engaging content, you have to be even better at the distribution of that content. Be sure to have a strategy for content distribution. When you are just starting out, no matter how good your content is, no one is going to see it unless you spread the word.
You can help distribute your content by doing manual personalized outreach and asking for media mentions, sharing your content with top social influencers, or you can hire a PR firm to manage these efforts.
Finding topics to cover is not always apparent. Take a look into some of the things your competitors are doing and see if you can find any insights there. There are also some amazing SEO tools, such as Ahrefs or SEMRush, that can help you find which keywords might actually generate traffic and the level of competition.
6. Investigate Affiliate Sales
If you have a product that you are selling, one of the best ways to drive more sales is to let someone else help you. An affiliate program may be a cost-effective solution.
Say your company has just made a new and innovative marijuana grinder. If you google "best marijuana grinder" there are a number of sites that rank for this term. If you have an affiliate program set up, you can ask them to consider your product and share some of the revenue with those publishers when sales are made.
If you are looking to start an affiliate program for your brand I highly recommend using Impact or Commission Junction. Impact has seen some tremendous growth recently and more brands seem to be choosing them. CJ (Commission Junction) has been around for some time and has always been a reliable software solution for affiliate sales. Using this tactic will help you get more online traffic, without any upfront cost.
The next few years will be an exciting time for business owners in the marijuana industry. Capitalizing on digital marketing can set new businesses apart from the rest.
Comments
comments