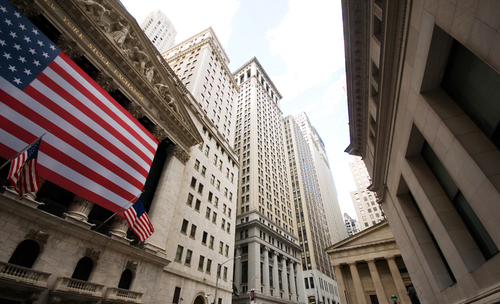 US bank gains help lift share markets
Three of the biggest US banks reported strong profits on Friday, helping to lift US share markets after several days of steep declines.
The Dow Jones Industrial Average and S&P 500 closed up more than 1%, while the Nasdaq leapt nearly 2.3%.
The increases followed a rise on global markets.
The gains at JP Morgan Chase, Citigroup and Wells Fargo came despite concerns about rising interest rates and trade tariffs.
Higher rates can help banks, as borrowing costs for customers rise. But they also pose risks if lending slows.
The three big banks that reported on Friday – JP Morgan Chase, Citigroup and Wells Fargo – suffered falls in new home loans, as did regional bank PNC Financial Services Group.
But Marianne Lake, chief financial officer at JP Morgan, said the rising rates had not troubled the bank, noting strong lending growth overall.
"The level of rates isn't surprisingly high, so from our vantage point we're not seeing anything… that would suggest this is problematic," she told financial analysts.
JP Morgan Chase boss, Jamie Dimon, said issues such as Brexit, trade tensions and shifting monetary policy posed risks.
But economic data, especially in the US, has remained healthy, he added.
"So far, we still have a strong economy in spite of these increasing overseas geopolitical issues bursting all over the place," he said on a conference call after the earnings release.
Result details
The banks are some of the first companies to provide updates to investors as the earnings season gets under way.
Overall, JP Morgan quarterly profit increased 24% year-on-year to $8.38bn, with especially strong performance in its retail banking unit.
Revenues were up 5% to $27.8bn.
At Wells Fargo, quarterly profits were $6bn, rising by about 32% as the bank took steps to cut costs.
The bank – which has been under orders restricting its growth due to a series of earlier scandals – reported revenue of almost $22bn, unchanged from the same period in 2017.
At Citigroup, profits in the period were $4.6bn, up 12% from the third quarter in 2017.
The firm's revenues held steady at $18.4bn. The lack of growth, the bank said, was due to earlier sales of some business units.
JP Morgan shares rose in morning trade, though they subsequently drifted lower to close down 1%.
Wells Fargo shares rose 1.3%, while Citigroup ended up more than 2%.
Comments
comments