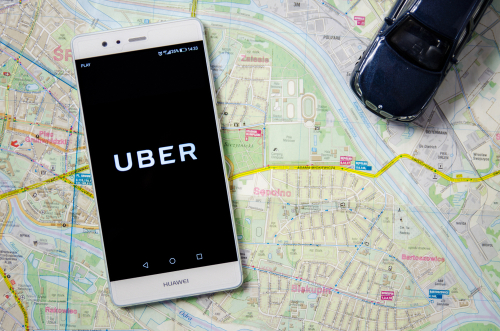 Uber's Massive Data Play
Its vision to become 'Amazon for transportation' sounds a lot like establishing a monopoly
After replacing Travis Kalanick in August 2017, Uber CEO Dara Khosrowshahi is shifting the company's focus. Though the company has always sought to become a world-class transportation platform, it has recently begun to describe itself as "Amazon for transportation" — an ambition which indicates the company is making a monopolistic data play.
Amazon has always been an inspiration for Uber's leadership, but the form of that inspiration has shifted over the course of the company's growth. Kalanick wanted to emulate Amazon's strategy of pursuing market share and growth at the expense of profits — or, more accurately, with massive losses before using scale to reduce the marginal cost of expansion to turn a profit. Unfortunately for Kalanick, that strategy didn't translate to Uber's ride-hailing business.
Scale economies work for companies like Google, Facebook, and Amazon because the digital nature of their operations allows growth at little marginal cost in many aspects of their businesses. This is why many of these digital companies have so few employees compared to traditional auto companies. However, as transportation expert Hubert Horan explained: "Drivers, vehicles and fuel account for 85% of urban car service costs," making scale economies very difficult for Uber's ride-hailing service to achieve even as it outsources the ownership and maintenance of vehicles to its drivers.
Uber's leadership is inspired by Amazon's platform and the power and dominance that has come with it.
Uber's margin improvements have typically come from cutting driver pay, not scale economies, and Kalanick's plan to reach profitability relied on further reducing the share of revenue going to drivers. In the last few years that Kalanick served as CEO, the company became focused not just on developing autonomous vehicles, but on winning the self-driving race. We now know that autonomous vehicles will not be able to replace drivers nearly to the degree Kalanick had hoped, nor on the accelerated timeline he was relying on. This necessitates a new plan for the company's future.
We don't know whether Kalanick was in the process of formulating a new strategy, but over the past few months Khosrowshahi's vision has become increasingly clear. He wants to make Uber into the "Amazon for transportation." This time, instead of taking the wrong lessons from Amazon on scale economies, Uber's leadership is inspired by Amazon's platform and the power and dominance that has come with it.
From Ride-Hailing to Transportation Platform
Though Uber's ride-hailing service has always been the center of its business, Khosrowshahi's plan shifts the focus to its app — or, rather, its platform. He's no longer just talking about the ride-hailing business, but about existing food delivery and freight services along with it, new scooters and bike offerings from Lime, car rentals from Getaround, public transit ticketing through Masabi, and the prospect of flying cars. Basically, the more services available, the more people the platform can serve.
Uber's approach to autonomous vehicles has also shifted. Rather than trying to win the race to develop self-driving tech, Khosrowshahi has said his ultimate goal is to have "access" to the technology. He opened the door for Google's Waymo and GM's Cruise to offer their autonomous vehicle services on Uber's platform, and Ford AV CEO Sherif Marakby recently told the Vergecast that they'd be open to offering their autonomous service on the platform as well.
Khosrowshahi predicts the traditional ride-hailing service to be only 50 percent of its future business, as scooters and bikes cannibalize the short trips currently made in vehicles. It's hard to imagine Kalanick making a similar statement, but that doesn't mean Khosrowshahi's ultimate goal is any less inspired by monopolistic ideals.
Uber Wants to Control Urban Transportation Data
Uber is a private company with plans to go public in 2019. It has yet to turn a profit. Khosrowshahi has encouraged investors to commit for the long haul, as his plans to diversifying the company's transportation options will not deliver short-term profits. At the same time, his value proposition to investors has changed: Now, they have access to Amazon-like power exerted on urban transportation networks.
In his book on these new digital monopolies, Platform Capitalism, Nick Srnicek identifies the importance of network effects in increasing a platform's value. For platforms, data is raw material that can "be extracted, refined, and used in a variety of ways. The more data one has, the more uses one can make of them."
Uber will not only use data on its own services, but data from every third-party service offered through its platform.
Uber already has a large, global user base (and dataset). The expansion of transportation options on its platform — both its own and those of other companies — adds value for existing users while attracting new ones interested in getting around by anything other than a car. New modes of transport and a growing user base will produce more data, showing the company where more people are going and how additional transport modes are used. Uber will not only use data on its own services, but data from every third-party service offered through its platform. All of this data feeds a flywheel that will improve Uber's service exponentially over time.
In a recent interview with TechCrunch, Khosrowshahi was asked why he was allowing other services onto Uber's platform. He likened it to Amazon offering branded products while letting other businesses sell their products through the Amazon marketplace. He left out how Amazon uses its sales data to see which third-party products are selling well and make cheaper versions of its own, undercutting the original product and leaving its seller with no means of challenging Amazon. Will Uber eventually do the same to Lime's scooters or Getaround's car rentals? It's not impossible to imagine.
Cities Need to Act Now
City governments around the globe have struggled to effectively regulate ride-hailing apps, but there's been some recent progress. In August, New York City passed new regulations limiting the number of ride-hailing vehicles, at least for a 12-month period as it further studies the issue. It will also ensure that drivers are paid the minimum wage of $15 per hour with a bit extra to cover vehicle costs.
Another regulatory bright spot: bikes and scooters. Having learned their lesson from letting ride-hailing companies evade regulation, city governments were quick to develop policies for new micromobility services. Mayors make it known that they, not tech companies, had ultimate authority over what happened on city streets.
As Uber sets out to capture a significant chunk of urban transportation data with its new Amazon-inspired platform model, city governments need to make clear that data from activities occurring on the street is not proprietary information. This data belongs to the people as represented by their government. Uber should not have a better idea of how different transportation data modes are operating than governments themselves.
Under Khosrowshahi's leadership, Uber's tone has undoubtedly changed — probably for the better. Bikes and scooters will likely capture a significant portion of the ride-hailing service's current users. However, Uber's push to become the world's dominant transportation platform is cause for concern. City officials must establish their right to transportation data. At the very least, they should build publicly owned alternatives that serve the interests of residents — not multinational companies.
Comments
comments