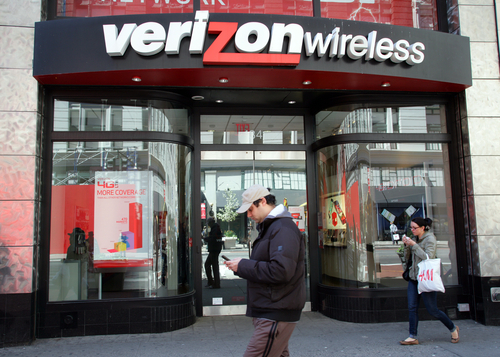 Verizon's advertising business is getting eclipsed by Amazon
Verizon's media business suffered a 6.9 percent decline in revenue to $1.8 billion in the third quarter of 2018.
Verizon's effort to create an advertising business to rival Google and Facebook is struggling to keep up with another tech giant — Amazon.
Verizon's media business, which includes The Huffington Post, TechCrunch and Yahoo Sports, suffered a 6.9 percent decline in revenue to $1.8 billion in the third quarter of 2018, the company said on Tuesday.
The decline is in stark contrast to Amazon, which has reported robust growth in its advertising business. Amazon's ad business brought in $2.2 billion in its second quarter, more than doubling the revenue it generated in the same period last year.
The decline comes in the same period that Verizon's media business, known as Oath, saw Tim Armstrong, its chief executive, leave the company. The unit under Armstrong had high hopes for becoming a serious competitor to Google and Facebook, which dominate the internet advertising business.
Oath sites collectively attracted 207.2 million unique monthly visitors in September, according to ComScore, putting the Verizon unit in fourth place behind Google, Facebook and Microsoft.
But the company has struggled to capitalize on its sizable audience. The company now says Oath's revenue is unlikely to meet its previous target of $10 billion by 2020, and it expects near-term revenue to be flat.
Verizon explained that despite positive results from its new deal to distribute NFL programming that a decline in the number of people using its search products and viewing its content on desktop computers had hurt sales.
Verizon is the biggest wireless service company in the U.S. and has been focused on getting a head start in marketing its advanced 5G service, which Verizon says provides much higher speed internet to smartphones. It has turned away from media content creation and took a $658 million charge in the second quarter after it closed its video destination, Go90.
Verizon acquired both AOL and Yahoo in part to create a rival ad sales business to Google and Facebook. The company said the integration of the two legacy ad platforms would be complete by the end of the year. Verizon also noted that acquisition and integration costs, primarily related to Oath, were $137 million in the period.
Overall, Verizon reported better-than-expected third-quarter earnings, adding 295,000 net new phone subscribers, and reporting earnings per share of $1.22 versus Wall Street forecasts of $1.19. Verizon shares rose 3.6 percent in mid-morning trading, as stock in U.S. companies traded broadly lower.
Comments
comments