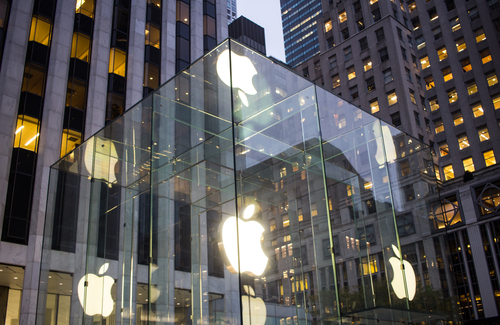 Apple shares drop after iPhone supplier Lumentum cuts forecast
Apple Inc (AAPL.O) shares fell to their lowest in more than three months on Monday as the main supplier for its Face ID technology, Lumentum Holdings Inc (LITE.O), slashed revenue and profit forecasts, citing reduced orders from a major customer.
Stoking fears among investors that demand for iPhones is waning, Lumentum said in its statement the customer was "one of our largest… for laser diodes for 3D sensing", which analysts said could only be Apple.
Shares in the iPhone maker dropped 4 percent, wiping $40 billion off its market value. Those in Lumentum, which gave its original forecast just two weeks ago, fell 27 percent, dragging down shares of other Apple suppliers.
That also followed a separate warning from another Apple supplier, screen maker Japan Display Inc (6740.T), on Monday.
"Many suppliers have lowered numbers because of their unnamed 'largest customer,' which is Apple. Apple got cautious in their guidance and it's hitting their suppliers," Elazar Capital analyst Chaim Siegel said.
JP Morgan analysts weighed in by cutting their price target for Apple by $4 to $270 pointing to poor orders for the new iPhone XR.
Lumentum now expects net revenue of $335 million to $355 million, compared with its prior range of $405 million to $430 million, and earnings per share of $1.15 to $1.34, down from $1.60 to $1.75 estimated previously.
Three analysts told Reuters that Lumentum's forecast points to a reduction of 18 million to 20 million iPhones on earlier estimates, based on the average selling price of 3D sensing parts. Apple accounted for 30 percent of the company's revenue as of June 30.
"Apple could have accumulated too much Lumentum inventory, and needs to work it off, in which case the unit shortfall is less, although it is still indicative of weak iPhone sales." D.A. Davidson analyst Mark Kelleher said.
Apple warned in its fourth quarter results that sales for the crucial holiday quarter would likely miss Wall Street expectations, blamed by Chief Executive Tim Cook on weakness in emerging markets and foreign exchange costs.
Japan's Nikkei reported earlier this month that Apple had told its smartphone assemblers Foxconn and Pegatron (4938.TW) to halt plans for additional production lines dedicated to the iPhone XR.
Japan Display Inc (6740.T) on Monday lowered its outlook for the full year, citing weaker demand from smartphone makers.
Longbow Research analysts said spot checks with Apple's Taiwanese suppliers late last week highlighted 20 percent to 30 percent iPhone order cuts related mainly to iPhone XR and XS Max, and 20 percent to 25 percent order increases for older iPhone models.
Apple started selling iPhone XS and XS Max in September and XR model last month. Lumentum's chips are not used in phones older than last year's iPhone X.
Comments
comments