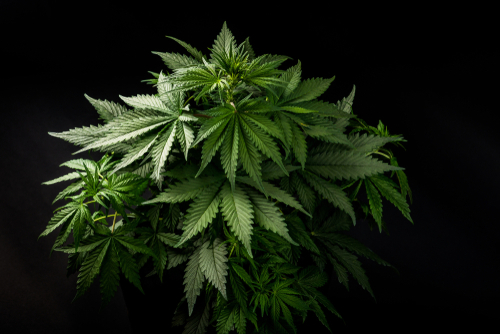 Julian Marley Thinks Cannabis Should Be Free
By Laura Desmond
In an exclusive interview, the son of reggae legend Bob Marley talks about his brand JuJu Royal, the benefits of the 'Herb,' and what his father would think about the commercilazation of marijuana.
Julian "JuJu" Marley is one of the most recognizable names in the cannabis industry. His product line, JuJu Royal, includes vape pens, prerolls, and award-winning CBD-infused olive oil. But unlike some celebrities who are in the business for the money, Marley is a true believer in the benefits of what he lovingly calls "The Herb."
Like his iconic father, Julian is also a Rastafarian, a gifted reggae musician, and he did not shoot the deputy. His new album As I Am will drop in January — it's his latest record in 10 years.
In an exclusive interview, Julian spoke with us on the phone from his home in Miami about JuJu, the cost of Herb, and why he's in the canna-business.
What do you think your father would make of the legalization and commercialization of marijuana today?
For me personally, the Herb should have always been legal. The same way I go to the store and buy some herbs like thyme or parsley. And the Herb should be free, but because of the greed of society and Babylon, you know they always wanted to make a buck off of it. That's the only thing that would be different about what he would be saying. They would want it to be legal, but now that it's legal the Herb has no seed anymore. You can't even plant in the yard anymore. Back in the day, you used to get good herb in Jamaica and plant it back in the garden.
We all wanted it to be free but because of how it is, we have to be part of it also. Since they made [cannabis] a business, we have to be a part of the business also. If it wasn't a business then we wouldn't make it a business. Rastaman has to be there also as part of the contribution.
Why did you get into the cannabis business?
JuJu is coming from me being an advocate and a love of the herb itself. Rastaman has been not just promoting, but showing the benefits of the herb. We want to be a part of this whole movement, especially in America where it's always been.
What does the Rastafari religion say about cannabis?
First of all, Rastaman is a spiritual person and we are spiritual people and obviously students of the Bible. Even in the Bible, it talks about the different herbs of the field. It says that Solomon was the wisest man on Earth, and it [weed] was found right around his tomb. Things like this show you the connection of herb and spirituality. We use herb and we make music. It's always considered something positive, not like alcohol. Like Peter Tosh sung in the song called "Legalize It" in 1976, it's good for glaucoma, it's good cancer. So the Rastaman has always known it's been good.
Alcohol makes you dizzy and drop down and herb keeps you balanced, meditated and focused.
How is JuJu Royal different than other cannabis brands?
JuJu is coming from me. It is what I represent. Juju is my nickname, so when you experience JuJu Royal you know it's coming from my point of view, which is organic, strong (and for some, it doesn't need to be so strong) and far from pesticides. It's hard to find really good growers who can promise the Herb is pure
Your brother Damian also has a cannabis company. Are you guys competitive?
We are brothers. Each of us has good people working with us. We're not competitive, we just make additions to each other's business. For example, when we make music we work from the same studio. I am there in his sessions, he's there in my sessions. But we're releasing different albums. People can say what they want to say, but we know what we're doing.
Did you ask him for advice when starting the business?
No, my business was started first. Everyone has his own connection. We meet good people in Colorado and California that come up with great ideas. Each of us has skills. We each have our own knowledge of the Herb and how to go about it in the right way.
How much of the day-to-day decision are you involved in with JuJu?
As much as I can be. Obviously, I can't do everything because music is a big focus. But, yes, I do make the decisions that mean something when it comes to the products and the things that represent JuJu. It's a partnership. We get ideas thrown at us and I ask, How is it gonna be? What are we using? And from there, they get a stamp of approval.
Why did you make the decision to create CBD-infused olive oil?
Because olive oil is something that we use in cooking daily, so why not have the benefits of all-inclusive Herb.
When somebody smokes JuJu Royal, are they smoking what you do every day?
I'm an herbivore. I smoke everything, but this is what I have to offer. At the end of the day, the bottom line is about love. The Herb is togetherness and bringing that kind of vibe, so it can't be that I only smoke one kind of thing.
Comments
comments