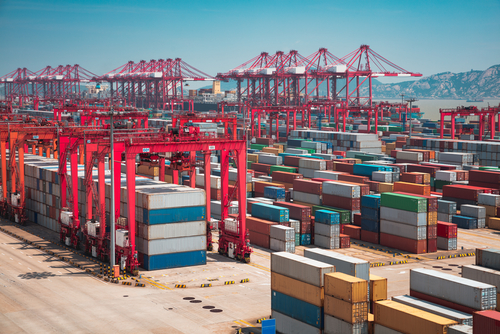 Trade War Update: China Subverts Tariffs, Trade Gap Gets Wider
Chinese exporters (and likey their American counterparts) have figured out a way for some items to skirt tariffs.
U.S. Customs and Border Protection determined last week that Chinese hardwood plywood is circumventing lumber tariffs by using Vietnam , Panjiva Research pointed out on Monday. The end-around is expected to have begun when duties were applied to certain types of lumber worldwide back in January.
Shipments from ports in Vietnam continued through July, and imports from China rose a whopping 165.4%, creating what looks like a whole new market out of nothing. The supply chain for certain types of construction wood has also shifted out of Panama and Portugal, but there is no evidence there that mainland China is the source of that wood.
Business owners who could not be quoted on the record said similar moves were being made with steel and aluminum, going from China to Vietnam.
The China-U.S. trade war started December off on a high note. Presidents Trump and Xi Jinping agreed to a 90-day cease-fire. The market rallied last Monday on the news. But the rally had no legs given the fact that Washington did not give specifics other than Chinese promises, and China's media was reluctant to say there was a 90-day truce. Investors got jittery again and Chinese equities sold off.
The Deutsche X-Trackers China A-Shares (ASHR) exchange-traded fund is down 1% on Monday. Hanoi was down 0.3%. Hang Seng was down over 1.3%.
The trade war has resulted in more than 11,000 exemption requests from American firms being filed with the U.S. Trade Representative. Data from the U.S. published at the end of the week showed that " China has had the upper hand economically in the first full month of tariffs," says Panjiva analyst Chris Rogers.
Rogers says that 612 requests have reached the final stages of approval while 1,487 have been rejected by the USTR.
The trade gap has continued to widen with China. Part of the reason is the red-hot U.S. economy and companies building inventories in order to avoid extra costs due to tariffs.
The deficit, one of Trump's rallying cries against China, was up in October by 18.1% versus a year ago. It hit $55.5 billion, its highest level in ten years. The deficit with China rose 22.3% and is now at $344.4 billion, according to recent government figures ending October.
Last year's trade gap with China was $375.5 billion, up from $346 billion in President Obama's last year, which happened to be the only year during Obama's two terms that saw the trade gap fall.
When China entered the World Trade Organization in 2001, a gift to global manufacturers looking for low-cost labor and weak regulations, China's trade gap with the U.S. was $83 billion. The following year, it rose to $103 billion. The gap has risen by an average of $20 billion a year ever since.
Chinese exporters are still selling to the United States despite higher costs, and that includes numerous American multinationals who either make their products outright in China or do final assembly in China before shipping to the U.S.
Engagement in China has had a structural effect on China. Opening up the economy has led to a Frankenstein monster-like economy that is one-part communist, one-part capitalist, with over 80% of urban employment now with small, privately owned businesses.
China is also importing more U.S. goods.
The Big Picture: More Uncertainty
The trade war is not over. The Xi-Trump "peace treaty" begins January 1 and ends around April Fool's Day (buyer beware).
Trump seems to have come to understand that raising tariffs again in April may have a negative effect on the stock market. He has touted the strong economy and a rising S&P 500 as a testament to his presidency.
China, meanwhile, will have to make more than overtures to the U.S. on mandatory tech transfers in joint venture deals and intellectual property protections.
Xi Jinping will have to open his country's market to prized sectors of the U.S. economy faster than he has been, namely finance and energy. If Goldman Sachs was allowed to open a full-service broker/dealer or asset manager in mainland China without having to partner with a government bank, we could see a white flag being prepared to get hoisted up a flagpole.
The same goes with a U.S.-China energy deal of some kind, particularly one that quells foreign policy hawks and their concerns over the South China Sea. Notice that part of the ceasefire included a verbal agreement by Xi to import more oil and gas from the U.S.
A miracle deal to drill for hydrocarbons in the South China Sea is a long shot because it can involve U.S. government bureaucracies working at cross purposes—in this case, commerce and defense/security.
Exxon lost its $720 million deal to drill for oil and gas in Russia's Kara Sea when Obama slapped sanctions on the sector in 2014.
Heading into 2019, the fundamental macro backdrop is weakening, and trade tensions are not helping matters.
Global economic growth for next year is uncertain with weakness in Germany and Japan. Monday morning's Japanese GDP data for the third quarter was revised downward to -2.5% annualized from an initial estimate of -1.2%.
For 2019, official forecasting bodies like the International Monetary Fund are likely to revise their global GDP forecasts lower.
"The downside risks from an unresolved U.S.-China trade dispute looks like spilling over into 2019, much to the detriment of world trade volumes and Asian GDP growth," says VTB Capital economist Neil MacKinnon.
The World Trade Organization recently noted that export orders are at their lowest level since 2012.
Comments
comments