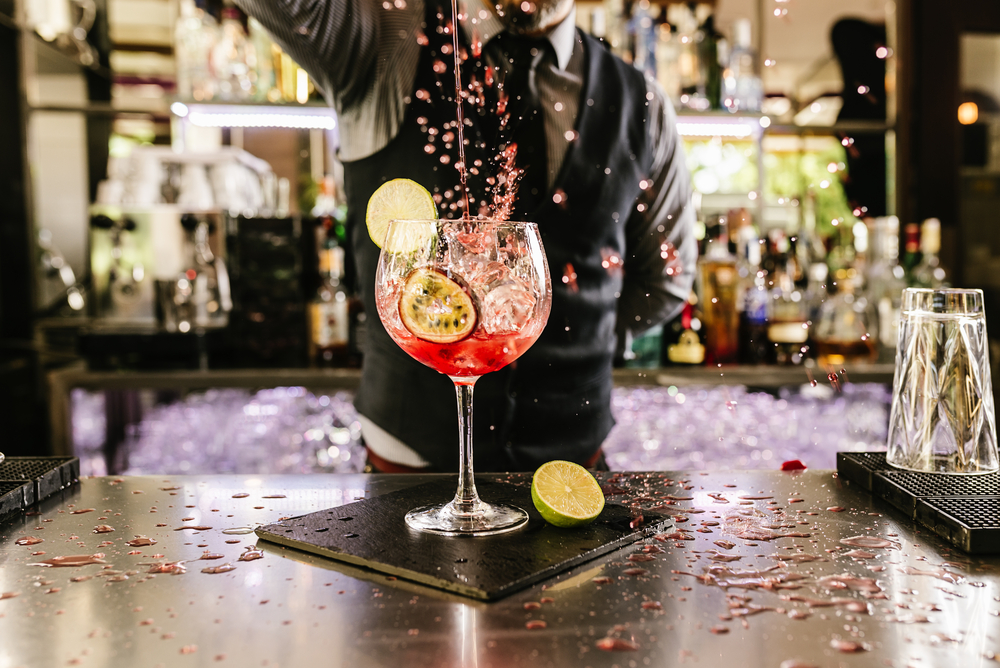 A Honolulu Bartender Wants to Save the Planet, One Cocktail at a Time
When you hear the word "sustainability," what comes to mind? Accountability to the planet, maybe. Or responsibility for a more secure future.
For Ross Lewis, bar manager and lead mixologist at Mahina & Sun's at The Surfjack Hotel & Swim Club in Honolulu, sustainability is about action. Lewis is part of a growing community of hospitality professionals determined to give bartending a green makeover.
The bar industry is notorious for its waste, ranging from extraneous garnishes and fruit scraps to paper goods. Last year, disposable plastic straws became a cause célèbre at many bars. Lewis is thinking bigger — and smaller.
"If you can do it sustainable, then you should do it sustainable," Lewis says. Day-to-day changes like "maybe switching utensils or vessels from plastic to glass, or recycling better, or using your local ingredients rather than sourcing the mass produced" can make a difference at bars and restaurants, Lewis says.
At Surfjack, Lewis works alongside acclaimed Hawaiian chef Ed Kenney's team to create cocktails with local and sustainably sourced ingredients that highlight locally grown flavors. Mahina & Sun's seasonal menus reuse produce in shrubs, dehydrated garnishes, and vegetable juices.
"A sustainable cocktail utilizes local ingredients," Lewis says, "Not just using the juice of a lime but the lime skins into some sort of cordial. Not letting anything go to waste." He also stresses the importance of organic or local spirits, recycling all products correctly, "and, if possible, compost and grow herbs at your location."
Lewis began his beverage career working as a busser at Morimoto Waikiki in 2013. He eventually moved up the ranks to lead bartender. "I was lucky to work as an understudy in the Morimoto bar program," he says.
Then, in 2016, he accepted a position as bar engineer at The Modern Honolulu's Ravish, a Mediterranean-style restaurant. He joined the team at Surfjack in 2016.
Now, in addition working as lead mixologist at Mahina & Sun's, Lewis is studying mechanical engineering at the University of Hawaii at Manoa.
"[Mechanical engineering] kind of goes hand-in-hand with bartending because they're both so detail oriented," he says. He is relentlessly curious. "I've been seeing a lot more gastronomy being used in bartending, as well as ingredients like activated charcoal or ash washing certain spirits," he says. "I'm trying to get my hands on some to see what I can come up with."
Many Hawaii residents feel especially drawn to climate-conscious efforts because of strong cultural ties to nature. When invasive species threatened the taro needed to make poi, Mike Lofaro, chef de cuisine at Grand Wailea's Humuhumunukunukuapua'a restaurant, began incorporating those pests into his menus, Jillian Dara writes in Food & Wine. Ed Kenney's Mud Hen Water, which opened in 2015, features a daily-changing Kitchen Cocktail made from repurposed kitchen leftovers.
Still, the movement Lewis is joining is hardly limited to Hawaii. Across the country and around the world, bars and restaurants are finding ways to reduce their ecological impacts.
Iain Griffiths and Kelsey Ramage, both of whom worked with Ryan Chetiyawardana's fleet of influential London bars, tackled the hospitality industry head-on with Trash Tiki. They hosted a series of pop-ups with bars around the world demonstrating ways to reuse ingredients. Los Angeles's Honeycut was so inspired by its 2017 project with Trash Tiki that it revamped its menu: Now reportedly 17 of the bar's 19 cocktails use recycled ingredients.
In 2018, the James Beard Foundation launched Waste Not, an ongoing initiative targeting professionals and home cooks with ways to reduce kitchen waste. Drinks programs at 18th Room, a bar in NYC, The Perennial restaurant in San Francisco, and Minneapolis's Martina are focused on minimizing waste.
"We only have one chance on this earth," Lewis says. "It's just about doing your part."
Comments
comments