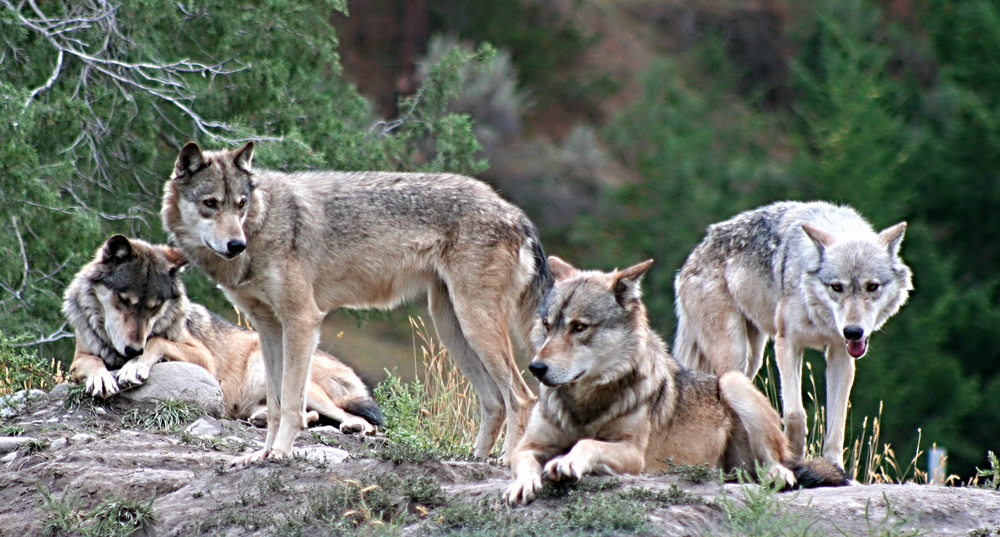 Did someone kill the Shasta Pack, California's mysterious wolf family?
Nearly four years ago in the forests of California's rugged northeast corner, two black and brown wolves had a litter of five pups in the shadow of Mount Shasta.
They became known as the Shasta Pack – the first known gray wolves to have offspring on California soil in nearly a century. The pups, shown frolicking in camera footage released by state wildlife officials, became a statewide sensation, even as local ranchers bristled at the new threat to their cattle.
Three and a half years later, the Shasta Pack has vanished from Siskiyou County. All but one of the wolves disappeared within a few weeks of a standoff between ranchers and the pack and after the wolves were spotted feeding on a calf carcass. Just one pup is known to have survived; biologists say DNA tests show it left the state.
State wildlife officials were never able to place a tracking collar on a member of the pack before they vanished. No corpses were found.
That's left a trail of questions. And wolf advocates say they are especially troubled by one of those questions in light of recent wolf news. Last month, state wildlife officers quietly opened a wolf poaching investigation following the death of an animal in neighboring Modoc County. If confirmed, it would be the first time someone killed a wolf in California since they were eradicated early last century.
Did the Shasta Pack meet the same fate?
Or did the pack merely succumb to disease or injuries that can befall wild animals? Did they break up and disperse, as wolves sometimes do, in some cases traveling hundreds of miles in search of new territories and mates?
"All those are possibilities," said Capt. Patrick Foy of the Department of Fish and Wildlife.
However, Carter Niemeyer, a biologist who spent a decade as a wolf management specialist for the federal government, is skeptical the wolves dispersed so suddenly without some form of trauma first occurring to the pack.
He said it's rare for an established family of wolves to vanish from their territory. When it does happen, it's usually because one or both of the adults suddenly died.
"When a pack just totally vaporizes, I would be suspect," he said. "Something happened."
The ongoing poaching case in Modoc County raises the specter that that "something" could have been nefarious.
'RADIO SILENCE'
On Dec. 2, Oregon wildlife biologists notified California officials that a yearling male, labeled OR-59 and wearing a GPS collar, had traveled from a pack in northeast Oregon and crossed the state line into Modoc County. Three days later, the wolf was spotted by a rancher feeding on a calf carcass, which investigators later determined may have died from pneumonia.
On Dec. 9, Oregon biologists got a "mortality signal" from its collar indicating the wolf had died, according to a report on the California wildlife agency's website.
Investigators have revealed little about the case. They haven't said where OR-59's body was found, how the wolf died or why they find its death suspicious.
Local ranchers said they're not hearing much on their end either.
"It's been absolutely radio silence on anything wolves since it was found in early December," said Ned Coe, a Modoc County supervisor and cattle rancher who works as a field representative for the state Farm Bureau.
Coe and other ranchers in California's sparsely populated northeast corner have been living an uneasy coexistence with wolves since the animals returned to the state in 2011.
In December of that year, OR-7, a 2-year-old gray male, left Oregon's Imnaha Pack and traveled hundreds of miles to California's northern border. He spent months wandering the state before returning to Oregon, finding a mate and starting his own pack. OR-7's appearance prompted the California Fish and Game Commission to grant gray wolves endangered species protections.
While cheered by environmentalists, the decision was opposed by ranchers and big-game hunters who fear wolves will attack livestock and deplete deer and elk herds.
Earlier this week, environmental groups were victorious when a San Diego Superior Court judgetossed a case filed by California farming and ranching associations that challenged the commission's listing, which prohibits killing a wolf under any circumstance. A convicted wolf killer in California could face years in prison.
Amaroq Weiss of the Center for Biological Diversity said keeping the endangered species protection intact is critical.
"When the government strips the protections, it gives a signal to the public that wolves are not valuable — they don't need to be protected — so you can start killing them," she said.
In Oregon alone, wildlife officials say 15 wolves have been killed illegally in recent years; only two people have been prosecuted for the crimes. Weiss estimates around two dozen wolves have been illegally killed in Washington since 2008.
CAN RANCHERS DO MORE?
Since OR-7's arrival, wolves have trickled into northeast California. Fewer than 20 have passed through or have been born here, state wildlife reports show.
Some are closely tracked with collars as they wander in and out of California from the more established packs in Oregon. Others are known only by their scat, footprints or the ghostly images they leave when they walk past a motion-triggered game camera.
That's how biologists were able to determine that one member of the Shasta Pack — a young male — survived. He showed up briefly on cameras near his family's original range in Siskiyou County in May 2016 after the pack vanished the previous fall. DNA from scat he left in Siskiyou County that year was later linked to scat found in northwestern Nevada.
Another wolf family — the Lassen Pack in Plumas and Lassen counties — has taken up full-time residence in California since the Shasta Pack vanished.
In 2017, biologists put a tracking collar on the Lassen Pack's adult female, who is believed to have come to California from as far away as the northern Rocky Mountains. She and the male — one of OR-7's progeny — have had at least two litters.
As wolves recolonize the state, there's been a steady stream of complaints they're preying on ranchers' livestock.
Since 2017, the state lists on its website six "confirmed" wolf attacks on livestock, and two "probable" cases in which investigators suspected a wolf but couldn't determine with certainty.
Environmentalists say ranchers are over-hyping the risks wolves pose to their stock, saying cattle killed by wolves represent a miniscule fraction of the total number of cattle on the landscape. They say ranchers need to do a better job adapting to their new canine neighbors by changing their animal husbandry practices.
Wolf advocates say ranchers should spend more time checking herds. They should also build wolf-proof fencing, use guard dogs, corral livestock when wolves are present and stake flags around grazing land to frighten the animals away, advocates say.
California ranchers in the newly reclaimed wolf country say they're doing what they can to change their practices, when practical, but conflicts are inevitable.
In Oregon, wolves have been responsible for 134 confirmed livestock "depredation events" since the late 1990s, according to Oregon's wildlife agency. OR-7's family group — the Rogue Pack — has killed at least eight cows and a rancher's guard dog since October alone, according to the agency and local media reports.
Ranchers say they're not just worried about wolves picking off calves from time to time. They say that even if wolves don't directly prey on herds, merely having a pack nearby stresses cattle to the point where heifers have fewer, or more infirm, calves. Stressed beef steers, they say, also lose weight, fetching a lower price at the auction house.
'THEY JUST MOVED'
Jim Rickert, a cattle rancher whose Prather Ranch beef operation is based not far from the Shasta Pack's former turf, said he's begun putting his fully-grown bulls out on rangeland where he once let calves roam.
"You got these 1,500 to 2,500 pound animals, they might be a little intimidating to a wolf, I don't know. Better than a little baby cuddly calf," Rickert said. "Make them work for it. If they're going to take one of those bulls down they're going to have to earn it."
Rickert said he doesn't know what happened to the Shasta Pack, but he's relieved to not have to worry about those wolves any more.
The same goes for Rickert's fellow Siskiyou County rancher Jack Cowley, whose son had the tense standoff with the Shasta Pack in 2015 during one of their round ups.
Cowley said he thinks the Shasta Pack got spooked by logging in the area and left, maybe traveling to Oregon or elsewhere in Siskiyou County.
"We just assumed the loggers kind of kept them out of there," he said. "I guarantee they weren't killed off. They just moved."
He's not exactly sad to see them go.
In the fall of 2015, Cowley and his son, David, were rounding up their herd on horseback on the summer grazing land they lease when David Cowley noticed a group of heifers acting extra skittish, the family told The Bee that year.
He rode over and spotted a wolf and three of her pups tailing the cattle.
The pups scattered when he closed in, but the female didn't. Jack Cowley said she stared down his son – "challenged him" – before sauntering off to join her pups.
A few days later, a group of ranchers on a similar cattle roundup nearby came upon the Shasta Pack eating a calf. State wildlife investigators deemed the case a "probable" wolf kill.
Cowley said he doesn't believe one of his Siskiyou County neighbors killed the Shasta Pack. But he wouldn't have shed any tears if they had.
"I wish they would have," he said.
Comments
comments