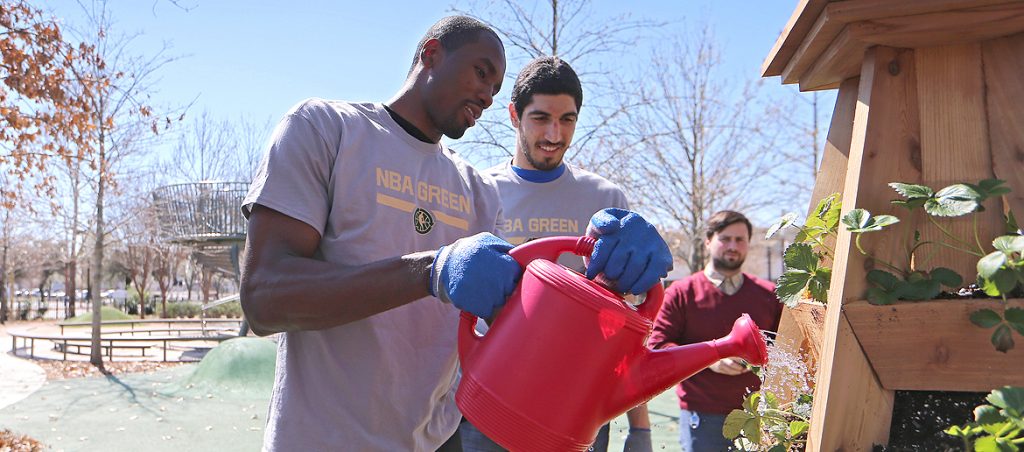 NBA cares. What about you?
"What is the first thought comes to your mind when you hear NBA? Speed? Power? Millions of fans worldwide? But did you know that the NBA is taking steps to be more environmentally friendly exploring ways
 of reducing its impact on the environment through community outreach programs, generating awareness among fans and greening its operations?"
Let's see just some of steps have been taken by these real heroes of modern times in regards of environmental protection
All NBA All-Star events are powered by 100% renewable energy.
The NBA encourages public transit, walking and biking.
Many NBA arenas conserve thousands of gallons of water each season by using water efficient fixtures.
"Many NBA teams donate prepared but unsold food to local charities after every game. This helps feed people in need and avoid landfilling valuable food,
which can release harmful greenhouse gases into the atmosphere."
Eight NBA teams have already installed solar panels on their arenas.
Many NBA teams use sports lighting that is 50% more energy efficient and cuts energy costs in half.
The NBA has engaged fans at NBA All-Star Game events by handing out reusable bags made from post-consumer recycled content.
The NBA has promoted electric vehicles and used hybrid buses to shuttle fans to NBA All-Star events.
Many NBA teams conserve energy by using only Energy Star equipment in their kitchens.
Many NBA teams provide certified organic and locally grown food (within 100 miles of the stadium) to help support sustainable agriculture and reduce their carbon footprint.
Many NBA teams recycle paper, cardboard, glass, plastic, aluminum, food scraps, grass clippings, cooking oil, lamps and light bulbs and electronic waste.
Do you think there is something you can do to support NBA players in their constant fight to protect our planet?
Information has been taken from www.green.nba.com
Comments
comments