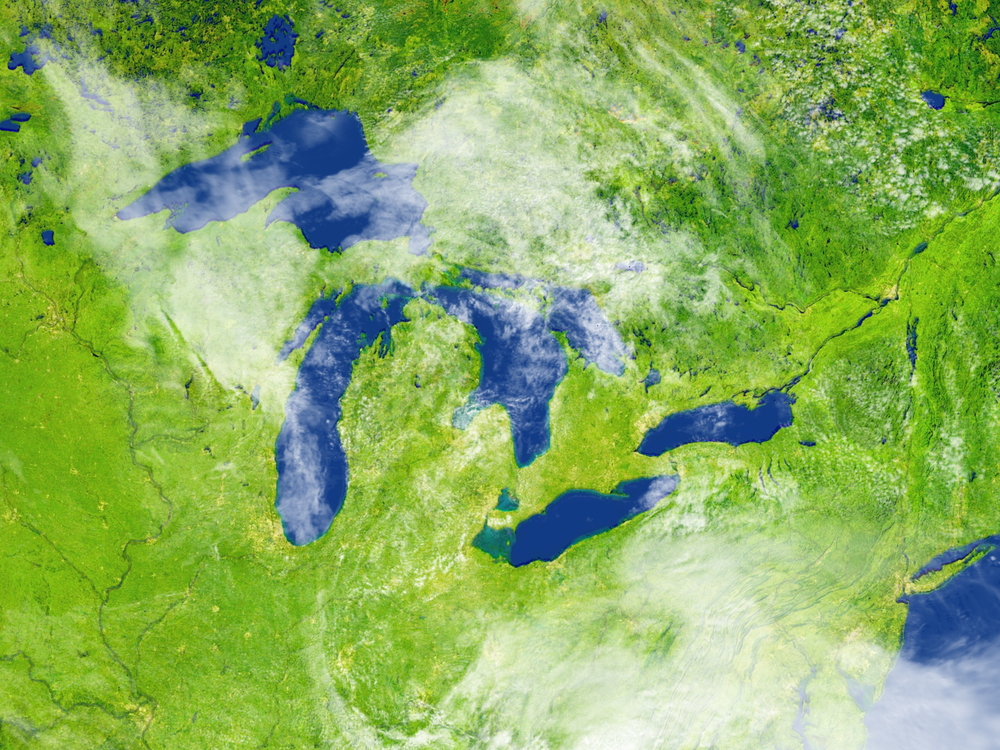 Ohio Just Granted Lake Erie the Same Rights as a Human
It's the latest legal attempt to protect the beloved lake from environmental catastrophe
AsLake Erie begins to emerge from the thick layer of ice and snow that have capped its vast expanse over the last few months, Markie Miller feels an odd pang of melancholy. True, the summer months are a time for swimming, fishing, boating, and picnics on the lake's beaches, but they also mark an end to a period of quiet at the lake — of frozen hibernation and serenity.
"It's very reassuring when it's frozen; you have this weird sense of security," says Miller, who lives in Toledo, Ohio.
Miller has dedicated the last few years to the security of Lake Erie — an undoubtedly onerous task given the size of the lake and the dense industry, agriculture, and urbanization surrounding it. Thanks in part to her efforts, Toledo residents in February passed a measure granting legal rights to Lake Erie. Officially known as the Lake Erie Bill of Rights (LEBOR), the measure grants Lake Erie the legal right "to exist, flourish, and naturally evolve." It was a radical proposal: Nonhuman entities generally don't have legal rights under any U.S. law. Except corporations, of course.
As a leader of the group Toledoans for Safe Water, Miller spent two years gathering signatures and community support for the proposal. But as the vote loomed, doubts started to creep in."The two weeks before the election, I couldn't stop crying," she says. "I was really emotional about it. It just was this realization of how big this really was."
The measure passed with 61 percent of the vote. Granting rights to Lake Erie means that members of the community should be able to cite damages to the lake — rather than damages to their own lives — in filing a lawsuit. Theoretically, citizens could sue to force a crackdown on environmental violations such as pollution from the hundreds of factory farms bordering the Maumee River Basin or seepage from old landfills into tributaries feeding into the lake.
LEBOR falls under a legal theory that dates back to at least 1972, when University of Southern California law professor Christopher Stone wrote a landmark article in the Southern California Law Review. Titled "Should Trees Have Standing? — Toward Legal Rights for Natural Objects," Stone's piece set off an animated debate and is widely considered the beginning of the "rights of nature" movement — based on the idea that nature has a legal and moral right to flourish. But aside from Tamaqua Borough in Pennsylvania, which banned the dumping of toxic waste in 2006 on the grounds that it violated the rights of nature, the movement failed to gain significant traction. Lake Erie is by far its biggest victory, and Miller and her colleagues see it as the start of something much bigger.
The passage of LEBOR is really an act of "giving the bird to completely unresponsive, if not malfeasant, levels of government."
Miller will need that sense of optimism, especially as the Trump administration continues to implement its anti-conservation agenda, including the U.S.'s abandonment of the Paris Agreement and federal efforts to ease restrictions on both air pollution and drilling, to name a few prominent examples. Donald Trump's recently released 2019 budget request calls for ending a ban on dumping dredging waste in Lake Erie and calls for a 90 percent budget reduction for a lake restoration program. The administration's attack on the lake is not a surprise: Trump has proposed cuts to this cleanup and conservation program in every budget he's released. Lake Erie's newfound status is viewed as a significant and much-needed new weapon. "It's the shot heard 'round the world," says Tish O'Dell, an organizer with the Community Environmental Legal Defense Fund (CELDF), which helped lead the effort.
Many Toledo residents were first galvanized to take action in 2014 after a severe toxic algae bloom poisoned Lake Erie's waters. Half a million people in Toledo were told not to drink their tap water, wash dishes with it, or use it to brush their teeth. Some residents were told to avoid showering.
The algae bloom was caused by runoff pollution, mostly from large industrial farms near the lake. In 2018, the Environmental Law and Policy Center and Advocates for a Clean Lake Erie filed a lawsuit against the U.S. Environmental Protection Agency for failing to make the Ohio EPA take stronger action on Lake Erie pollution, but the suit was unsuccessful.
While residents have cheered the passage of LEBOR as perhaps a last chance to save the lake, legal experts are doubtful it will hold up.
"I would expect that at this moment, there's not a court in the United States that would say that Lake Erie has a right to sue," says Sean Hecht, a professor of environmental law at UCLA. Hecht says it's beyond the powers of a local ordinance to grant rights to a lake or any other nonhuman. This could only be achieved in state laws or by changing the federal Constitution — both of which he deems politically impossible, at least for now.
Indeed, LEBOR's legal standing is already under threat. The day after its passage, a local farm partnership filed a federal lawsuit against the city of Toledo that called the new ordinance unconstitutional.
Even so, Hecht thinks there could be merit in more local initiatives like LEBOR being introduced around the country. "I have to see this as a strategy based on a particular theory of change," he says, "the idea that if you can get local governments all over the country to sign onto a particular view that then will create the conditions for larger change at the state level and the federal level."
"This isn't simply a legal horse race," agrees Terry Lodge, a lawyer for CELDF who lives in Toledo and helped create LEBOR. "This is as much as anything an organizing tool."
Lodge says desperation in the face of a hostile government is one of the factors that led to LEBOR's success. "People are finally waking up to the fact that the regulation model is very weak, mainly toothless," Lodge says. The passage of LEBOR, he says, is really an act of "giving the bird to completely unresponsive, if not malfeasant, levels of government, state and federal in particular."
When Miller, the leader of Toledoans for Safe Water, was collecting signatures and working to gain support for LEBOR, she was particularly moved by the recollections of older Toledo residents. They still remember a time in the 1960s when the lake was so polluted that fish died en masse due to low oxygen and it had been dubbed "North America's Dead Sea." Such horrors helped lead to the passage of the Clean Water Act in 1972, a groundbreaking law that gave the EPA broad powers to regulate water quality and prevent or stop pollution. The lake gradually recovered, and by the 1980s, it was a popular fishing destination.
But recurring algae blooms, driven by runoff, now jeopardize the lake's recovery. The threat of returning to an earlier, more polluted era looms, especially with the Trump administration pushing for rollbacks of many of the environmental gains made in the '70s. In December 2018, the administration proposed sweeping changes to the Clean Water Act, which would open as much as 80 percent of the nation's wetlands for development.
"It may be less important whether LEBOR is legally enforceable than whether it is finally sending an extremely focused, clear message to the political classes," Lodge says. "That they are not responding to the very clear needs of the people."
Comments
comments