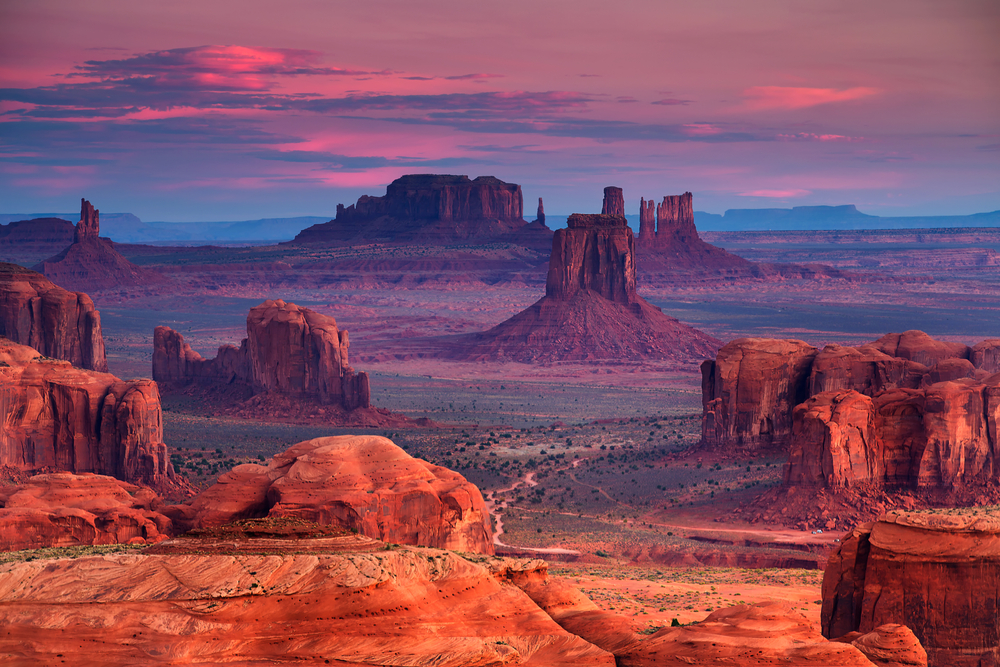 Arizona Fourth of July celebrations: Where to see fireworks in Flagstaff, Prescott, Payson
By Ryan Johnson
Summer holidays are a great excuse to hit the road and get out of the Phoenix-area heat.
This year July 4 falls on a Thursday, which creates lots of extended weekend getaway opportunities if you can also get Friday off.
Extreme drought conditions in 2018 caused some Arizona cities to cancel their fireworks. But a relatively wet winter and spring have provided some relief from those conditions, and cities have fireworks scheduled.
However, the threat of wildfires is always present in Arizona and several areas have already experienced fires this summer. Do a last-minute double check of your destination to confirm that its display is still on.
Here are Fourth of July celebrations around Arizona.
Flagstaff
Flagstaff has a variety of Independence Day-themed events.
At 7 a.m., runners can race for a mile on downtown streets.
At 9 a.m., get ready for the parade, which winds through downtown.
At 2 p.m., the Flagstaff Symphony performs its free Independence Day Concert at Fort Tuthill County Park 3 miles south of town.
At 3 p.m., gates open for the Lights on the Lawn celebration display at Continental Country Club, 2380 Oakmont Drive. Food court, beer garden, games for all ages, kids activities and live music. Fireworks start at about 8:30.
Details: www.flagstaffarizona.org.
If you want to extend your celebration, the Flagstaff Festival in the Pines runs through Saturday. It hosts more than 150 artists and vendors offering jewelry, paintings, sculptures and other original works. Enjoy performances on one of two stages, or head to the Kids Gallery, featuring activities to bring out the creative site in the younger set.
Details: 10 am.-5 p.m. Thursday-Saturday, July 4-6. Fort Tuthill County Park, 3 miles south of Flagstaff off Interstate 17. $10, free for ages 12 and younger. 480-968-5353, 888artfest.com/flagstafffestivalinthepines.
The Hopi Festival of Arts and Culture has been a Fourth of July tradition in Flagstaff since the 1930s. It features 90 artists and presenters from Hopi villages in northern Arizona. Attend a lecture, watch an artist demonstration or enjoy a traditional dance as you learn more about people who have made their home there for centuries. Works of traditional and contemporary Hopi art will be for sale.
Details: 9 a.m.-5 p.m. Saturday and Sunday, July 6-7. Museum of Northern Arizona, 3101 Fort Valley Road. $12; $18 for weekend pass; free for ages 9 and younger. 928-774-5213, musnaz.org.
Payson
Festivities start at 8 a.m. at Green Valley Park, when Payson's Patriotic Committee presents a flag-raising and reading of the Declaration of Independence. Activities throughout the day include games, a pie-eating contest and live music before the fireworks at 9 p.m. Free shuttle buses start running at 5:30 p.m. from the Payson High School administration parking lot, 301 S. McLane Road. If you're planning to make a weekend of it, Payson has events scheduled for July 5 and 6 as well. Check the online calendar.
Pinetop-Lakeside
The High Country Art Association presents its 44th annual Arts and Crafts Festival in the shady orchard at Charlie Clark's Steakhouse. There will be artists, food and live music.
Details: July 4-7. 9:30 a.m.-5 p.m. Thursday-Saturday, 9:30 a.m.-4 p.m. Sunday. 1201 E. White Mountain Blvd. Free. highcountryartgallery.com.
Prescott
Independence Day is also rodeo time in Prescott, and the festivities last about a week.
The annual Prescott Frontier Days Rodeo runs July 1-7. Billed as the world's oldest rodeo, the action takes place each day at the Prescott Rodeo Grounds. Other activities include the Rodeo Dance, 8-10 p.m. July 4-6, and the Rodeo Parade on July 6. Check the website for complete schedule and prices.
Prescott's fireworks celebration is scheduled for July 4 at Watson Lake Park. Gates open at noon and the fireworks start at dark. The park offers boating, fishing, hiking, picnicking and playground equipment. General admission is $5, with an additional cost for some activities.
Sedona
If you're looking for something to do that doesn't involve fireworks, consider Wet Fest at the Sedona Community Pool. There will be food and live music in addition to water-related games and activities. If you really do want to see fireworks, you'll have time to drive up to Flagstaff.
Details: Noon-4 p.m. Thursday, July 4. Sedona Community Pool, 570 Posse Ground Road. Free. 928-282-0112, visitsedona.com.
Show Low
Escape the heat and celebrate in the mountains at the annual Freedom Fest. Activities begin at 9 a.m. with a parade along Deuce of Clubs. At 3 p.m., the Freedom Fest kicks off at Show Low High School. It includes food, a kids zone, live music and fireworks at about 9 p.m. There is no admission charge for the Freedom Fest, but there are costs for some activities.
Details: All day Thursday, July 4. 500 W. Old Linden Road. Free. showlowaz.gov.
Sierra Vista
Holiday activities stretch throughout the day in this military-base city. Events begin at 7 a.m. with the Pets and People Promenade. Other festivities include the Fort Huachuca Military displays, live music and a chili cook-off before the fireworks.
Details: 7 a.m.-9 p.m. Thursday, July 4. 3105 E. Fry Blvd. Free. sierravistaaz.gov.
Lake Havasu City
Come early to stake out your fireworks viewing location and play on the beach, or spend the day on the water and then watch the fireworks from the comfort of your boat. After the sun goes down, the sky will light up. No pets, please.
Details: 9-9:30 p.m. Thursday, July 4. Lake Havasu State Park, 699 London Bridge Road. $20 per vehicle. azstateparks.com/lake-havasu.
Bisbee
In one of this community's most popular annual traditions, kids climb into the driver's seat of gravity-powered cars in hopes of attaining Coaster Race glory. The homemade cars, launched one at a time, are surprisingly fast as they head down Tombstone Canyon. Trophies and prizes are given to the winners in various divisions and categories.
Details: 7 a.m. Thursday, July 4. Tombstone Canyon. Free. 520-432-3554, discoverbisbee.com.
Comments
comments