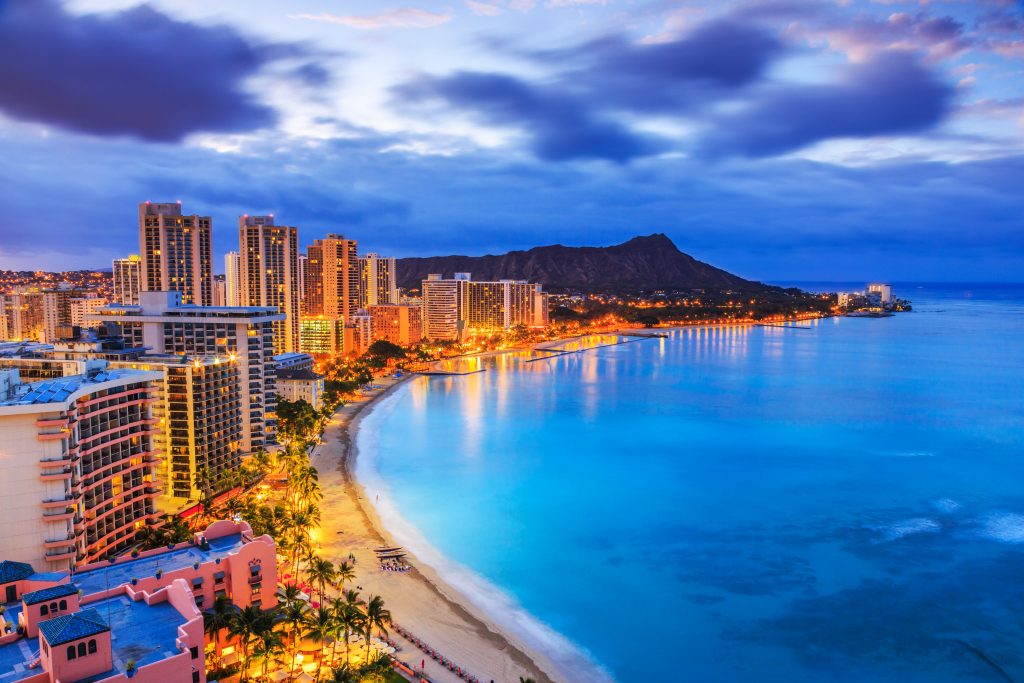 Hawaii Keeps Up Tourism Even with Natural Disasters
The battered Hawaiian Islands have managed to keep tourism dollars coming in despite an ongoing volcanic eruption, earthquakes, hurricanes and flooding, according to figures released Thursday.
Hawaii's 2018 woes began with flooding on Kauai in April, followed by earthquakes and eruptions of lava and volcanic gases caused by the Kilauea volcano on Hawaii Island. The state then fell victim to flooding from rains brought by Hurricane Lane and Tropical Storm Olivia.
"Despite the challenges of Kilauea volcano and Hurricane Lane, the State of Hawaii realized a good summer travel season, as combined visitor spending for the months of June, July and August totaled $4.67 billion, an increase of 5.5% over last year, with visitor arrivals reaching nearly 2.7 million, an increase of 5.3%," president and CEO of the Hawaii Tourism Authority George D. Szigeti said in a statement.
"Although both visitor spending and arrivals increased in August compared to a year ago, we expected better results for this peak travel month. Hurricane Lane deterred a segment of travelers from staying in the Hawaiian Islands, which was compounded by the continuing negative effect Kilauea volcano had on the island of Hawaii," he said.
Szigeti said the increase in visitor spending during August was the lowest of any month since May 2016. The $1.41 billion they spent was also the lowest total of any month so far in 2018, he said.
"These figures are a reminder as to how vulnerable tourism can be to events beyond our control and why we can never assume the impressive rates of growth Hawaii was achieving the first half of this year will continue unabated for the foreseeable future," Szigeti said. "The resiliency, professionalism and, most of all, aloha spirit displayed by Hawaii's tourism workers toward our visitors during times of crisis, is both appreciated and admired."
Kilauea began spouting lava in early May, oozing molten rock and gas from volcanic fissures and burning homes to the ground.
Officials ordered residents and visitors to evacuate the Hawaii Volcanoes National Park on May 11.
"The volcano isn't just our No. 1 attraction — it's the state's No. 1 attraction," said Ross Birch, executive director of the Island of Hawaii Visitors Bureau back in May. "So when it shuts down, there's a direct impact on the spending in that area and the island altogether."
The park — which hosts around 2 million visitors a year — partially reopened last Saturday after being shut for 134 days. In a further sign that things are returning to normal on the Big Island,FEMA announced on Monday that the disaster recovery center that has been assisting residents affected by the eruption would close September 28.
Earlier in the month, Hawaii Mayor Harry Kim lifted the mandatory evacuation order for the Leilani Estates subdivision, where much of the fissure activity has been taking place.
However, a voluntary evacuation order and restrictions remain in place.
In his September 8 proclamation, Kim said the United States Geological Survey (USGS) and Hawaii Volcano Observatory (HVO) had lowered the volcanic threat level from red to orange but still could not say when the eruptive event would end.
He said that Fissure 8 was still active and "eruptive events such as lava flow and related emissions can occur at any time."
On Thursday, the USGS said the HVO was continuing to closely monitor Kilauea's seismic activity.
And then the flooding
Hurricane Lane dumped 52 inches of rain on Hawaii
Hurricane Lane dropped 52.02 inches of rain on Hawaii from August 22-26, the second highest rainfall total from a tropical cyclone in the United States since 1950, according to preliminary data from the National Weather Service.
Hawaii's Big Island — the easternmost island in the chain — was hammered hardest by rain, with some residents evacuated and a number of roads closed by flooding and landslides.
On Thursday, Hawaii Governor David Ige said that US President Donald Trump had approved his September 5 request for a Presidential Disaster Declaration to address the impacts of Lane.
"The Declaration means the state will receive support from the Public Assistance Grant Program for emergency and repair work for disaster-damaged facilities on Hawaii Island, Maui and Kauai.
"In addition, the state will receive assistance from the Hazard Mitigation Program for actions taken to prevent or reduce long-term risk to life and property in the event of a natural disaster," Ige said in a statement.
Lane was followed by Tropical Storm Olivia, which made landfall on the Hawaiian islands September 12, bringing flash flooding and closing some roads.
Comments
comments