Invictus Games Preparation Underway!
Private Peter Brown sustained an injury serious enough to prevent him performing his duties as a parachute rigger in the Australian Defence Force. Yet, he explains, "from the outside looking in, a lot of people wouldn't know that I shattered my leg."
"Coming from that is the mental side of things," he said. "Having people putting you down, calling you a bludger – that was really hard.
"But coming into this (Australian Team) environment, everyone has a similar story. They can relate and understand what you're going through. It's become like a second family, this team, because in some way we can all relate to each other."
The spirit of understanding and togetherness was palpable at the Australian Team's final camp, at the Sydney Academy of Sport and Recreation at Narrabeen.  All 72 Australian competitors and numerous staff were there for the two-day camp of final preparations before Invictus Games Sydney 2018 presented by Jaguar Land Rover.
Training sessions were punctuated by meetings and presentations, ranging from the uniform presentation on Monday night by Governor of NSW, General David John Hurley, AC, DSC, FTSE, to lovingly-made food hampers for each representative made and presented by students from Shepparton High School.
Team Manager, Wing Commander David Worrall, said the camp was the culmination of a year of preparation.
"We've had a number of camps all over the country, in every state … and we've been here at Narrabeen four times this year," he said.
"But this one is the pre-assembly, to get us all into Sydney, get us 'kitted' in the Games uniform, and there have been a number of other presentations to the squad from various organisations. From this point it's about concentrating the energy of Team Australia and getting into the Games."
Worrall said the attention from media and others had been "mind blowing" and encouraging. But staff have been mindful of each competitor's mental and physical state.
"We have a full medical staff here – doctors, physios, psychologists – because there's quite a lot of stress on these people," he said.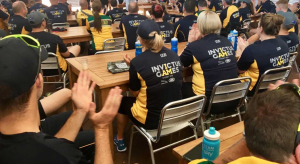 "They've been training very hard for a year and this is a big event. There are a lot of demands on them, so we're managing each case very carefully. Each of the sport coaches pays particular attention and has good relationships with members of the squads. It's really a collaboration to keep an eye on everyone."
Brown has been feeling comfortable among his peers as he sets his mind to competing in the indoor rowing and athletics, where he will compete in seated discus and seated shot put.
"This camp, most definitely, has had a different feel to it," he said. "There's a feeling that the Games are coming up and it's time to really get ready for it. The whole thing of everyone coming together has been great."
The sporting atmosphere has been familiar, too. Brown said he played rugby league, cricket, swimming and gymnastics as a youngster and was a personal trainer for some time before signing up in 2011. He did all his basic training to be a parachute rigger and then, on his first jump, crash landed and caused serious injury to his left knee.
"After my injury I was bedridden for a long time," he said. "Emotionally, the hardest thing was to try and get back on my feet. I couldn't get back into the sports I enjoyed – half my body's fit and strong but the other half doesn't want to play ball – so I tried to find something that I could do and enjoy. Sport and fitness mentally gives me drive so, once I found out about the Invictus Games, it became a major goal."
Brown hopes a result of the Games will be a better understanding among the public of the invisible injuries service people may have to face.
"A lot of injuries can be deep or mental. Not everything is a scar or an amputee. There are more injuries than what people can see," he said.
"People might look at me and think 'You've still got all your limbs, what's wrong with you?' They think because I'm playing sport I should be able to do other things. But the message is that, even if you're broken or injured, it doesn't mean you have to sit on your couch for the rest of your life. You can still get out and compete."
Brown may not be able to jump out of planes anymore. But he remains committed to his work with the ADF, as an administration clerk.
"It's not what I want to be doing," he admitted. "But I love being in the Defence Force. I'd rather be in the Army doing what I'm doing than not be in it."
Comments
comments