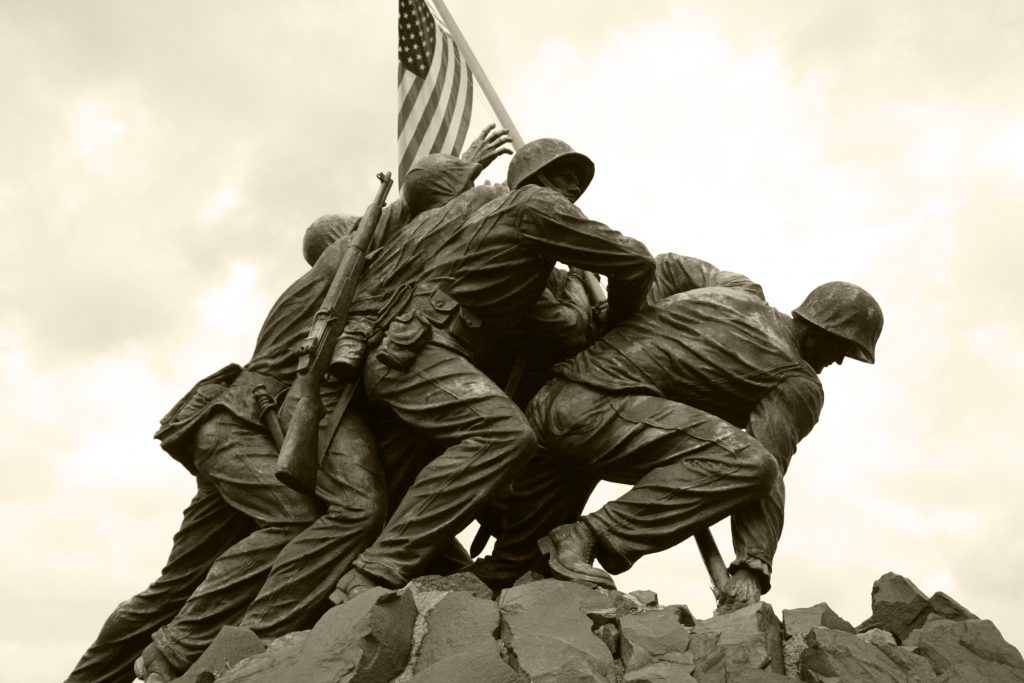 WWII Vetera is Still Serving in His Own Way
Veterans helping veterans. That's what Veterans Day means to Tom McKeown Sr. McKeown, 96, has served his fellow veterans in the decades since his service as a Marine in World War II.
Pvt. 1st Class McKeown earned the Purple Heart, Presidential Unit Citation, American Campaign Medal and WWII Victory Medal while serving with the 1st Raider Battalion at Guadalcanal.
He has continued to serve in Clallam County with the Marine Corps League, Veterans of Foreign Wars, Disabled American Veterans, Clallam County Veterans Association and other organizations.
McKeown credits his fellow veterans for helping where there is a need.
"The Marine Corps, of course, has the Toys for Tots and the firing squad, the Honor Guard," McKeown said in a Friday interview at his Port Angeles home.
"American Legion has the Riders with the poles with the flags on the them, standing in rain, sunshine, snow, whatever. They have to stand there by the hours. The VFW has the two cemeteries, and they put the flags up at both cemeteries as one of the things that they do."
In recent years, McKeown has noticed that fewer veterans are joining veteran organizations.
"I do think that some of the young ones will start coming out, start getting involved," McKeown said. "I really hope so.
"Of course, they've got a family to raise and everything else, but everybody had that," McKeown added.
"I don't know. Different world. Things change, I guess."
For McKeown, Veterans Day is also a time to remember his comrades who did not return from the war.
"There was quite a few of them that we lost," McKeown said.
"Not as many as the enemy had. They lost hundreds and hundreds of them. But I had friends, quite a few friends, on Tulagi that were hit, and then on Guadalcanal, too."
The U.S. Marines captured the island of Tulagi from Japanese forces after heavy fighting in August 1942.
In September 1942, the Marines won the Battle of Edson's Ridge, or Bloody Ridge, at Guadalcanal.
The Raiders were heavily outnumbered and were being bombarded by the Japanese Navy, said Tom McKeown Jr. of Sequim, a retired Marine corporal who fought in the Vietnam War.
During the Guadalcanal campaign, Time magazine ran a cover photograph of Tom McKeown Sr. being carried on a stretcher. McKeown has the original photo.
"I had shrapnel in my knee," McKeown said.
"They made me get on the stretcher and take the picture."
After the war, McKeown and his late wife, Betty, settled in Port Angeles and raised a family.
McKeown taught automotive mechanics at Port Angeles High School from 1963 to 1984. He has a picture from 1983 showing his students running a Toys for Tots exchange for car maintenance and repair.
"All the kids were involved in it," he said.
"Every car that would come in the shop, the kids would charge them a toy."
McKeown was a charter member of the Mt. Olympus Detachment of the Marine Corps League. He earned the detachment's Marine of the Year award in 2005 for his service to veterans, according to a citation.
In 1996, McKeown helped organize the first veteran's Stand Down in Clallam County. Stand Downs provide services ranging from medical, dental, housing, employment and veteran benefits to counseling, haircuts, food, pet supplies and clothing.
Voices for Veterans now holds annual Stand Downs throughout the North Olympic Peninsula.
McKeown is a life-time member of VFW Post 1024, the Marine Corps League and Disabled American Veterans.
He was a VFW chaplain and still serves as chaplain at Welcome Home Vietnam Veterans Day ceremonies.
"There isn't a whole lot in this community for veterans that he hasn't already done," said Tammy Sullenger, former Clallam County veterans coordinator and a family friend.
"He's a pretty amazing man."
These days, McKeown's limited mobility keeps him from participating in as many ceremonies and events as he would like.
McKeown tore his meniscus falling from a ship into a landing craft and now relies on an electric wheelchair to move around his house.
McKeown is often visited by family, fellow veterans and former students. He said his post-traumatic stress disorder has become more symptomatic since his wife died.
"My dad never told us any (war) stories at all," Tom McKeown Jr. said.
"All of a sudden, I'm getting all of these stories I would have loved to heard as a kid. Now the true stories are coming out of him because she's gone."
Tom McKeown Sr. married Betty McKeown on Indian Island in 1943.
"She was my buffer," Tom McKeown Sr. said. "She was a beautiful woman."
Both McKeowns planned to attend the annual Veterans Day ceremony in Port Angeles today.
The Clallam County Veterans Association-sponsored ceremony will be at Coast Guard Air Station/Sector Field Office Port Angeles at 1 p.m.
Comments
comments