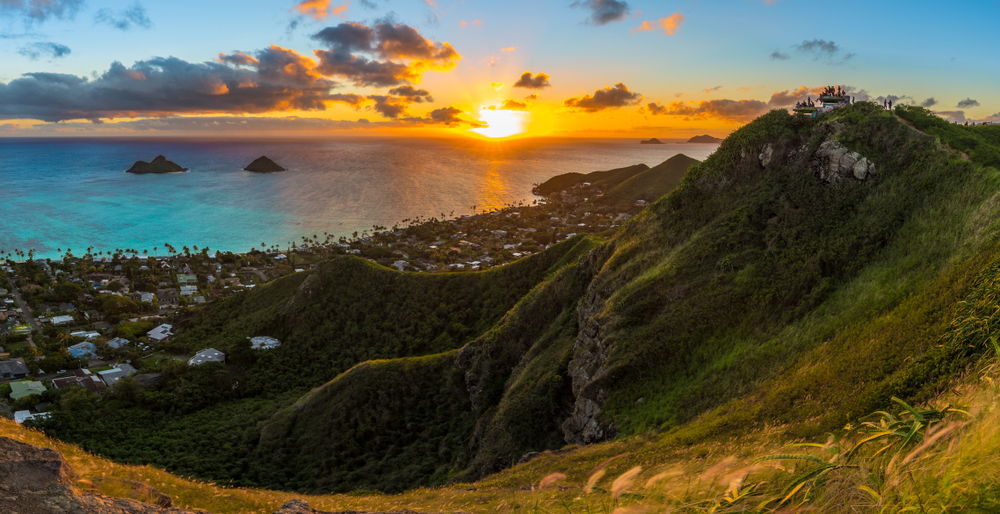 Oahu Hiking Trail is Described as 'Living History'
Tucked away behind a row of homes in Lanikai lies a narrow dirt path that gradually turns into a steep, rocky incline up the Kaiwa Ridge. Reach the first flat area of the hike and you'll see a small concrete structure off in the distance.
That structure is your destination — and it not only has a storied history, it offers those willing to sweat their way to the top of the ridge a perfect vantage point for a panoramic view of Lanikai Beach and the Mokulua Islands.
Welcome to Lanikai Pillbox, one of the state's most popular hikes — with a 75-year-old military bunker as its showcase.
The pillbox is one of several scattered around the island, and reclaimed by communities as centerpieces at busy trails across Oahu.
Koko Crater, Makapuu, Maili and Ehukai: They all feature pillboxes — and they've all become a hiker's ideal destination point to take in some of Oahu's most beautiful views.
Historians say these vestiges of a bygone era — which hearken back to one of the most significant periods in military history in Hawaii — aren't just important landmarks, they're artifacts worth saving.
"It reminds you more in your gut this is something really from the past, and this is what it really felt like or looked like," said Brenden Bliss, military and naval historian at Hawaii Pacific University. "It's really important to be able to keep these structures around no matter where they are."
Inside the oblong structure, resembling the shape of an actual pill box, is enough space to hold three people comfortably. The roughly 2-foot-high window in a concrete wall opens up to a wide, sweeping view of the ocean.
These military bunkers were built with a simple purpose: to defend and watch for enemy activity.
"They're actually defenses on all of the islands, and they were originally built right after the United States annexed Hawaii, and especially after 1907, there's big fear that Japan would actually attack the United States and we'd go to war," Bliss said.
Bliss is a professor at HPU, specializing in World War I and World War II history. He spends most of his time sifting through books, journals and lengthy documents.
But strolling toward the base of the Koko Crater trail and pointing up at the concrete bunker at the top of the 75-year-old tramway, he's enthusiastic to share history through physical, tangible objects that "remind us of our past, remind us of what happened."
Some of the defenses were built prior to World War II, but the bulk of them, he said, were actually built a little later, in the midst of World War II in the 1940s, specifically after the Japanese attack on Pearl Harbor on Dec. 7, 1941.
"It was to look for incoming airplanes or incoming ships," Bliss said. "Primarily the concern at the time was the ships and then that way you could observe them, shoot them out of the water with all the gun emplacements."
The story behind the Lanikai Pillbox trail is a unique one: Also known as the Kaiwa Ridge trail, the two structures at the top were originally built in 1943, but their primary function was to serve as observation stations, not sites for defensive armaments, according to the state Department of Land and Natural Resources.
After the war, the ridge was sold to various private individuals through the years. But in the early 1990s, a private owner proposed a plan to build a luxury home atop the ridge — a plan that did not sit well with conservationists and other community members.
Around the same time, the DLNR had just begun promoting its Na Ala Hele trail system, created in response to trails being lost to urban sprawl development.
So, thanks to an executive order under the governor, the DLNR obtained jurisdiction over the roughly 4-acre chunk of land that encompasses the historic pillboxes.
Since then, the trail's popularity has grown exponentially.
Aaron Lowe, Oahu trails and access specialist with the DLNR's Division of Forestry and Wildlife department, said while it's a good thing hikers are now using the trail for recreational purposes, there's also a downfall.
"The numbers are huge and so that certainly had a negative impact on the neighboring community," Lowe said.
Lowe added that not only are there complaints of noise and litter, but the trail itself has seen quite a bit of erosion and degradation — and, of course, deterioration to the World War II-era pillboxes at the top.
Rather than blocking off access completely, the DLNR decided to take the unusual step of investing $250,000 to repair the aging structures. That involved fixing the concrete spalling and replacing the rusted roof supports that practically diminished to dangerously thin, unstable pieces of steel.
"The idea was to basically just fix the pillboxes back up to somewhat of their normal condition for public safety reasons since they are so heavily used by the public," Lowe said.
And because the pillboxes themselves are considered historic by State Historic Preservation standards, the state could not remove them altogether. The DLNR actually had to submit a document to the historic preservation division, asking to review the plan.
"There are certain criteria that make certain old features considered historic and whether they're named in a registry," Lowe said. "And those were old and of historic value because of their time served during wartime."
Bliss adds the pillboxes across the state, including Lanikai, are well over 70 years old, so they're all considered historical structures.
Whoever the property owner is — be it the state, city or federal government — if they want to make changes, they can't just get rid of the pillboxes. They'd have to follow historic preservation law.
Over time, the other military installments and defensive works built during the war — like smaller pillboxes built on the beach — were demolished mostly because there was no purpose for them anymore.
"They got rid of the beach ones because they were smaller and prefabricated, so it's easier to take them apart or to move them, essentially just demolish them," Bliss said. "Primarily it's because people didn't want them scattering the beaches."
And then there were others that were taking up valuable land, especially amid a burgeoning population, he added.
But the ones most people are familiar with today due to these popular hikes — like Lanikai, Maili and Koko Crater— were on higher elevations, making them harder to get to and simply not cost effective to remove them.
"Since they weren't bothering anyone, they weren't in anyone's private property, they left them there," Bliss said.
Though these aging structures are becoming dangerous, their historical designation means demolishing them isn't a simple solution. So that leaves just another option: repair them.
That's what one group is advocating for with another beloved hiking trail that quickly garnered attention over the years: The Koko Crater trail.
This trail features approximately 1,050 railroad ties — or steps — to get to the top. Even in the hot and dry climate of East Honolulu, thousands of sweaty hikers — young and old, residents and tourists, families, even former President Barack Obama — still make the arduous trek daily, while huffing and puffing their way up to the top.
What many hikers probably don't think about, however, is what the railway was actually used for.
In 1943, the military installed this tramway specifically to transport materials and personnel to the top of the crater, where there was an observation post and radar installation.
But over time, a number of these ties have been crumbling away due to erosion.
That's why the Kokonut Koalition — a group of avid hikers who banded together to advocate repairs — has been crowdfunding and working with the city's Department of Parks and Recreation, responsible for Koko Head, in coming up with a plan to repair the stairs.
Their hope: Turn it into a rail to trail project, where the rail ties would be replaced with actual steps going up the mountain.
Drew Murphy, president of the Kokonut Koalition, said the project — modeled after the city of Colorado Springs' Manitou Incline project — would involve two steps: stabilizing the trail to prevent further erosion, followed by long-term rehabilitation.
Murphy said his group would've loved to have restored the tracks to their near original historical condition, but given the sheer volume of people who hike the trail daily and having to accommodate the increased traffic, that wasn't a feasible option.
"We like the historical aspects, we like the ambiance, we like the history that's involved," he said. "A preferable way to do it would be to turn it from a rail to a trail."
Murphy said because the tramway is historical, though, the repair project would still have to abide by state laws and would need recommendation on how to approach it.
And furthermore, the existing structures atop the crater — the pillboxes, metal grate platform and tunnel — would absolutely need to be retained and refurbished to their original historical condition, he said.
"We would like to see signage up there, historical signs relating what the history of it was," Murphy said. "We see the history of the place as being very important to our overall goals."
After all, these popular hikes like Koko Head are becoming in a sense like national parks, giving the public something tangible to learn about or remind people about the past, Murphy said.
Comments
comments