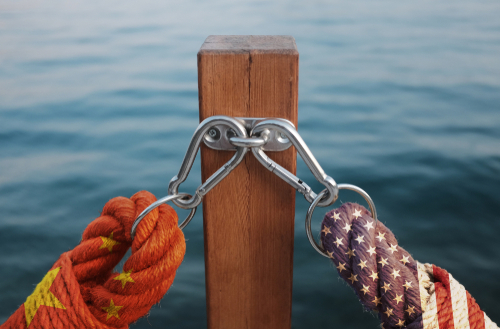 The American Casualties of Trump's Trade War
Sam Cobb was surprised to see so many people lined up for a hearing at the International Trade Commission in Washington on the morning of Monday, Aug. 20. The chief executive of Real Wood Floors, Cobb was a veteran of such proceedings, which were usually sleepy affairs, populated by white-shoe attorneys fighting over arcane legal definitions. For this hearing, though, the line stretched out the door and onto the sidewalk along E Street, where the people waiting to get in were surrounded by a scrum of television cameramen. In the preceding weeks, the Trump administration had floated a proposal to place punitive import tariffs on $200 billion of Chinese goods, and the politics of global trade had suddenly burst into the headlines.
In the packed hearing room, Cobb listened as dozens of witnesses detailed how tariffs on Chinese-made bicycles and tires and fruit juice — and the reciprocal taxes that would inevitably be imposed on American exports to China in response — would lead to higher prices and lost jobs in the United States. This was part of a series of public hearings to address a proposed Section 301 tariff list, named after the provision of the Trade Act of 1974 that permits the United States to impose tariffs on other nations in response to unfair trade practices — in this case, the administration claimed, the Chinese theft of intellectual property. The proposed tariffs would hit businesses from virtually every industry, including many that had little to do with intellectual property.
For Cobb and the 247 employees of Real Wood's affiliated companies, the stakes were high. Their business is exporting hardwood from the forests of southern Missouri to their partners in China, who mill it into veneer, laminate it to a plywood subsurface and finish it into designer flooring. The partners then ship the engineered hardwood back to Real Wood, which sells it to high-end builders from coast to coast — an ocean-spanning supply chain that nevertheless keeps costs down. The simple possibility of tariffs had killed virtually all the company's orders for engineered hardwood from China. Real Wood was already paying an anti-dumping duty of as much as 25 percent on much of the flooring it imported from that country, a tariff that the International Trade Commission had levied on a number of Chinese flooring companies whose prices it deemed to be below market value. The Trump administration's proposal called for an additional 10 percent tariff, with the threat of a further 15 percent in 2019, which Cobb claimed would force Real Wood to make large price increases and would hamstring the whole industry.
Cobb, 42, a genial, bearlike, bearded father of seven, stayed up late the night before the hearing, rehearsing his performance in the mirror of his hotel room, cutting it in half to make sure it stayed within the strict time limit. He was dressed sharp for the event, in a three-piece suit, with a pocket square and nonprescription eyeglasses to make him look smart, or so he hoped. He purchased the entire outfit in China while on one of his countless trips there.
Now he got up to make his pitch for real. "You have five minutes," an official from the Office of the United States Trade Representative told Cobb.
"Our group of companies comprise the second-largest employer in the poorest county in Missouri," Cobb said. He talked about how high-quality engineered flooring couldn't be manufactured domestically at a competitive price. He talked about the hardship of the potential loss of good jobs in his heartland hometown. As he spoke, Cobb suspected that the hearing, despite the presence of career officials from a broad cross-section of departments and agencies, wasn't designed to give him a meaningful voice in the process. Questions from the government panel were perfunctory, typically one per witness, and it seemed to him that the decision to levy the tariffs had already been made.
As the session adjourned, Cobb started to chat with one of the Chinese reporters covering the proceedings, who was astounded at the damage the tariffs might do to American companies. A senior policy adviser from the Department of Agriculture, who had sat stone-faced listening to the testimony, approached Cobb — an unprecedented breach of protocol, in Cobb's experience. "I'm sorry you have to go through all this," the official said to him quietly, according to Cobb. "We have no idea what's going on here, either."
Companies were also permitted to submit written arguments for why they should be excluded from the tariffs, and the deadline for those written submissions was in less than three weeks, at midnight on Sept. 6. Liz Levinson, a trade lawyer whom Real Wood and a group of other flooring companies had retained, made sure her tightly reasoned 11-page brief arrived on time. Thousands upon thousands of other companies from across the private sector had made similar submissions, arguing that the tariffs would gut their businesses, and that the reasoning behind the Trump administration's proposal made no sense. "Duties on flooring would accomplish nothing with respect to encouraging China to reform its intellectual-property regime," Levinson wrote. "Flooring is not a high-tech industry."
For a person to read and weigh all the submissions would take weeks, if not months, but the day after the deadline — as if to prove his indifference to the formality of the investigation — President Trump announced that the tariffs on $200 billion in goods could "take place very soon." He also upped the ante, saying, "Behind that there is another $267 billion ready to go on short notice if I want."
The tariffs, which took effect on Sept. 24, have been front-page news, but their impacts on the domestic economy — which traded $710 billion in goods and services with China in 2017 — have not been reckoned with yet. Tariffs are a powerful weapon in a trade war, but finding the right targets can prove challenging. "It's very hard to impose tariffs on billions of dollars in imports without shooting yourself in the foot," says Wendy Cutler, a former acting deputy United States trade representative. Historically, Cutler says, the various branches of government that deal with global trade — the Departments of Commerce and of the Treasury, and the Office of the United States Trade Representative — have tried to carefully study the domestic impacts of sanctions like tariffs before they were imposed, aiming to anticipate unintended consequences, calculating ways to minimize harm to the United States while maximizing pain for the intended target.
By contrast, in Trump's new tariff regime, Cobb and other business owners see a hurried and blunt approach that has been carried out, they believe, with little public debate about how it could affect the American economy and equally little sense of the long-term strategy. Was Trump playing a giant game of geopolitical poker with President Xi Jinping, or was he unilaterally declaring war?
"At first, the Chinese saw Trump as a businessman and assumed he wanted a deal," says Chad P. Bown of the Peterson Institute for International Economics, a nonpartisan think tank devoted to economic policy. "Now they don't know what Trump wants."
West Plains, Mo., population 12,000, is an unlikely front in a global trade war. A four-hour drive south and west of St. Louis, the small city in the Ozarks was a North-South fault line during the Civil War, a place where brothers really did wind up fighting against one another. Today the town looks like many others in the region, with abundant churches, pickups and strip malls and the occasional fluttering Confederate battle flag. "The center of nowhere," as a resident described it to me, West Plains voted overwhelmingly for Trump in 2016.
Real Wood's headquarters sits down a gravel road off the main highway, a collection of warehouses filled with various kinds of flooring packed onto shrink-wrapped pallets. When I visited in late October, one side of the main warehouse was piled high with finished flooring from China, veneered in different varieties of American hardwoods like white oak and walnut and hickory. On the other side were finished boards that had been manufactured in Cambodia and Indonesia. Real Wood's 55,000-square-foot facility was filled with more than $6 million in flooring, the most the company had ever had in inventory; Cobb was racing to import as much as possible from China before the additional tariff of 15 percent was imposed at the end of the year.
The weeks after Trump's announcement on tariffs were unsettling for Cobb, as he tried to cope with the impact of the new tax and guess at the intentions of a president who seemed to be intent on escalation but also quite possibly bluffing. Engineered hardwood was just one type of good among more than 5,745 product lines tariffed; in this one sector, nearly 500 million square feet of engineered hardwood flooring is sold in the United States annually, and roughly a third of that is imported from China. In the wake of the tariffs, Real Wood had postponed five new hires, along with the purchase of a new van and truck. For the past three years, the company grew at a healthy rate of 15 percent. But now, with the new 10 percent tariff, the best-case scenario was for revenue to be flat next year — and even that seemed improbable.
"The economy is going to slow down," Cobb told me. "People will figure out how to get around the tariffs over time, but it's definitely going to have an impact on our business and lots of others."
The range of consequences wasn't entirely negative, or even understood yet. The day before I arrived, Cobb discovered that it might be possible to rebid on a flooring contract for a Los Angeles apartment project that he had narrowly lost; the winner, it turned out, proposed a tariffed product, while Real World hadn't. Cobb's existing Chinese suppliers were able to provide products at low prices largely because of their lower labor costs. The question was how competitive their prices would still be after the tariff. Cobb said that a project he was pricing for 325,000 square feet of flooring in an upscale Manhattan residential development perfectly illustrated the new reality. Finished Indonesian flooring cost the company $4 per square foot, while flooring from the Netherlands was $4.50 and Italian flooring $5.70. The flooring Cobb preferred to sell — and that many interior designers liked most, he said, because of its distinctive artisanal appearance and low price — was Chinese-made and cost about $3.50 per square foot before the tariff.
Real Wood's main supplier was a company in Liaoning Province in northern China. Some of its other Chinese suppliers refused to share the cost of the tariff, but the Liaoning company agreed to split the 10 percent tax on one product line, as well as the pending 25 percent step-up. Cobb, though, wasn't confident the deal was sustainable. There was one factor that might help Real Wood, however. Its main supplier had already shifted some of its production to Cambodia, where labor was even cheaper — and the anti-dumping duty didn't apply. This early migration put the manufacturer in a good position to rush even more of its operations to Cambodia, Cobb told me. Doing the work in Cambodia, which had carved out an economic zone where many other Chinese companies had moved, meant that China-specific tariffs wouldn't be levied, even as all the profits would continue to accrue to Chinese companies.
"Everyone speaks Chinese there," he said. His supplier "sent their skilled managers to Cambodia. There are real job losses going on in China. Our main supplier is going to get as much as he can to Cambodia as soon as possible."
The notion that jobs being lost in China would somehow magically result in jobs being created in America was risible to Cobb. Making flooring was hard and relatively low-paying. Cobb said he couldn't find enough local workers for the company's local affiliated mill as it was, and the cost structure for the products it sold made the economics impossible. Turning lumber into veneers required the quarter-inch-thick planks to be separately tempered, a very labor-intensive process. One of the new veneers Cobb had recently perfected, in collaboration with the Liaoning company, required every plank to be hand finished to make it look as if the wood had been reclaimed from old buildings. Cobb thought it was preposterous to believe that this could be done in the United States for a competitive price. Even if it could, he went on, building a factory in the United States would be not just expensive but extremely risky, given that the tariffs on China could be removed at any time by the president or some future administration. Cobb noted that some of his competitors manufactured engineered hardwood flooring in America through the use of prison labor — an arrangement that illustrated the economic reality of the global market, where inexpensive labor makes high-end flooring affordable.
"It makes me wonder if anyone is pro-trade in this country anymore," he said.
When the first list of China tariffs, amounting to $50 billion on high-tech goods, was announced in April, career officials at the Office of the United States Trade Representative could see that the broad-brush taxes could have negative effects on many American businesses.
Tariffs totaling $200 billion on nearly every part of the American economy presented an entirely different magnitude of complexity, and the U.S.T.R. was ill prepared to cope with the challenge. One former trade executive, who asked to remain anonymous, told me he saw it as his duty to try to avoid harming American interests as much as possible. He began advocating that the U.S.T.R. develop a method to determine, as accurately as possible, the effects of the proposed tariff package: the number of American factories that would close, the number of jobs eliminated, the value of sales lost and so on.
"I thought the U.S.T.R. needed a systematic approach so if a court reviewed the tariffs it would be able to see a consistent analytical framework," he said. "This was for domestic legal challenges. We could show that there wasn't favoritism or politics involved in who the tariffs were applied to. I thought we should have something like that."
A formalized methodology for determining harm might also have helped the U.S.T.R. deal with the tsunami of applications for exclusion from the tariffs that arrived this fall. It became increasingly evident to some within the agency that the decision-making process was now very top down, involving the president and the cabinet with little input from career officials.
As it happened, almost none of the applications were accepted. The rejection letters were perfunctory and often cited a failure to show severe economic harm, without saying how that was defined. Another frequently cited justification was that the product in question was strategic to the Made in China 2025 policy, a Chinese government initiative to make China a direct high-tech competitor of the United States by that year. The implication seemed to be that if China said it wanted to compete in an industry, that was enough to drive America's own trade policy for that industry.
The implementation of the tariffs and the tariffs themselves elevated the ideology of Robert Lighthizer, who is 71 and came out of retirement to occupy the normally obscure cabinet-level position of United States trade representative. A former corporate lawyer, Lighthizer developed his views on trade during and after a long career in Washington, both inside and outside the government. A formative experience came during his tenure as deputy United States trade representative during the Reagan administration, which in the 1980s forced Japan to curb auto and steel exports to the United States.
That success is often cited by tariff advocates today, but some historians question the analogy. "China is much bigger than Japan was," says Douglas Irwin, the Dartmouth economist and author of "Clashing Over Commerce: A History of U.S. Trade Policy." "It's not an ally; it's a rival. We don't have the leverage with China. Japan never retaliated, but China did so immediately. The Chinese lived through the Opium Wars and the unequal treaties, which involved Western interference. The Chinese clearly resented that and will make sure it doesn't happen again. China won't be pushed around on trade matters."
After leaving the government, Lighthizer spent decades practicing law, doing advocacy work for American steel producers during their downward spiral and China's inexorable rise. In this role, Lighthizer was often taking the petitioner side of trade disputes in front of federal authorities, portraying China as a menace and a cheater, a view shared by many leading trade unions and Democrats. "An identity of interest with your clients develops," says Alan Wolff, a deputy director of the World Trade Organization, who worked alongside Lighthizer for decades. "You think in similar terms — client and country don't diverge."
Along the way, Lighthizer developed an America-first ideology long before Trump used the slogan. Testifying before the U.S.-China Economic and Security Review Commission in 2010, Lighthizer laid out at length his argument that China was America's biggest source of trade difficulties, costing millions of jobs and destroying domestic manufacturing. Since China ascended to membership in the World Trade Organization in 2001, he said, it had failed to turn into a market economy in the mold of Western nations, as many hoped. To the contrary, Lighthizer claimed that China's form of state capitalism did not respect intellectual-property rights or the rule of law.
Now in the White House, Lighthizer has a firm ally in the presidential adviser Peter Navarro, director of Trump's Office of Trade and Industrial Policy. An economist who has run unsuccessfully for a variety of political positions in California, Navarro is a rabid antagonist to everything Chinese; in his 2011 book, "Death by China," he calls the U.S.-China relationship "parasitic" and refers to China as "the dragon." Lighthizer, who rarely appears in the press, declined to comment for this article, as did Navarro, but Navarro is routinely on cable television making vociferous arguments against trade with China. In his book, he described companies doing business with the "murderous gangster regime" of China as "corporate turncoat lemmings."
"At some point," Lighthizer noted in his 2010 testimony, "one must ask whether potential retaliation from China really would or could even remotely offset the benefits to the United States of more aggressive trade measures." He also said, "We need strong leaders who are prepared to make tough decisions, and who will not be satisfied until this crisis has been resolved."
The real process of deciding what Chinese-made goods would receive tariffs took place behind closed doors. When the tariffs were proposed earlier this year, a long list of target products started circulating within the upper reaches of the government, according to a former senior administration official, who spoke on the condition of anonymity. A list was created by the U.S.T.R. identifying products that America bought from China that could also be bought from other countries, so domestic supply wouldn't be hurt by tariffs; the list also included products that only China manufactured and that therefore should be exempted to avoid needlessly damaging the American economy. Certain industries were also recommended for exclusion. One of these was housing, and so flooring, nails, trim and all manner of building-related products were dropped from the preliminary list.
But trade hawks in the administration challenged the recommendations, the former senior official said, pushing the president to make the tariffs as broad as possible and reminding him that he had made a campaign pledge to take action against China. On one side of the argument stood anti-China figures like Navarro and Lighthizer, who advocated tariffs; on the other, the people Trump and his inner circle called "globalists," including Secretary of the Treasury Steven Mnuchin and the former National Economic Counsel director Gary Cohn, who chiefly advocated protecting intellectual property and gaining access to Chinese markets for American companies and resisted widespread and untargeted tariffs. Ultimately, the former senior official recalled, the president decided that he was going to put tariffs on "all of it," and the decision was final. (The White House declined to comment on the decision-making process.)
"There was no sense of reality," the official said. It would take years to build factories in America, and who would want to spend that kind of capital with uncertainty about Trump's re-election, or the real possibility of Trump's changing his mind and tariffs being lifted? There was no evidence any of that would happen. "All the president needs is one or two people to tell him he's right."
Shortly before he announced the China tariffs, the president imposed a tariff on all steel and aluminum imports, angering allies like Germany, Canada and Britain and isolating the United States in its most important dispute with the Chinese. Greg Scheurich, the owner of a bearing-components manufacturer in Joplin, Mo., was nearly beside himself with frustration at the way the steel tariffs were threatening the 100-employee company he had built over 30 years. He needed a specific kind of steel for his bearing components, which were used in medical equipment and wind turbines. The only domestic source couldn't produce enough to keep up with demand. His business was already down 15 percent, he said, and it felt as if the government were cutting his throat, so much so that he had started thinking about the last resort: moving his plant to Canada or Mexico, where he could get the steel he needed tariff-free.
"People are making these decisions that don't know what the hell they're talking about," he said. "They don't have a clue."
Scheurich, a Trump supporter, said he couldn't believe the president intended to hurt his business, but the process for getting an exclusion nonetheless seemed overwhelming. He would have to fill in 84 different forms, one for each product he imported, with various law firms offering to assist at a price of $3,500 to $5,000 per form, which he couldn't afford. After completing the forms himself, he received only a handful of exemptions.
"Maybe the ends justify the means," Scheurich said. "I don't know. If only I could get in front of the president, I could change his mind. Businessman to businessman. I would hope that a light would come on." He paused. "Good lord," he sighed.
The co-founder of Real Wood Floors, Sam Cobb's father-in-law, Clyde Elbrecht, chuckled when I told him about the idea of appealing to Trump as a businessman. A lifelong Republican, Elbrecht didn't think Trump was much of a businessman. Elbrecht, 73, had recently invested $3.5 million in a mill called Missouri Hardwood, he said, saving roughly 100 jobs in tiny Birch Tree, population 656, only to lose 25 percent of its business with customers in China because of the trade war. Likewise, a lumber yard that he had started developing in Arkansas, employing a dozen people, with many more to be hired as it expanded, had come to what he called a screeching stop.
"I was shipping a container of timber a day to China," he said. "That's around $20,000 per day, or $5.5 million annually, and I've stopped shipping entirely."
As painful as the tariffs in the United States appeared to be as they took hold, they seemed to be having their intended effect in China. Elbrecht had just returned from a trip to visit his main manufacturer in Liaoning, and he said that the owner was very frightened by what was happening to his business. He described the owner as "almost Western" in his thinking, a phrase he meant as praise for the man's keen business sense and integrity; the affection and empathy for his partner were palpable.
"He's moving to Cambodia as quickly as he can," Elbrecht said. "If we hadn't made the decision to move some of the production there years ago, we'd be in big trouble. Our other Chinese suppliers who haven't already set up in Cambodia or somewhere else will get hurt the worst. They don't have an escape plan."
Elbrecht said that only a fraction of the value per square foot went to China, while Real Wood had to pay the tariff on the entire price of the flooring. But he wasn't sure anyone in Washington wanted to hear about his struggles. West Plains's member of Congress, Representative Jason Smith, toured the mill in March, and at the end of the visit, Elbrecht tried to explain the permanent and real damage tariffs could do to his companies and the fragile economy of the Ozarks. "With tariffs you won't have a business model," Elbrecht said. He explained to the young Republican congressman that China was the biggest market for red oak, and that was the predominant species in the forests in those parts. But the congressman seemed indifferent. (Smith, who serves on the House committee that oversees trade and tariffs, declined to comment for this article; he was re-elected in the midterms with 73 percent of the vote.)
"It was like he didn't care, he didn't understand it and he didn't care to understand it," Elbrecht said. "I've never been so disappointed in my representative my whole life. I expect him to care about the people in his district. This impacts their lives. He should try to understand the facts."
On my last day in West Plains, I had lunch with the Real Wood team in their conference room, a feast of smoked beef tenderloin. The main subject of conversation was deciding who would get to go to Cambodia to install the play set they had just purchased for an orphanage there. For the Real Wood staff, people in China weren't a distant abstraction or enemy. China was in the family. Cobb had three adopted Chinese-born daughters under the age of 8, and Real Wood employees had taken in or helped dozens of other orphaned Chinese children over the years.
"I love US," Scott Gill, Real Wood's vice president of sales, told me. "The people. The food. I was amazed by the beauty of the country." He was a reluctant Trump voter and himself the father of a recently adopted Chinese boy, now 15. "Why can't we both win from trade?" he went on. "Why does it have to be zero sum?"
A member of Real Wood's finance team walked into the room. "We got our first invoice for the tariff," he said.
"We've been Trumped," someone joked.
The summary for the Harmonized Tariff Schedule provided a multidigit code for engineered wood flooring. The purchase price to Real Wood on the invoice was $65,842, and in a column across the page was a line item for the additional tax the company had to pay: $6,584.20. The sum seemed small, perhaps, but Cobb says he expects to pay more than $200,000 in tariffs before the year is out.
The president could remove the tariffs at any moment, but identifying the winners this early in the age of the Trump tariffs is difficult, if not impossible. Economists tend to agree that all sides are likely to lose, at least in the short term. Employees of a nail manufacturer in Poplar Bluff, Mo., recently told a local television station that they were counting on presidential intercession to save their jobs. In South Carolina, a television maker named Element Electronics announced that it was closing down and laying off 126 workers as a result of the tariffs, only to gain salvation when Gov. Henry McMaster and other state political figures personally interceded to get the company an exclusion, the kind of random political intervention that trade policy is meant to prevent.
In recent days, Cobb and his sales force traveled to Phoenix, Ariz., for a series of meetings with builders, hoping to win contracts to supply hardwood floors to small and midsize single-home companies across the country. The sessions went well, with Real Wood presenting its nontariffed products from Cambodia and Indonesia, not even bothering to show the favored China-made flooring styles. One builder mentioned that for his next project he might swap out hardwood flooring from China for vinyl, to save on costs.
"Do you know your vinyl flooring is on the tariff list?" Cobb asked. "It's also tariffed."
"I've heard rumors," the builder said. "What else is on the list?"
"Nails, molding, cabinetry, all types of flooring," Cobb said, citing only a few of the thousands of items subject to tariffs — no exclusions allowed — that will hit the entire American economy.
"Is that really going to happen?" the builder stammered.
"It already has," Cobb replied.
Comments
comments