DIY Christmas Present Centerpiece
Wow your holiday dinner guests with an eye-catching, nature-inspired gift box centerpiece. Because it's taller than it is wide, you'll have plenty of room for a large, festive feast on the table around it.
Materials Needed:
three packages of sheet moss (available at craft and hobby stores)
scissors
hot glue gun and glue sticks
1 1/2″ non-wired ribbon
brown Kraft paper, or any other type of gift wrap
one holiday floral pick (such as faux greenery with pinecones, available at craft or floral supply shops)
two half-sized floral foam bricks
seven regular-sized floral foam bricks
marker or pen
measuring tape
Adhere four regular-sized floral foam bricks together with hot glue so that they form one large, flat gift box. Next, adhere two regular-sized floral foam bricks with two half-sized floral foam bricks so that they form another slightly smaller, flat gift box. Set aside the remaining full-sized foam brick for the top of the "gift" pile.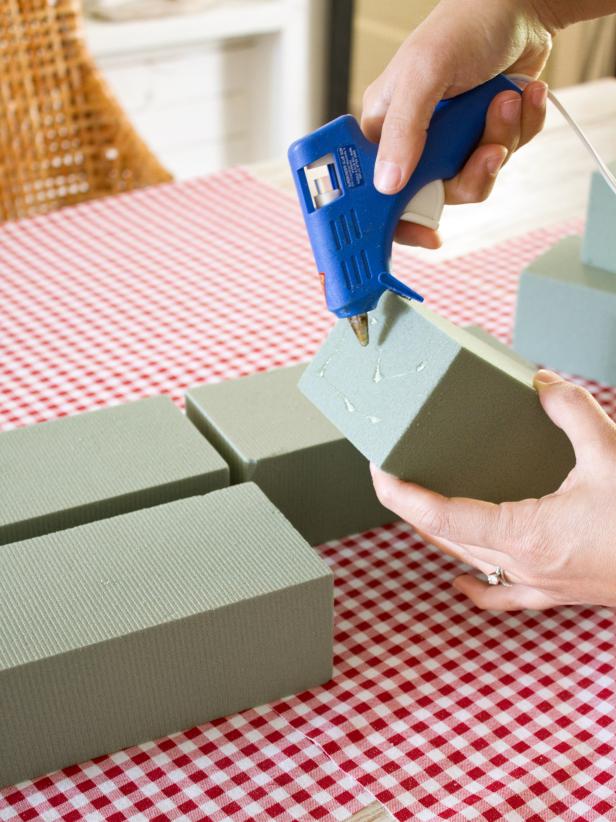 Wrap the smaller floral foam gift box with brown Kraft paper, or any other type of wrapping paper that coordinates with the green moss.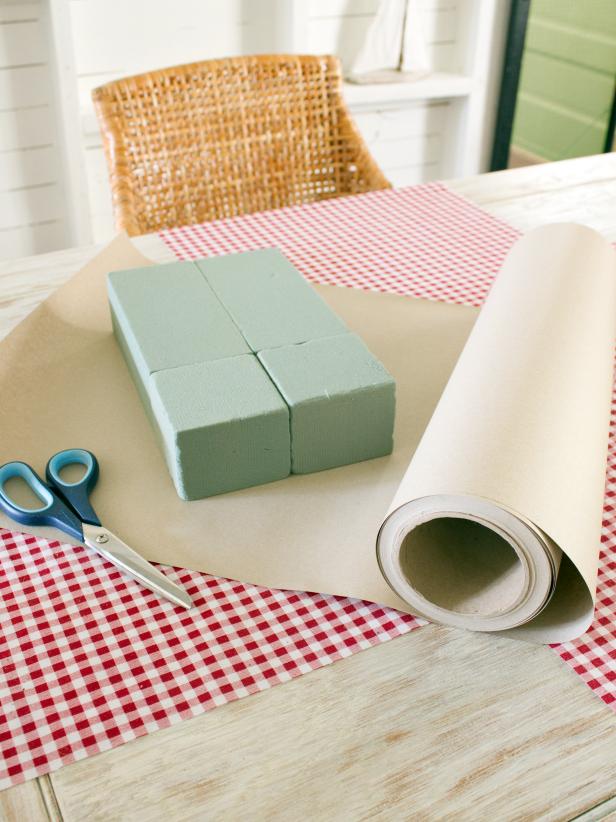 Place the wrapped box on top of (and in the center of) the larger floral foam gift box and use a pen or marker to trace a line onto the floral foam at each end of the box.
Using a measuring tape, determine the size of each of the four vertical sides and the top portion outside the lines.
Use a scissors to cut out a piece of sheet moss the same size as the measurement determined in step 4 and attach it to the front of the floral foam gift box with hot glue. Contine to attach moss to each side until the box is covered (except for the area where the center box will sit).
Repeat steps 4 and 5 to cover the remaining large floral foam box with moss.
Attach the center wrapped box to the moss-covered base in the center with hot glue. Then, hot glue the top box in the center of the middle wrapped box. Let the glue set for a few minutes.
Turn the gift stack upside down. Criss-cross a length of ribbon around all three gift boxes. Turn the stack right-side up and tie a bow atop the stack. Affix the bow to the top of the stack with hot glue.
Using scissors, cut pieces off of a holiday floral pick, like sprigs of faux greenery, pine cones or metallic silver globes. Affix the pieces atop the bow with hot glue.
Comments
comments