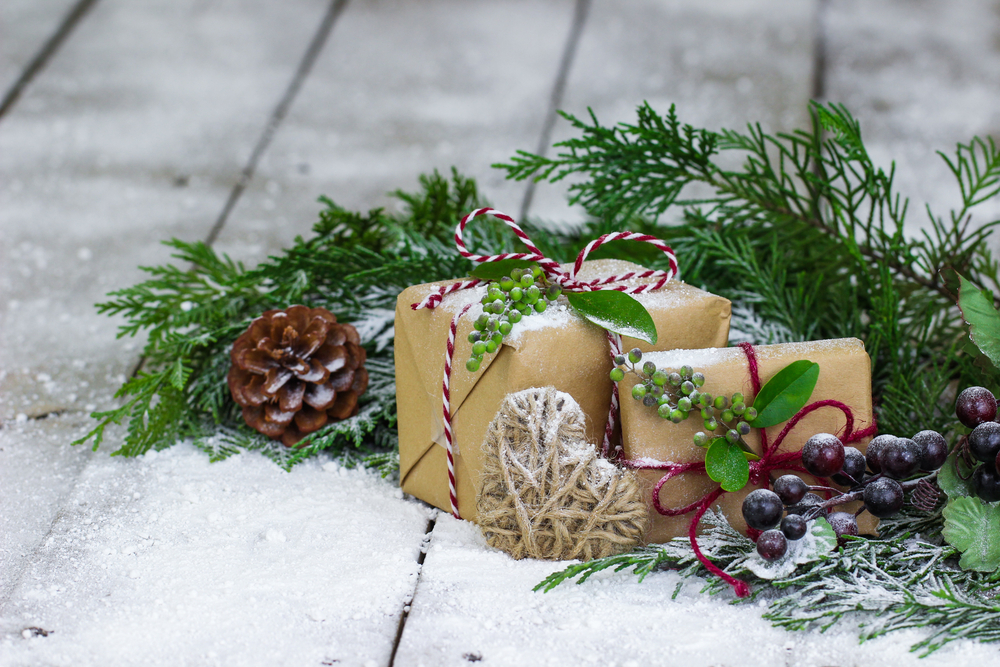 It's an Eco-Friendly Holiday Season
Making Christmas easier on the environment shouldn't mean missing out. Follow our simple guide to your greenest Christmas yet.
In the rush to stock up on last-minute Christmas essentials, spare a thought for the eco-friendliness of the contents of your trolley. With a few simple swaps, a little forward planning and some essential recycling know-how under your belt, you can enjoy all the trimmings of the festive season and do your bit for the planet.
All that glitters is not recyclable
Before you finish stockpiling wrapping paper, think ahead to what will happen to it once it's played its star role under the Christmas tree.
While you'd imagine used wrapping paper is an obvious candidate for recycling, a lot of the gift wrap we'll rip off our presents in the excitement of Christmas morning isn't actually recyclable. As a rule of thumb, paper with a foil design or glitter decoration, or glossy paper that has been laminated, can't be recycled. Choose recyclable glitter-free and foil-free gift wrap instead, such as Waitrose Kraft Wrap, (£3 for 4m), or Paperchase's White Tree on Kraft Roll wrapping paper, (£3 for 3m).
For something altogether fancier, choose from the range of beautiful gift wrap at Re-Wrapped.
Not only are all the papers and gift tags recyclable, they are made from 100% recycled, bleach-free paper, and are printed using vegetable dyes.
When you're faced with a mountain of spent gift wrap on Christmas Day, a quick way to check what can or can't be recycled is to scrunch it into a ball. If it stays scrunched, it should be recyclable (providing there's no glitter or foil on it); if it opens out, it needs to go in your regular waste bin.
Sticky tape
Don't forget to remove sellotape, which can't be recycled, from wrapping paper before you put it in the recycling bin.
If you're going all-out for eco-friendly wrapping this year and want to stick it to sellotape, try Biodegradable Self Adhesive Paper Tape, (£1.51 for 50m). It can be recycled and has a natural rubber-based adhesive.
Ribbons
Instead of prettying your presents with plastic ribbon that will end up in landfill, opt for more substantial alternatives that can be kept and re-used to zhuzh up future gifts, or buy ribbon made from natural materials instead. Check out the selection of 100% cotton ribbons at Myfabrics – we love the Cotton Ribbon Stars, (£1.09 per metre) – or the pieces from Hobbycraft below.
Foil roasting tray
Disposable foil roasting trays and kitchen foil can be recycled but you'll need to rinse off as much food residue as possible and fold it up, to save space in your recycling.
Card and cardboard
It's astonishing just how quickly the pile of discarded cardboard packaging grows on Christmas Day. Remove plastic and polystyrene inserts, and as much sticky tape as possible, before adding it to your recycling.
For Christmas cards, the same rules apply as for wrapping paper. Only the glitter-free or foil-free parts of Christmas cards can be recycled – simply tear off any section that is decorated with glitter or foil and recycle the rest of the card.
Christmas decorations
If your Christmas lights or fairy lights have lost their sparkle, drop them off at a small electricals recycling point – find one, or check details of your local waste recycling centre, using the Recyclenow Recycling Locator.
When it's time to take down the Christmas wreath, remove and compost natural materials such as ivy, holly and pine cones, or add them to your garden refuse collection. Just make sure they're not covered in – yes, you guessed it – glitter, first!
Remember that glass baubles – along with plastic ones and tinsel – can't be recycled. Wrap them carefully and dispose of them in your regular waste bin instead.
Comments
comments