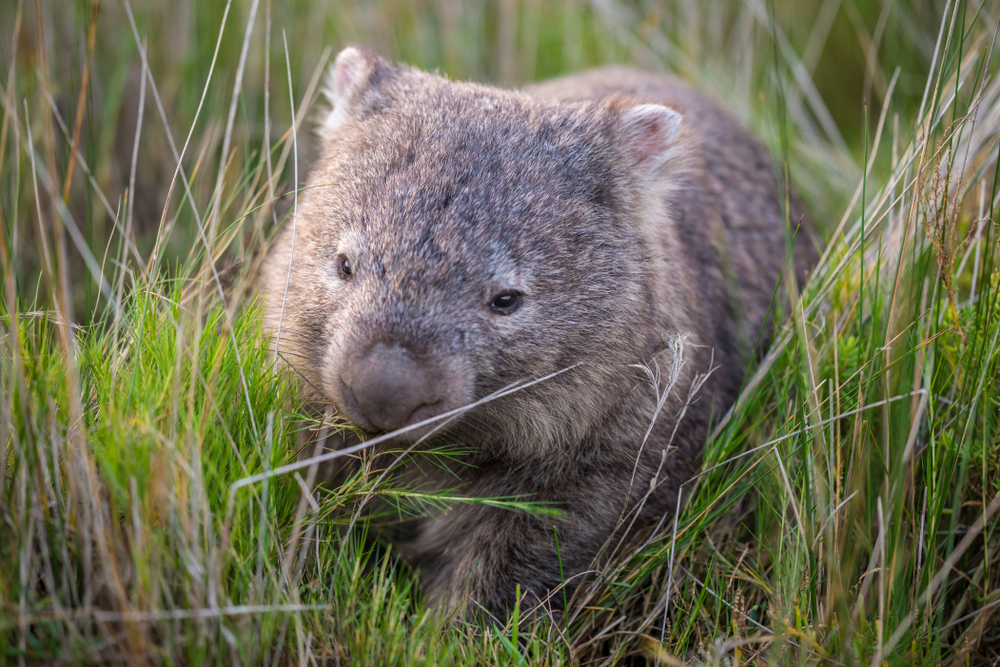 'Significant suffering': experts call for national plan to save wombats from mange
By Ryan Johnson
The incoming environment minister has a clear opportunity to tackle this debilitating disease. Wildlife carers and conservationists want it to be a priority
Last month Grasso wasn't doing well. The bare-nosed wombat, dubbed Fatso in Italian, was infected with mange. The devastating skin disease caused by parasitic mites had left his skin crusted, bleeding and constantly irritated. His eyes and ears were so affected he could barely see, hear or even smell. The nocturnal animal was out grazing during the day, desperate for nutrients because of his raised metabolic rate but he was gradually wasting away. Untreated, he faced a certain and agonising death.
Volunteer wildlife carer Elena Guarracino, from the Looking after our Kosciuszko orphans mange management group, was alerted to Grasso's plight in early May. She set off to find him, somewhere on a property at Avonside in New South Wales. He was in such poor condition that euthanising him could have been considered the kindest option. But Guarracino thought he was plump enough to survive for a while, and so, despite her 120km round trip, she treated him four times over the next 25 days.
When she last saw him at the beginning of June, Grasso was much improved. Many of the scabs had dropped off and his fur had regrown. Because his eyes and ears were no longer crusted, he was more alert and trickier to track down but she's certain he's on the mend.
Day in, day out, wildlife carers such as Guarracino are fighting the scourge of mange across Australia. Giving up their time, and often their own money, they've taken on the burden of caring for these animals because of a lack of action by state and federal governments.
Now there are calls for a national plan to tackle mange. In February, a national report on wombats and sarcoptic mange was submitted to the Senate committee on Australia's faunal extinction crisis. The report provided a detailed look at the issue and the community's concerns, and proposed a plan for future work. Incoming environment minister Sussan Ley has a clear opportunity to improve the situation for wombats and for their carers – if she makes it a priority.
Sarcoptic mange isn't new: it's thought to have been introduced to Australia during colonisation. University of Tasmania researcher Dr Scott Carver isn't sure why but wombats are the most affected marsupial, with impacted populations in NSW, Victoria, Tasmania and South Australia. Of the three native species, the already critically endangered northern hairy-nosed wombat, the endangered southern hairy-nosed wombat and the bare-nosed wombat, it's the bare-nosed wombat that's been hit hardest. So hard that researchers and welfare groups have stopped calling it the common wombat.
Yet because there's a lack of population data on bare-nosed wombats or on how many have been affected, mange hasn't been classified as an extinction threat. Associate professor Julie Old, from Western Sydney University, set up WomSat four years ago to encourage citizen scientists to record wombat sightings. She says mange is a serious issue. "We've had documented cases where small populations of bare-nosed wombats potentially can go extinct. So while we are not talking about extinction of the entire species, definitely small islands of wombats can become extinct."
Humane Society International has been pushing the federal government to prioritise the issue. "The only legal hook to catalyse things is to address mange as a conservation issue and get it listed on the EPBC Act and that's proving difficult," says Evan Quartermain.
In 2014, HSI unsuccessfully nominated the southern hairy-nosed wombat to be listed as a vulnerable species because of the threat of mange and habitat loss. Quartermain describes it as "a precautionary measure" because a mange breakout affecting the southern hairy-nosed wombat, or even the critically endangered northern hairy-nosed wombat, could cause extinction.
In 2018, HSI tried again, nominating mange as a key threatening process. Again they were unsuccessful, with the scientific committee and department saying the evidence wasn't strong enough that mange would threaten the survival of these species and refusing to prioritise an assessment. "Wombats are stuck in a catch-22 situation where governments aren't taking the threat of mange seriously due to a perceived lack of evidence it will cause extinctions, while the best chance of getting this evidence is for governments to take the threat seriously," says Quartermain.
Carver agrees mange can cause localised conservation issues, but he doesn't believe it will cause species-wide extinction because it has existed in Australia for so long and wombats can sometimes co-exist with the disease.
The one thing everyone agrees on is that it's an animal welfare issue. "[It] probably causes the most significant animal suffering I can think of any disease," says Carver, "The more I've learnt about it, the more I feel sorry for these animals, and the sheer degree of suffering they go through when they have this."
Carver has seen that suffering close up. In 2015, his team set out to eradicate mange from the wombat population in Narawntapu national park in northern Tasmania. Despite their best efforts, they were unsuccessful and the population dropped by about 94%. By 2017, there were only an estimated 10 animals left.
Marie Wynan and her husband run the Jarake wildlife sanctuary near the Glenbog state forest in NSW and she's a director of the Wombat Protection Society. She says she's received increased calls about it because awareness of mange has increased. Wombats are generally treated in the wild – the stress of capture can kill them in their weakened state – and while it's challenging, says Wynan, it's possible because they're territorial animals that often return to the same burrows.
The most common way of treating mange is with cydectin, a chemical used to treat cattle and sheep. Carers either pour it onto individual wombats for a number of weeks or into homemade flaps that hang over the entrances to wombat burrows and administer a dose to any animal that goes in and out. It's tricky work and takes dedication: among her other wildlife duties, Wynan does the burrow flaps weekly and is often tracking down individual wombats. It's also costly: 20L of cydectin can cost around $1,200, only enough to cover weekly treatments for around 40 adult wombats. Volunteer carers mostly fundraise to afford the treatments.
Wynan says high dosages are the way to go but there is much debate around this, as well as the frequency and even the efficacy of pouring it onto wombats with their thick, often-dirt encrusted skin. The lack of coordination and direction means well-intentioned volunteers are left to make their own decisions.
Quartermain from HSI says while it's inspiring to see wildlife carers doing the work, it's not fair to leave it up to them. "It's almost like amateur scientists are leading the way when we should be having guidelines determined by experts and properly funded support trickling down to the wildlife rehabilitators on the front line. I think a consequence of the government inaction is that we have a volunteer workforce trying to stop mange in wombats wherever they can, when the situation needs national coordination."
Despite this lack of action and the complexities of the problem, the community is ploughing on. The Wombat Protection Society is convening a national symposium in Queanbeyan in August, to bring carers, researchers and other concerned parties together. Wynan is hopeful the Australian Pesticides and Veterinary Medicines Authority will attend and that they can get approval to use higher dosages.
Carver will attend the symposium, but in the meantime his team is trialling a new treatment. Bravecto is commonly used in domestic animals and it can last for up to three months. Carver says if they can deliver it effectively to wild wombats, it could make a big difference. "It overcomes a major logistical hurdle of trying to treat individuals over time, which is just near impossible."
The progress is encouraging, says Quartermain, but the government must step up. The HSI nomination will go before the minister again this year, and he hopes she'll consider it. "Minister Ley has the opportunity in front of her to break this impasse by prioritising assessment of our nomination for the impact of mange on wombats to be a national key threatening process," he says. "Mange is a severely distressing animal welfare issue as well a conservation one, and such an assessment would have the added benefit of helping to alleviate the agony faced by tens of thousands of wombats every year."
In the midst of the global biodiversity crisis, action should be taken to help the wombats. As Carver says: "Given it was introduced by European settlers to Australia, it's incumbent on us to try and manage this disease or do something about it, particularly given the really significant suffering that it causes to these animals."
Managing all wildlife diseases is challenging, he says, but there's hope. "If we stick with this, we can make some pretty big inroads in our capacity to do something about this, not just the scientists but also the community in general, so I'm optimistic about making some important differences."
Comments
comments