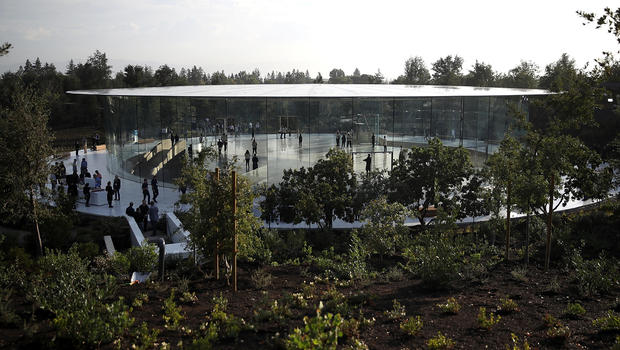 Apple Employees Are Walking Into $5B Glass Spaceship Building Walls
CUPERTINO, Calif. — Apple's stunning "spaceship" campus — official name: Apple Park — is giving some staff a headache and worse.  Apple's giant, doughnut-shape headquarters building is wrapped in glass and there's plenty more glass inside too, walling-off offices and meeting rooms — and workers literally have been walking into walls, CBS San Francisco reports.
The walls and doors are so clear, employees don't always see the panes as they hurry about their business.
The $5 billion "spaceship" campus opened at the beginning of the year, led by a corporate kickoff event led by CEO Tim Cook. "Apple Park has been built to reflect Apple's values," Cook said.
The San Francisco Chronicle got access to 911 emergency calls that showed how serious some of the incidents have been.
"They (injured person) are bleeding, slightly disoriented," one caller reported.
Cupertino building inspector Albert Salvador told CBS San Francisco that Apple has addressed the issue by sticking small white markers on the glass panes and that, since then, there haven't been any more 911 calls.
In a presumably-unrelated development, the company announced in February that it is planning to staff medical clinics described as "an independent medical practice dedicated to delivering compassionate, effective healthcare to the Apple employee population" at the Apple Park campus.
Comments
comments