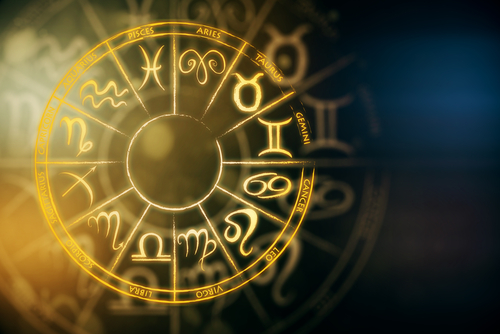 Free Daily horoscope for Friday 11 May
Aries 
Aries on May 11, 2018 will feel a slight sadness. You will sadly remember what kind of happiness your former partner gave you, which you personally "repulsed." It is not too late to return to this bond, but only on condition that you act without the slightest delay. The greatest benefit to you will come from a personal visit to this person. After work, go to see your ex, and right from the door start a confession about what is most important for you now.
Taurus 
Taurus today will have to work for his friend-colleague. This careless specialist will again make a mistake in work affairs, and your boss will say that he intends to dismiss this grief-specialist. You will do everything in your power so that your friend does not lose his current post. Your efforts will bring good results, and you will end this day in a positive mood. In the evening, it will be slightly overshadowed by a quarrel with a neighbor, but this conflict will quickly end.
Gemini 
Geminis will give up their traditional Friday's leisure. The evening of this day you decide not to spend in a bar or cafe, but at home, with a book. This book was recommended to you by one of your older colleagues (it's not a manual, designed to increase your professionalism, but a work of fiction). You will really like this novel, and you will put it down only long after midnight. Meanwhile, in your personal affairs there will not be anything out of the ordinary.
Cancer 
Cancers today will seek a connection with a person who was seen somewhere in a cafe or at a friendly party. It would be much easier if you asked your mutual friends how to get hooked up with this person. But no, you are ashamed to ask anyone such a question, and your "independent investigation" will last too long. As a result, you will finally find this person's account on social media and you will be genuinely surprised to see their marital status (where it will be written – married).
Leo 
For Leos, the most important task of this day will be the purchase of some household item. It's such a small thing it's hardly worth mentioning, yet, for all the banality of this purchase, you will spend many hours on it, not wanting to get defective or counterfeit goods. In the end, you will not be disappointed in your acquisition and put a happy end to this matter. Now you should focus on more lofty goals (read, visit the museum or get acquainted with the new movie release).
Virgo 
Virgos today are destined to get a series of unpleasant news. It turns out that the person who promised to help you in the form of a loan you gave them in the past, at the moment is not paying. The second bit of unpleasant news will come to you from a close member of your family. He will notify you that he will not come to see you on the weekend because of a big production emergency. Actually, the cancellation of this visit will automatically eliminate the need for the amount you will not get.
Libra 
Libra on May 11, 2018 wants to get a new portion of food for thought. Do not look for it around you, and even more so, do not mind the gossip that slackers emit. It will be much better if you visit an exhibition or a museum (somehow you will come into contact with a beautiful person). By the way, there is a chance that today you will get acquainted with a new talented artist, who creates canvases in a unique style. His creativity will become for you the very "food" you have been looking for.
Scorpio 
For Scorpios, the main event of this day will be the arrival of a distant relative. He will give you a nice present (a trinket that you will not find much use for). Do not tell the gift giver that as soon as he goes through the door, you will hide this item on the furthest shelf. Make it look as if you are pleased with this "amazing" souvenir and do not forget to check its value on the internet (you may be given an ugly but very expensive thing).
Sagittarius 
Sagittarius today is not advised to wander in the clouds, while being on the work-site. Because of your excessive dreaminess, you run the risk of missing a very favorable chance of gaining promotion. To do this you will need not so much professionalism as emotional sensitivity. You should show up in front of the boss right after he scolds someone (your boss will immediately call you an expert, ideally suited for this job).
Capricorn 
Capricorns today will be fascinated by the new popular current topic. Immediately after you are introduced to it by the internet, you decide to collect as much information as possible in this matter. And, a little later, you decide to promote these ideas to the broad masses. It's a pity that most of your relatives and friends (people with whom you regularly communicate within the boundaries of reality) will refuse to listen to these ideas. But, you will gain popularity among the internet audience.
Aquarius 
Aquarius on May 11th will be able to be the topic of a great public interest. Everyone will be competing for your immediate attention, calling you a very interesting and erudite companion. Alas, this is not what you will consider your number one goal, and it is much more important for you to be convinced of your external attractiveness to the opposite sex. And, is not necessary to experience anxiety for this concern while there is no new admirer or enthusiastic suitor next to you.
Pisces 
Pisces today cleverly comes up with the solution to a very difficult question. The person to whom you harbor antipathy does not even guess this. Lying for convenience will come to you quite easily today. However, after all, try not to let it become the norm of life for you. So, this evening, having started a dialogue with your partner in marriage, do not try to cheat them or invent a new alibi for your bad deeds. A sincere confession will soften your guilt, so do not forget about it. 
Comments
comments