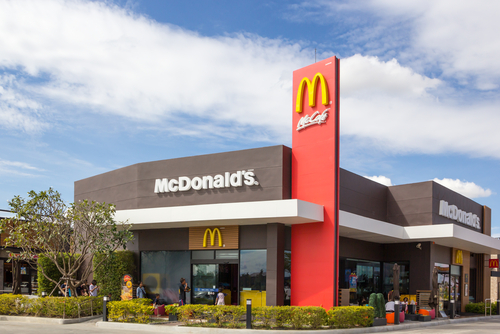 McDonald's, bathrooms dominate August 2018 headlines
McDonald's digital signage makeover and a digital signage sink solution dominated headlines for August 2018 on Digital Signage Today. The restaurant giant McDonald's recently invested billions of dollars into major technological upgrades with kiosks, digital signage, menu boards and more.
One company, VODXS, has crafted a digital signage solution that integrates displays into bathroom sinks. It will play videos as customers wash their hands, then it uses blockchain technology to confirm individual impressions.
Another story analyzed how Taco Bell is using digital signage to boost overall customer experience. Other top stories analyzed future trends in the market such as the increasing prevalence of AI and other smart programs.
You can read more about these top stories for August 2018 below. They are posted in reverse order.
5. Taco Bell delivers interactive digital experiences
Taco Bell's digital journey boasts a clever and concise name: All Access. But its definition and reach defy its moniker as it's about giving guests at its 6,875 restaurants an all-access pass to the brand.
That's because Taco Bell is very aware of how entrenched digital is becoming in the consumer's lifestyle — from booking flights, to using kiosks for hotel check-in, to tapping apps for hailing a cab and ordering up everything and anything needed in life, from food to household sundries.
4. Effective digital signage 101
Thinking about deploying a digital signage solution at your property? Deciding to switch to digital signage is the first — and sometimes easiest — step. But making sure that your digital signage solution is effective and improving guest experiences from day one? That's when you need to partner with an experienced and trusted digital signage solutions provider, because with any successful launch, planning is key.
Before you make the leap, you should take into account a few points that will help you start on the right foot out of the gate and ultimately yield the most successful results.
3.  5 future digital signage trends of 2018
2018 is one of the most exciting years yet in digital signage. Things are getting more integrated, more comprehensive, faster, smarter and better looking.
But remember that all this technology is built around people — to streamline workflows, enhance communications, increase engagement and build community. So, make sure that 2018 is the year of the customer for you. Relate to your audience as human beings, and not just as a source of income or consumers of your product. Give them what they want, and what they want is more access to more comprehensive, more personalized communications.
2. Digital signage blockchain head to the restroom
Digital signage now really is everywhere, as one company, VODXS, has created a digital signage solution for point-of-sink. The company developed a Visual On Demand Experience Solution Faucet with an integrated display that can detect users and display content when they go to wash their hands in a restroom. The solution also uses blockchain technology to confirm the user impression.
1. McDonald's invests billions for digital signage, kiosk makeover
McDonald's Corporation is spending $6 billion to revamp more than 6,000 stores throughout the U.S. in hopes of transforming itself into an efficiency expert's dream brand. The renovations, which will affect stores in 20 states and the District of Columbia, include kiosk ordering, table service, digital menu boards and mobile pay and pick-up zones to speed up the delivery of orders and point heavily toward McDonald's leadership in fast food's technological future.
A series of 21 separate news releases detailed the plans, saying that the remodels should be complete by 2020. The number of locations renovated in each area ranged from just 15 in the tiny District of Columbia to 840 in the sprawling state of Texas.
Comments
comments