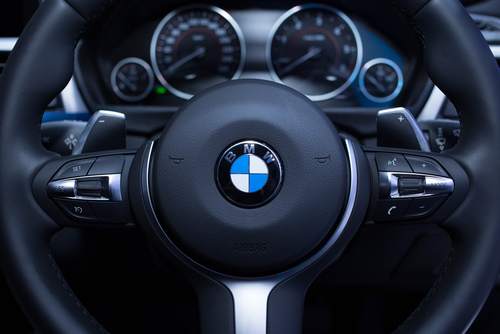 BMW Presents The Future With The Piloted Electric Vision iNext
This is Vision iNext, BMW's latest all-electric, part driverless car. This prototype isn't pure futuristic fantasy either. A car based on the iNext will head for production at the BMW Plant Dingolfing in 2021. Company chief Harald Krüger says this latest concept car provides what he sees as "building blocks for the future from which the entire company and all of its brands are set to benefit." The iNext, he feels, "represents a new era of sheer driving pleasure."
The iNext SAV (as in BMW's sports activity vehicle category) is automated, emission-free and fully connected. What's more, it can be self-driven or chauffeured. In the first scenario, the "boost" mode triggers the electric drive system to deliver, what BMW promises to be, a dynamic and silent driving experience on zero emissions. Then in the "ease" autonomous mode, the car takes over all driving functions for a vehicle that offers a space for a wide range of activities. The idea is for this multi-functioning hub to be at once a mode for transport, a space for work and a sanctuary for relaxation, interaction and entertainment.
The iNext offers the vision increasingly being put forward by leading car manufacturers. The near future will see a first wave of cars that act as a bridge between the more conventional present with the hyper-futuristic fully-autonomous future. It is a vision that is radical enough without being unrealistic. The cars Audi, BMW, Volvo, Lexus, Mercedes have planned don't necessarily challenge the visual language of conventional cars. Yet through high technology, they offer a very different and versatile car experience, something that will evolve further as tech and digitalization advance. Expect to see this first stage on the roads in the early 2020s. The next stage, we are promised, will take on more exciting avant-garde form.
The BMW Group's strength in this competitive scenario is that the marque benefits from over a decade of R&D in electric driving through "project i". The electric sub-brand formed in 2007 has overseen the creation of the i3 city vehicle and i8 performance car, both in their second life-cycle. What's more, technology from these i cars is constantly feeding into the gradually electrification of the BMW and Mini range.
"BMW i exists to generate creative, pioneering ideas which transform the way we think about mobility," says Adrian van Hooydonk. "The Vision iNext marks another next big step on that journey of transformation, showing how more intelligent vehicles can make our lives easier and more beautiful," adds the BMW Group senior vice president of design.
The form is sculptural and full of visual movement with an expansive panoramic roof to flood the interior with light. It continues the language explored in the electric i family. The large, interlinked double-kidney grille, the iconic side window graphic and the blue accent surfaces at the front, sides and rear have clearly adopted the i electric design featured on the i Vision Dynamics last year.
Inside has been designed to feel more like a living room with a blend of cloth and wood materials that resemble furniture. There are two individual seats in the front and a single bench in the rear for up to four people to sit comfortably in this car. BMW has kept the physical steering wheel and digital driver displays, but other than this there are no conventional screens and mechanical controls here. Technology has been hidden away from rear passengers to enhance this homely, living-space character. Only when required by the driver or passengers does technology becomes visible and operable. BMW says in the future it will be working with "shy tech", whereby various functions can be operated through surfaces – wood or cloth – altogether eliminating the need for displays.
The iNext will become the marque's technology flagship. "Personal mobility is set to experience significant change," says Klaus Fröhlich, member of the BMW board of management responsible for development. "The possibilities opened up by autonomous driving and ever-expanding connectivity enable a whole new range of experiences and ways of shaping a journey." He explains: "We have designed the all-electric iNext as a mobile environment that enhances quality of life, a new 'favorite space' in which we can be ourselves and relax." Fröhlich says all products made at BMW going forward will "revolve around people and their needs and desires when it comes to mobility".
Comments
comments