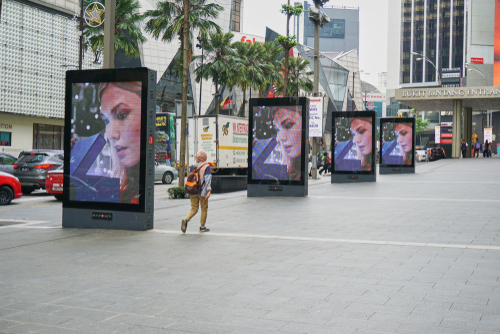 DOOH makes the mundane exciting
If I had to name one boring business, it would probably be storage. It's literally the business of collecting dust. How does one stand out in that line of work? Digital-out-of-home, however, boasts the power to make almost anything intriguing.
The other day, while driving home, I saw a digital billboard advertising the opening of a storage facility in the remains of an empty retail space. The campaign used a few interesting tactics to stand out.
Understanding its audience
At several points during the campaign, the billboard would showcase a message aimed at female customers — stating something amounting to, "Sure, he can keep his man cave."
The overall message tone was poking fun at men who might keep a little too much memorabilia in the house. The company clearly understood at least one potential customer's needs and why they may want additional storage space.
The key is to tap into the underlying emotion or mindset behind your audience. In this case, the company knew its [female] customers didn't just want a big closet, they want a place to throw all of their spouses' "treasures."
With DOOH, as long as you understand your audience, you can deliver messages to stay top of mind.
Staying top of mind
The campaign has been running for several months, with the opening of the storage facility scheduled for sometime this summer. While it might seem expensive to keep a campaign going that long, it can be absolutely crucial for staying top of mind.
There are dozens of storage facilities in the area where I live, and the same likely goes for any geographical region. Competition is going to be stiff in every industry, whether you are in retail, restaurants or storage.
This is why staying top of mind is so important. Customers have the resources to examine countless services and companies at once, so if you don't make your presence known, you are going to fall behind.
Everyone needs to go digital
For some industries, it might be tempting to just go for a static billboard or banner, especially for a business as "dusty" as storage. However, in a world dominated by screens, you need to consider displays just to stay current.
By using a display, you can make your message pop in a way that's difficult for a static display. You can also update content much more easily than with a traditional sign.
In this age, it's not a matter of whether you should go digital, but rather how you are going to use digital, and what messages you are going to put out.
Comments
comments