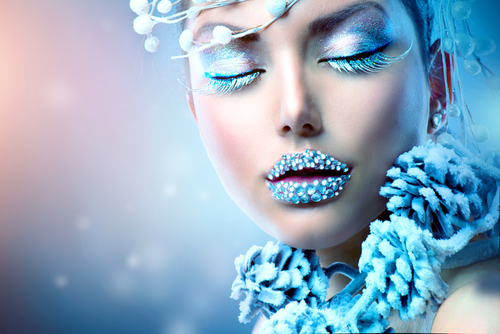 Countdown to Christmas: Your step-by-step guide to looking incredible this party season
Now that Halloween and Guy Fawkes Day are well and truly over, it's time for Christmas to shine.
Our bodies couldn't be more ready for mulled wine, cheese platters and plenty of partying, but as we've learnt from previous years, it's a marathon, not a sprint.
And the key to surviving the silly season (other than getting your Secret Santa present sorted early) is to create a beauty timeline that leaves you prepped and prime for the best of times, as the most festive and fantastic version of yourself.
Here's our step-by-step guide to slay the Christmas season…
P.s. To be completed before your calendar becomes more crammed than a Christmas turkey tush.
One month before: Body scrub/massage
Prior to your entire bank account being dedicated to last minute gifts and festive outfit shopping, treat yourself to a top-to-toe body scrub. Slough off all the dry skin that's accumulated thanks to early onset winter, and get your blood flowing and lymph nodes draining as they should. You'll feel like a new person with your renewed smooth skin. If you don't have the cash to go in-salon, try DIY with something like Sanctuary Spa Hot Sugar Scrub as you soak in the tub. Use the time to de-stress before things begin to get crazy.
Two weeks before: Facial
Your skin is going to take one for the team as you indulge in drinking too much, and sleeping not nearly enough. To delay the effects of dark under eye circles and dull skin, go for a resurfacing and glow-boosting facial. You'll notice the immediate effects as soon as you leave your relaxation bubble, but the intense exfoliation will keep your radiance going for even longer. Check out our list of the top facials in London to find the perfect fit, or consider investing in a Gua Sha and teaching yourself some facial massage techniques for an at-home treatment.
One week before: Hair colour & cut
BOOK. THIS. NOW. Hairdressers become harder to get into than a pair of skinny jeans post-moisturising once we enter December, and you'll want to make sure you leave plenty of time to get your hair refresh and establish a new washing schedule to suit your event dates. While in the chair, ask your stylist to show you a few easy party hair options you can do in a pinch. Request: One quick curling technique, a second-day hairupdo and one greasy hair saviour (it's going to happen, let's be honest).
4 days before: Wax
Operation: Smooth as a baby seal. If you feel your best when your pits, private parts and pins are hair-free, waxing will offer you the best long-term solution (unless you've already had laser). Think about it now, so you can make sure your hairs are long enough to satisfy your waxer and then enjoy 2-3 weeks of smoothness that will see you through to the New Year.
3 days before: Brow tint & shape
Whether you prefer to thread, wax or pluck your brows, tackle those tricky little hairs a few days before to ensure any redness or sensitivity is well and truly gone. Combine it with a tint to define the shape even more, and you'll find you need less brow product to fill them.
2 days before: Spray tan
Party season always calls for a spray tan. Even if you can only see an inch of each calf in your Christmas party dress, the long-lasting glow it will add to your face will hide the signs of hangovers to come. Book in two days before a big event, so you can go after work, marinate overnight and shower it off in the morning. To make it really last, layer over it in the days following with a gradual formula like Dove Summer Revive Lotion or if your face tends to fade long before your body, add some Isle of Paradise Face Drops  into your moisturiser.
1 day before: Gel manicure
Last but not least, coat your nails in long-lasting colour with a gel mani. If you make this the last bit of your prep, you should be able to get through the season chip-free until the New Year. An oxblood red is a classic fail-safe choice, but if you want something a little more festive, try silver or a powder blue with snowflake embellishments.
Comments
comments