Natural Alternative to Prescription Painkillers – Transdermal Cannabis Patch
The transdermal pain relief patch is another very interesting medical application to be derived from the cannabis plant. As the name suggests, the patch adheres to the skin and transfers medication over a period. At the 2015 CannAwards, transdermal patches made by Mary's Medicinals stole the thunder from other participating products and won the "Most Innovative Product" award.
Alternative medicine offers us many options for pain relief; these options bring relief from chronic pain and also are a great option for those who wish to move away from prescription painkillers.
Cannabinoids found in the cannabis flower are not psychotropic. They do not the user's mind and actions. They are similar to compounds already present in the human body. The cannabinoids in the transdermal patches enter the bloodstream and message the central nervous system to mitigate the pain. The diffusion of this drug through the skin increases its availability and therefore usefulness.
Cannabinoids have been found useful in treating myriad conditions, such as arthritis, epilepsy, anxiety, and even ulcers. Of the different cannabinoids present in cannabis, CBD finds maximum use in the preparation of medication. Benefits vary with the type of cannabinoid, for example, CBDV and CBG stimulate bone development, CBD has multiple uses – antibacterial, antidiabetic, antiemetic, antipsoriatic, etc.
The transdermal patches made by Mary's Medicinals carry reliable and effective doses. The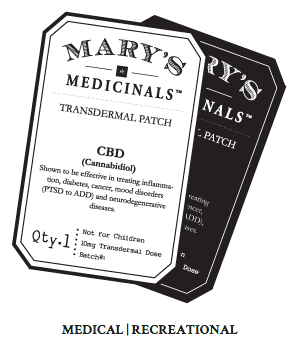 company strives to offer the beneficial properties that can be obtained from different marijuana strains such as THC Sativa and THC Indica. The patches, 10mg and 20 mg, are available in apothecaries in Colorado, Washington, Oregon, Illinois, Arizona, Nevada, and Vermont. These are excellent alternatives to the addictive painkillers that millions of Americans depend on. Prescription opioids are now prescribed four times as often as they were twenty years back, and yet there is no data to suggest that Americans are experiencing less pain. Opioid drugs, such as heroin, fentanyl, codeine, etc, cause nearly hundred deaths each day in America. Marijuana, on the other hand, has been used in treating addictive behaviors. The chances of people abusing these transdermal patches are low because the slow rate at which the medication is diffused to the brain.
The cannabis patches sold by Mary's Medicinal are being touted as ideal for recreational use as well.
Comments
comments