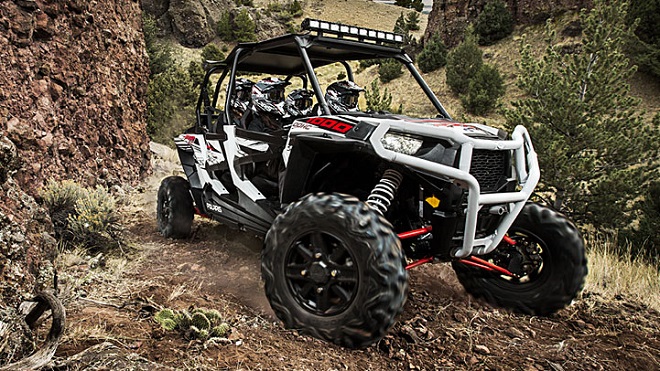 Polaris transforms retail experience with interactive digital signage
Polaris, a supplier of outdoor sports vehicles and motorcycles, recently analyzed its presence at retailers, and discovered multiple issues. Amy Goolsebee, retail design and merchandizing manager for Polaris, spent several months traveling to the company's retail dealers and discovered a variety of crowded environments filled with a sea of handlebars and no well defined "Polaris space."
In order to fix this issue, Polaris worked with Reflect, a digital signage provider, to craft a better digital experience to inform and sell the vehicles. Goolsebee and Mason Page, executive vice president of strategy business planning at Reflect, discussed this digital makeover at the 2018 Digital Signage Expo at the Las Vegas Convention Center.
Meeting customers expectations
Goolsebee pointed out that customers go through many steps, or touchpoints, before they even walk into a dealership.
"There are 24 touchpoints people go through before going to a dealership. 19 of those are digital," Goolsebee said during the presentation. However, with the current retail model, there was no way to capitalize on those touchpoints. Many of the Polaris vehicles were hidden away, and there was no set area for the vehicles. Some customers even ended up purchasing the wrong vehicle.
Customers also had no way to interact with the vehicle in a digital way at the retailer, according to Goolsebee. There was nothing to keep them engaged while employees dealt with other customers.
Polaris did a survey to see what their customers wanted, and they found 47 percent of them wanted prompt service, 17 percent wanted smart recommendations and 26 percent wanted personalized experiences.
In order to rectify this situation, Reflect deployed several interactive assistive selling displays.
Assisted digital selling
These displays allowed customers to craft their own sports vehicle with the aid of a sales representative. Customers could select options ranging from individual bumpers, colors and add-ons such as coolers. The display would show a 3-D model of the car to let them see what they would be purchasing. A ticker on the right hand corner would also inform the customer of the total cost of their custom vehicle.
Page pointed out that customers could also send the build to their phones so they could look at it at any time or show their significant others. He emphasized this tool was designed to be different from the online experience.
"It's got to be different enough to add more value," Page said. "It's a tool meant for a sales associate to drive the process."
In addition to this feature, the display would also loop content to attract customers. It also refreshes regularly for new vehicle releases.
The result and the future
Goolsebee said Polaris saw a 26 percent increase in vehicle sales after rolling out this solution, and a 44 percent increase in their parts, garments and accessories division.
Retailers paid to have Reflect's interactive digital signage in their locations, and many retailers are still requesting the tool to help boost sales.
In the future, Polaris hopes to further develop its digital strategy with increased video analytics and monitoring the online to in-store experience.
This is part of a greater trend within retail of using tools such as digital signage to "connect consumer touchpoints," according to Page. By directly meeting customers at key touchpoints, retailers can not just boost ROI but also improve the entire in-store experience.
Comments
comments