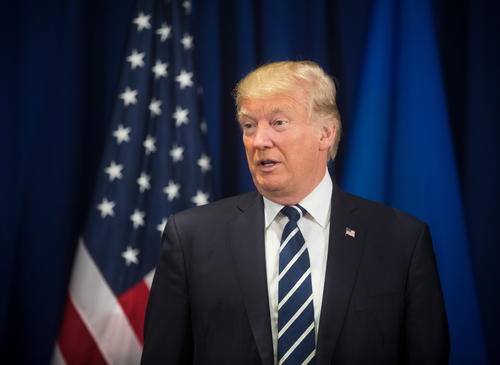 President Trump stands by 'culture' criticism of European immigration
Chequers, UK — President Donald Trump pressed ahead Friday with his complaints that European immigration policies are changing the "fabric of Europe" and destroying European culture.
During a press conference with British Prime Minster Theresa May on Friday, President Trump backtracked on the criticism of May that he made in an explosive interview released as he began his visit to the country. But he reiterated his belief that Europe's decision to accept migrants from Middle Eastern and African countries is "a very negative thing for Europe."
Standing next to May at Chequers, the prime minister's official country estate, President Trump acknowledged that his remarks were "politically not necessarily correct." But he said European countries need to "watch themselves."
"You are changing culture, you are changing a lot of things," he said, adding, "You see the same terror attacks that I do."
President Trump was reiterating a position he articulated in interview released Thursday by The Sun, in which he also criticized May's handling of Brexit negotiations and said "I think allowing millions and millions of people to come into Europe is very, very sad."
May quickly rebutted President Trump during Friday's press conference, saying the U.K. has a "proud history of welcoming people who are fleeing persecution to our country."
"Over the years, overall immigration has been good for the U.K.," she added. "It's brought people with different backgrounds, different outlooks here to the U.K. and we've seen them contributing to our society and our economy."
Critics have faulted the president for using language that echoes white supremacist laments about the loss of white power.
Rep. Adriano Espaillat, D-N.Y., born in the Dominican Republic, said President Trump was "trying to throw gasoline on fire and begin a culture war, and it's unfortunate that he's divisive in the United States and he's divisive in Europe as well."
"We all tout our nation as being a nation of immigrants," Espaillat said. "For him to characterize that as something negative that we should avoid is sort of going against the most important and fundamental tenets of our country."
President Trump said he believes that the U.K.'s Brexit vote in 2016 was in part a response to lax European immigration laws, and he has frequently tried to use Europe as a cautionary tale for the U.S., where he is seeking to implement more hawkish migration policies.
President Trump has used tough rhetoric on immigration to motivate his political base at home, at times using racial or ethnic undertones. During the 2016 presidential campaign, he drew global condemnation for a call to ban Muslim immigration to the U.S. Since entering the White House, he has enacted travel restrictions for citizens some Muslim-majority countries, curtailed refugee admissions to the U.S. and called for "extreme vetting" of those entering the U.S.
Earlier this year, President Trump drew fire from Democrats for describing MS-13 gang members, many of them immigrants to the U.S., as "animals."
Comments
comments