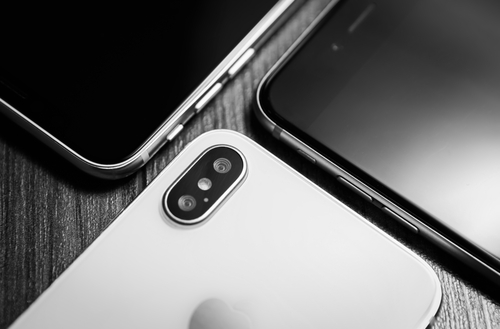 Apple could unveil the biggest iPhone ever Wednesday. Are you ready?
The unofficial kickoff to the tech gadget buying season opens Wednesday when Apple unveils a suite of new products at a press event, highlighted by what could be the largest iPhones ever released.
Gene Munster, an analyst and investor with Loup Ventures, says the annual presentation is a huge deal because 1 in 6 citizens of the world use Apple products, "and when there's an update to a product line, people really pay attention."
Apple is expected to unveil three new iPhones, an update to the Apple Watch and the AirPods, the $159 Bluetooth earbuds first unveiled in 2016.
The new round of tariffs on imports from China, proposed by President Donald Trump, will provide a backdrop to the event but won't affect the new iPhone, Munster says.
Last week, Apple wrote a letter to the government protesting the tariffs, saying they could lead to higher prices for several products, including the Watch and Air Pods. Munster thinks the tariffs, if approved, would add 10 percent to Apple's costs to make its wearable products. However, he believes the company would likely absorb the extra costs.
The company is forecast to sell 220 million iPhones in 2018, which is flat compared to last year, but Apple has successfully raised unit prices without consumer backlash. Last year's iPhone X was Apple's priciest ever, starting at $999. But this year, look for an even more expensive iPhone. The successor model, dubbed by analysts as iPhone XS Plus, with a 6.5-inch OLED screen, would be the biggest iPhone ever and is expected to start at $1,199, Munster says.
Beyond the bigger and more powerful iPhone X successor, Apple is expected to introduce an iPhone X upgrade with more power, called the iPhone XS, and a new 6.1-inch model, a lower priced iPhone analysts haven't figured out a name for yet.
Apple says 1.3 billion people have purchased the iPhone since 2007, but Google's Android system has a larger market share, 85 percent worldwide, according to researcher IDC, due to many lower-priced models being available.
In the U.S., according to researcher eMarketer, Apple's market share is 45 percent, compared to 53 percent for Android.
The two-hour presentation begins at 1 p.m. EDT from the Steve Jobs Theater at Apple's Cupertino, California, campus.
Apple will stream the event live on its website – but only via the Safari browser, so take a moment to update your software, or download it, if you don't have Safari now. The event will be available for viewing on Apple devices – Macintosh computers, iPhones, iPads and via the Apple TV set-top box.
Comments
comments