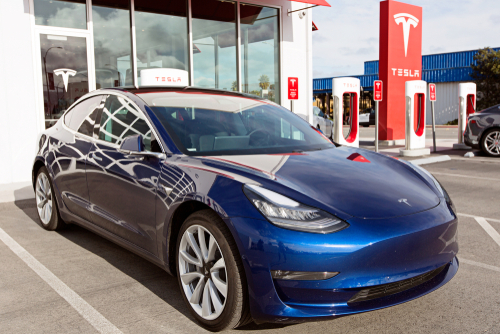 Tesla's secret success story: Model 3 is best selling luxury car in America
New York (CNN Business)The Tesla Model 3 is now the bestselling luxury car in America. By a lot.
Surprised? That's probably because Tesla positioned the Model 3 as a mass-market car, not a luxury car. The Model 3 is supposed to have a $35,000 starting price, not the six-figure price tag of the Model S or Model X.
Maybe someday the Model 3 will be the mass-market car Tesla claimed it would be, but it isn't one yet.
To get a Model 3 for its $35,000 starting price, you would need to buy one with a "standard" battery, which won't be available for three to six months. All the current Model 3s have long-range batteries, which take the starting price up to $49,000.
Add in the dual motor all-wheel drive, which Tesla said comprises almost all of its current production run, and you get a starting price of about $55,000. And that's before paying extra for autopilot features, special colors or wheels and other premium options.
The fact that the Model 3 is selling in a luxury car price range is not a bad thing for Tesla. Luxury cars are more profitable than mass-market cars. That's crucial for Tesla's attempt to become profitable and avoid a cash crunch that its critics are expecting.
CEO Elon Musk even acknowledged this the reason the $35,000 Model 3 will have to wait.
"Shipping min cost Model 3 right away would cause Tesla to lose money & die," he tweeted back in May.
Tesla prefers to use the term "premium sedan" to describe the Model 3, rather than luxury model. The company did not offer a comment for this story.
Beating the competition
But the Model 3 is currently competing with America's luxury brands — whether or not Tesla wants to admit it. And the numbers show that it's beating that competition — by a large margin.
"If look at what the company has done, it's truly unprecedented," said Rebecca Lindland, senior analyst for Cox Automotive. "It's not only almost single handedly jump started the electric vehicle segment, it's moved from a niche automaker to be a mainstream competitor for the luxury brands."
Tesla announced Tuesday that it sold 55,840 Model 3s in the third quarter, nearly all of which went to American customers. The Audi Q5 was the next bestselling luxury model in the United States — Audi sold 21,000 of them over the past three months.
To put the Model 3's success in perspective, Tesla sold more Model 3s than GM sold Cadillacs or Buicks — of any model. The Model 3 also outsold all Honda Acuras and Ford's Lincolns and Tesla sold more Model 3s than Lexus, BMW, Mercedes and Audi sold cars (when including SUVs, the big four luxury makers each outsold the Model 3).
The Model 3 surpassed those established brands even though Tesla doesn't advertise and, in most cases, Tesla has far fewer stores than its competitors' dealership network.
Quiet dominance
Part of the reason Tesla's success isn't better known is its habit of over-promising, setting production targets the company routinely misses.
"They've been their own worst enemy, because they've set such aggressive targets, the success they have had hasn't been appreciated," said Lindland.
Tesla's controversies haven't helped either.
In August, Musk proposed, then abandoned, plans to take the company private. The SEC sued Musk last week, claiming he had deceived investors when he tweeted that he had secured financing to go private. On Saturday, Musk reached a deal with the SEC to pay a $20 million fine and step aside as chairman of Tesla. He will remain as CEO, news that relieved Wall Street on Monday.
Several executives have left the company in recent months, including the chief accounting officer, who quit after less than a month on the job.
Add Musk smoking pot and drinking during a podcast, admitting that he was only getting a few hours of sleep a night while staying in his factory around the clock and other outrageous actions too numerous to mention, and it's easy to see how the company's success is getting lost in the rush of other news streaming out of Tesla.
Comments
comments