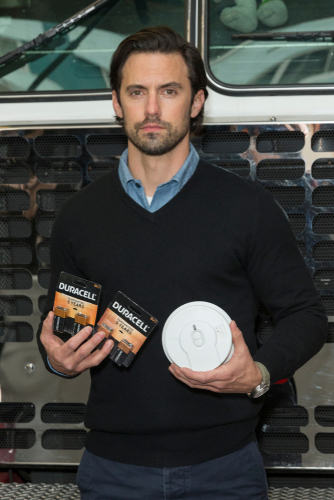 'This Is Us' Milo Ventimiglia Reveals His Simple Travel Must-Haves
Jack Pearson's death on This Is Us might go down as one of the most buzzed about in TV history. And as fans prepare for the season two finale airing March 13, actor Milo Ventimiglia has been hitting the road doing interviews, making TV appearances, and just traveling for fun.
In fact, his Instagram page is filled with pro-worthy pictures from places he's visited recently like Arizona, Oregon, and Europe. But during one of his recent trips to New York, I was able to catch up with the star when he teamed up with Duracell on March 8 to remind everyone to change their smoke detector batteries when changing their clocks on Daylight Saving.
While I sadly wasn't able to ask the burning question of whether or not he owned a crockpot, I instead got him to dish briefly on his love of travel and his on-the-go must-haves.
Here's what he had to say.
Q: Your Instagram is filled with amazing photos from your travels. Is that important to you?
A: For me, I think my traveling is usually a lot of photographic memories, and I take a lot of photos. That is kind of where I archive my memories and bring things home that way. Some places that I have been, I have brought a token or some home from different places I have been. Some of them are around the house, and some of them are tucked away safely.
Q: Are you traveling a ton these days?
A: Not necessarily constantly, but it does happen a lot. It's part of the job.
Q: What are your tips for surviving that hectic travel schedule?
A: Sleep when you can, rest when you can, take care of yourself, eat well and hopefully you just take advantage of the opportunities that are presented to you and spread some good.
Q: Do you have any essentials you have to have in your carry on?
A: I have a small kit that has dental floss, Advil, Dramamine, and eye drops. In general, I pack really simply. Every shirt that I pack is going to work with every pant that I pack and every sweater that I pack. So, I can mix and match easily.
Q: It seems you like to keep things simple in real life despite having a rather dramatic TV life.
A: I try. I mean, why can't complicate life you know? Keep it as simple as you can.
Comments
comments