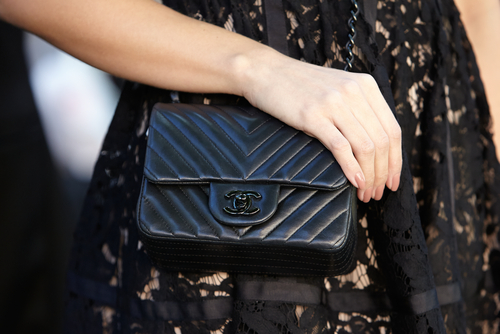 Small is the new big as micro bags takes over the high street
For the past decade, oversize day bags, worn specifically in the crook of your arm, have been the industry standard – not any more. Thanks to a new wave of "micro bags" – also known as mini, baby or even bonsai – designed by major labels such as Gucci, Fendi and Chloé, as well as lesser-known brands such as Mansur Gavriel and Simon Miller, have made their way on to the high street.
And bags are not the only accessory being minimised, with smaller sunglasses and heels also outnumbering the oversized on the spring/summer 2018 catwalks.
Skinny cat-eye sunglasses, a favourite of model Kendall Jenner, are all over Instagram; while smaller-framed sunnies are sixth on men's fashion magazine Fantastic Man's "official garment ranking" for spring. Women, meanwhile, are swapping their stilettos for one-inch heels, also known as "nanos", particularly Balenciaga's coveted Knife slingbacks.
As ever, social media is partly to blame – smaller accessories tend to photograph better and stylists prefer to shoot women's shoes in size 4 or 5.
It is in the world of bags that the new minimalism is making its most visible mark on the high street. Both Zara and Topshop have seen a spike in sales of bags smaller than a cantaloupe. The highly prized £462 Le Sac Chiquito by French designer Jacquemus, one of the biggest new names in fashion, already has a waiting list after being carried by singer Rihanna. The Fendi mini purse, meanwhile, was carried in February by model Gigi Hadid and has since sold out.
Sara McAlpine, the fashion features editor of Elle, describes wearers as "the cab-to-kerb woman": "She only moves between the office and appointments. She doesn't carry make-up. But secretly, she is keen to keep up appearances – to look like she's in control when perhaps she's not."
The micro bags have spawned a spike in what McAlpine calls "the secret second bag" – usually a tote, often filled with books, diaries and cosmetics, and always stuffed neatly under the desk.
They are also a sign that fashion is keeping up with the economic landscape: with digital payments on the increase, and debit cards expected to overtake cash in the UK this year, we have less to carry.
Mini bags might be hot, but the pricing has kept them exclusive. Chloé's Nile bag is 13cm long but costs more than £1,000. The same designer's black leather cross-body bag is a snip in comparison at £300, but is only a 5cm cube. "Given we can pay for things with it, my iPhone is becoming more of a bag than a phone," says McAlpine, pointing to the rise in luxury lanyards, an embryonic trend with prices of Chaos lanyards starting at £65.
Ida Petersson, womenswear buying director of Browns, says the small bag trend has been gaining momentum for the past few seasons, but that a handful of micro bags are selling out immediately: the mini Dionysus by Gucci, the Nile by Chloé, while the Jacquemus bag is gaining the cult status of the famed Chanel 2.55. At Selfridges, London-based Yuzefi mini bags have a waiting list and, says Eleanor Robinson, Selfridges' director of accessories, they are already looking at a similar story in autumn. As Plum Sykes once wrote in Vogue, "an It bag is an It bag only if you're unlikely to possess it".
The influence of the micro bag was felt more than two decades ago with the Fendi Baguette, so named because it tucked under your arm, but with the added irony that no Fendi wearer would ever actually eat bread. "It was foolish, a treat, anti-functional. It was the first bag that was treated like a garment," Silvia Venturini Fendi told Vogue at the time, outlining precisely its appeal to It girls. Photographs of Paris Hilton with the bag helped sell more than 100,000 in its first year. Since then, bag sizes have waxed and waned with a particular spike for oversized totes in the noughties.
If the rise of smaller heels is rooted in practicality, and tiny sunglasses are one of the few unmined trends from the 1990s, then the micro-bag trend, worn cross-body, is about status. As WB Yeats wrote in his poem, Fergus and the Druid, "Take, if you must, this little bag of dreams/Unloose the cord, and they will wrap you round" – a warming quote, but one that is unlikely to fit on any of these bags.
Comments
comments