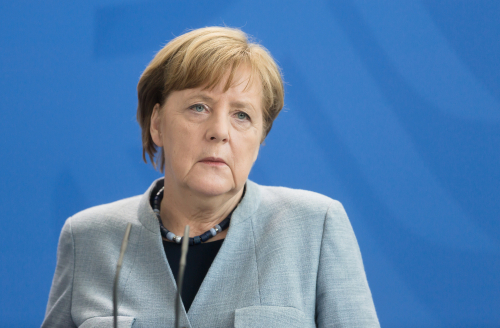 Merkel on the brink as Seehofer signals intention to resign as interior minister
German Chancellor Angela Merkel was battling to save her coalition Monday after Interior Minister Horst Seehofer announced his intention to resign over a controversial migration policy, according to German media reports.
Seehofer offered to quit as interior minister and as leader of the Christian Social Union (CSU), the Bavarian sister party of Merkel's Christian Democrats (CDU), during a marathon party meeting Sunday, but was later persuaded by CSU colleagues to meet with Merkel one more time and attempt to resolve the row, Reuters reported.
"In the interest of the country and the ability by the coalition to act, we want to try to find a way to unify on this central question: border control and refusal, only on this question," Seehofer said early Monday. "And I hope that we can manage it. This is an act of goodwill on my part and another attempt to come to an agreement, otherwise this would have been it today."
Merkel was meeting with the CDU leadership Monday morning ahead of crunch talks between the two parties later in the day.
The CSU chief, who has repeatedly called for tougher policies on refugees, had given Merkel two weeks to reach an agreement with other European Union leadersthat would allow German police to reject asylum seekers at the border who are already registered in another EU country. Under EU law, those people must be taken in and arrangements made on a case by case basis to send them back to the first country of entry.
Seehofer had threatened to implement that policy unilaterally if Merkel could not reach a satisfactory deal by Sunday. Instead, he reportedly offered to step down, a move that could provide temporary respite for Merkel but that may spell the end for the decades-old CDU/CSU alliance and for the coalition government.
Leopold Traugott, policy analyst at think tank Open Europe, sees little hope for a compromise between the parties as they meet again Monday. "It's unlikely Merkel will give the CSU more concessions," he told CNN. "They have been pushing this issue too hard and too fast."
The chancellor is in the strongest position, Traugott explains. "Her own party is really behind her. Now that the CSU is behaving more aggressively towards Merkel and the CDU, those normally critical have come to her support."
Speaking to CNN Monday afternoon, Bavarian CSU interior minister Joachim Herrmann said that while his party's goals on migration were far from being reached, the CSU was not looking to break with the CDU.
"I don't want to speculate as to what the outcome will be today," Hermann said. "What's clear is that the CDU and CSU want to work together. We will need to find a common solution to the problem."
Earlier in the day, Bavarian state premier Markus Soder also said he hoped for a compromise. "One thing is clear: the stability of the government is not a question for us," Soder said, according to Reuters.
How did we get here?
The political crisis is one more sign of a growing rift in Europe between those who want to work together to reduce the number of migrants and refugees entering the bloc, and those who have grown tired of failed attempts to reach bloc-wide agreements and are taking unilateral action.
Speaking ahead of an EU summit last week, Merkel — a staunch advocate of EU-wide solutions — said migration could be a "make or break" issue for the union.
Europe's leaders emerged from talks with a bloc-wide agreement that it was best to deal with the issue collectively rather than unilaterally. But the wording was vague and nations will participate in relocation and resettlement programs only on a voluntary basis.
Speaking at his party's annual gathering Sunday, Matteo Salvini, Italy's interior minister and leader of the anti-immigrant League party said he wanted to create a pan-European association of like-minded parties, Reuters reported, a further indication that nationalist forces are gaining strength.
Merkel insisted the EU-wide deal reached on Friday was a victory, but Seehofer's party was not so sure. The CSU is fighting state elections in Bavaria in October and, under pressure from the far-right, anti-immigrant Alternative for Germany (AfD), is seeking to burnish its own anti-refugee credentials in an attempt to win back voters.
But Traugott believes the CSU's attempts will fail and that Seehofer's apparent dithering will alienate discontented voters. "They have really miscalculated what helps them and what harms them," he said.
Merkel and Seehofer had long battled over the right approach to migration, but seemed to reach an agreement after federal elections last year when the chancellor agreed to try and limit the number of refugees arriving in Germany each year to 200,000 — a policy that Seehofer had repeatedly demanded and Merkel had consistently rejected.
The latest flare-up was triggered when Seehofer announced a 63-point "migration master plan" last month, which Merkel refused to endorse due to the proposal to reject asylum seekers already registered elsewhere. Merkel agrees that the current rules — known as the Dublin regulation — must be reformed, but insists that must be done at the European level.
What could happen next?
There are three possible outcomes, according to Traugott. In talks Monday afternoon, the CDU and CSU could reach a compromise that would enable Seehofer to stay in power, both as CSU leader and as interior minister.
Traugott thinks this is unlikely. "I can't see what Merkel could realistically give him now that would be meaningful," he said.
If Seehofer resigns, his position as interior minister could be taken by another CSU lawmaker. Although Merkel might breathe a momentary sigh of relief, little would change in the long run. "The conflict between the CSU and CDU would continue," Traugott said. Some CSU politicians are "even more radical on this issue" than Seehofer.
In the third — and least likely option — Seehofer would resign and the CSU would leave government, "the nuclear option," according to Traugott. The governing coalition — which would then consist only of the CDU and Social Democrats (SPD) — would be short of a majority and Merkel would either have to rule with a minority government or seek the formal support of the Green Party or the pro-business FDP.
That would be extremely difficult, as both parties have "very different ideas on migration policy" to the CDU and SPD.
Should the government break down completely, it could pave the way for new elections, an option that Merkel has previously said she prefers to ruling in a minority government.
Comments
comments