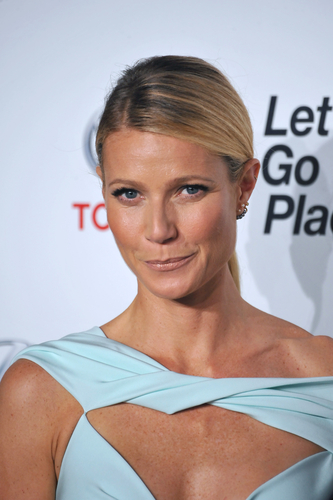 Gwyneth Paltrow Confesses She Wanted a Third Child
Gwyneth Paltrow is opening up about her life, divorce and career.
The actress and Goop creator has been through a lot in her 45 years, with some great highs and worst lows. But the Los Angeles native prevails and isn't afraid to speak her mind when it comes to her work and family life.
One thing on her mind, during her New York Times interview published on Wednesday, was the fact that she wanted a third child. Paltrow is mother to two children — 14-year-old daughter Apple and 12-year-old son Moses — whom she shares with ex-husband Chris Martin, but could've imagined adding another little one to the bunch.
"All I'm saying is it's not nothing," she expresses. "I really wanted another one."
While Paltrow, who is now engaged to Brad Falchuk, had wanted to have a third child, she and Martin ended up "consciously upcoupling" in 2014, a term that brought a lot of backlash and negative comments into her world.
"I was really saying we're in a lot of pain, we failed at this; we're going to try and do it in a different way," Paltrow explains of the term she used to describe her divorce. "But I was so raw that I didn't anticipate. I think that was an instance where it really hit me that an insouciance with language from me is different than from somebody else."
Another thing that really affected her was tabloid magazines calling her the "most hated celebrity."
"I remember being like, 'Really? More than, like, Chris Brown? Me? Really? Wow,'" she recalls. "It was also the same week that I was People's Most Beautiful Woman. For a minute I was like, 'Wait, I don't understand. Am I hated to the bone or am I the world's most beautiful?'"
But Paltrow has tough skin, and you have to in the entertainment industry. There was a point where she decided to put her acting career on pause and pursue Goop to the fullest.
"I really liked acting," the Iron Man star shares. "But at a certain point, it started to feel frustrating in a way not to have true agency, like to be beholden to other people to give you a job, or to create something, to put something into the world."
She also worked closely with Harvey Weinstein and called their relationship "a classic abusive relationship."
"The one time that Harvey propositioned me was really almost the least of it in terms of how onerous that relationship was, and it was very quid pro quo and punitive, and I always felt like I was on thin ice, and he could be truly horrible and mean and then be incredibly generous," she claims. "It was kind of like a classic abusive relationship."
Nowadays, she focuses on her family and Goop, with adding a couple acting projects here and there – and she isn't fazed by people criticizing her. In fact, Paltrow uses the negativity as a way to bring positivity into her life.
"That's all we do as women," she says. "We just kick the [expletive] out of ourselves. It's like that inner critic is so vicious, and it's like: Why do we do that? It's so nuts." She continued: "People say that there's no link between emotions and consciousness and physical illness. And yet look at the plethora of autoimmune diseases around you. One man to 10 women have autoimmune. We literally have turned on ourselves."
For more on Paltrow, including what she does to help her relax, watch the video below.
Comments
comments