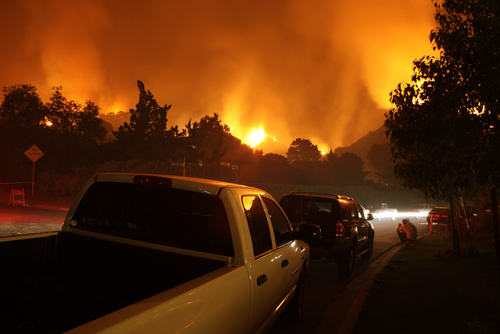 Carr fire: California blaze leaves two dead
A raging wildfire in northern California has killed two firefighters and forced tens of thousands of people to flee their homes.
The fires in Shasta county are being sucked up by strong winds to form "fire tornados" that are uprooting trees and overturning cars, fire officials say.
The blazes, known as the Carr fire, have destroyed at least 500 structures and are threatening thousands of homes.
Firefighters are battling the blaze, which is only 5% contained so far.
The wildfire began on Monday and has scorched over 48,000 acres (194 sq km) of land – an area larger than the city of San Francisco.
"We are seeing fire whirls – literally what can be described as a tornado," California department of forestry and fire protection (CalFire) chief Ken Pimlott told reporters.
"This fire was whipped up into a whirlwind of activity" by gale-force winds, he said, "uprooting trees, moving vehicles, moving parts of roadways."
"These are extreme conditions… we need to take heed and evacuate, evacuate, evacuate."
Two firefighters – fire inspector Jeremy Stoke, and a bulldozer operator who has not yet been named, died trying contain the blaze.
Three people – a great-grandmother and her two great-grandchildren, are currently missing, the San Francisco Chronicle reports.
What are fire whirls?
Fire whirls, also known as fire "tornadoes", are spinning vortexes of air, ash and fire
They form when rising hot air begins to rotate and forms a vortex that picks up flammable gases and burning debris vegetation
Fire whirls typically only last a few minutes but can be very dangerous because they can move quickly
They can reach dozens of metres in height, with core temperatures as high as 1,090C.
About 37,000 residents have been forced to leave the area.
One local, Liz Williams, found herself and her two children stuck in traffic as people rushed to evacuate. She eventually fled by foot.
"I've never experienced something so terrifying in my life," she told AP news agency. "I didn't know if the fire was just going to jump out behind a bush and grab me and suck me in."
The Carr fire is one of almost 90 active large fires in the US, according to the National Interagency Fire Center.
In California, the Ferguson fire has killed one firefighter and led to the closure of much of Yosemite National Park, while the Cranston fire in Riverside County in the south has burned 11,500 acres (46 sq km) of land.
Wildfires are a common occurrence in California during the state's long, hot, dry summers.
However, experts say this has been the worst start to the fire season in 10 years – partly due to the 2012-2017 drought that killed off large amounts of vegetation.
In December, Governor Jerry Brown said devastating wildfires fuelled by climate change had become "the new normal", and that large fires "could happen every year or every few years".
Comments
comments