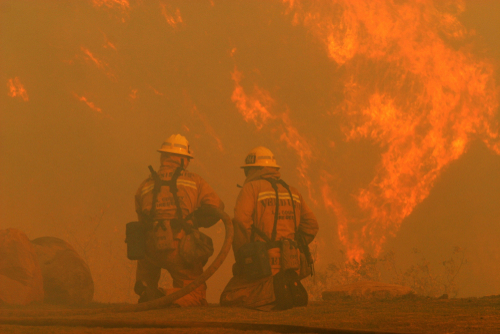 California wildfire will burn for the rest of August, say officials
California's biggest wildfire on record is expected to burn for the rest of the month, fire officials said on Tuesday.
The Mendocino Complex Fire has already engulfed 290,692 acres (117,639 hectares) – almost the size of Los Angeles.
Barely a third of it is under control, according to the California Department of Forestry and Fire Protection.
Firefighters are tackling 18 major blazes across the state amid strong winds and low humidity.
The fire – which comprises two blazes in the state's north – was declared the biggest in California's history on Monday.
Officials had set a target to extinguish the fire by mid-August, but they now say they will need until early September.
The fire has burned 75 buildings and led to thousands of evacuations.
A separate blaze – the Carr fire, further north – has killed at least seven people and destroyed more that 1,500 structures. Burning through almost 160,000 acres, it was 47% contained by late Monday.
Meanwhile, more fires have been breaking out, adding to the mammoth workload of fire crews.
The so-called Holy Fire, in southern California, grew dramatically and rapidly on Monday, with two hikers needing to be airlifted to safety.
How are firefighters coping?
At least 14,000 firefighters are struggling to contain the multiple outbreaks.
The crews have been boosted by US army personnel and more than 1,000 prisoners. The inmates – who are considered low-risk offenders – work on a volunteer basis but they also receive $2 (£1.50) a day, plus $1 an hour.
Fire crews from Australia and New Zealand have also flown over to share their expertise in battling bush fires.
Firefighters told the LA Times about their gruelling schedule. One said his crew had slept – sitting up – in the seats of their fire engine on some nights.
"It's been pretty crazy – they're calling this the new norm," said Omar Estorga, captain of a crew working on the Carr Fire. "In years past, there were one or two big fires a year. Now they're doing three to four huge fires in a week."
Nearly half of the 10 largest California wildfires on record have occurred in the past decade, according to Reuters news agency.
Officials have rejected a theory, tweeted by President Donald Trump, that the fires' spread was being "made so much worse" because of a Californian policy to divert water into the Pacific Ocean.
Deputy fire chief Mr Mclean dismissed Mr Trump's comments to US media, saying firefighters had "plenty of water" to carry out their work.

Will it get worse?
National Weather Service meteorologist Brian Hurley has warned that conditions are not going to immediately improve – with temperatures as high as 43C (110F) being forecast for some areas.
Experts say 2018 has the worst start to the fire season in 10 years – partly due to the 2012-2017 drought that killed off large amounts of vegetation.
Comments
comments