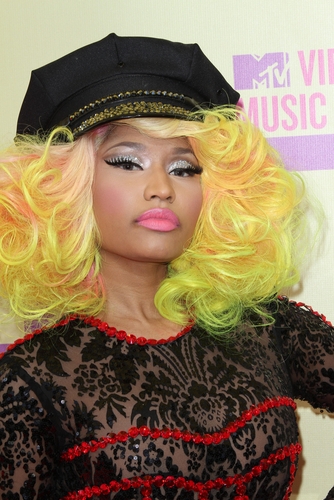 Diesel criticised for casting Nicki Minaj in anti-bullying advert
Diesel has been criticised for including Nicki Minaj in a new anti-bullying fashion campaign.
Some of those who have hit out at the company believe they have been bullied by Nicki online.
The advert, which also includes Bella Thorne and Barbie Ferreira, features celebrities wearing clothes with slurs they've been called by others online.
Nicki wears a hoodie with the phrase 'the bad guy' on it, while Bella wears a T-shirt that says 'slut'.
Diesel says 'the more hate you wear, the less you care' in its advert, but viewers have questioned its casting.
Both Jerome Trammel and Wanna Thompson claim to have been bullied by Nicki.
Jerome claims Nicki Minaj encouraged fans to attack him after he criticised Nickifor 'slut-shaming' in an interview with Elle magazine.
When Wanna questioned the lyrics on Nicki's 2018 album Queen, she claims to have received direct messages from the rapper, who later contacted her employer and got her fired from an internship as a music journalist.
Nicki Minaj: 'I didn't respond to that lady'
Wanna told Newsbeat in August that receiving direct, abusive messages which appear to be from Nicki Minaj's Twitter account was "heart breaking" as she was a fan of the star.
"I was flabbergasted because I thought the page was fake," said Wanna at the time.
"I kept on trying to refresh my twitter to see if it was a parody page. Maybe it was someone who copied everything about Nicki Minaj's profile and they're trying to get a rise out of me, but to my surprise, it was real."
Nicki denied contacting Wanna in an interview shortly after the writer made her comments.
Diesel has responded to some of the criticism on Twitter explaining why Nicki was chosen for the campaign.
"Our enemy is hate, not haters," said another.
Nicki hasn't addressed the backlash, but said critics like to label her a 'bad guy' in an Instagram post promoting the advert.
"You need people like me. So you can point your finger and say: That's the bad guy," she wrote.
Comments
comments