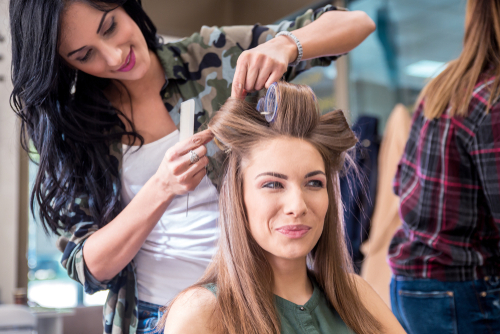 7 Beauty Secrets Main Line Area Salon and Spa Owners Swear By
From eyelash extension maintenance to finding the right color foundation, these insider tips will help you refine your beauty routine.
Lashes 101
Want to get the most out of your faux lashes? Tien Nguyen Balan, co-owner of Zazen in West Chester, has become one of the region's leading experts. Clients travel for hours to get extensions at Balan's chemical-free salon.
Balan's first piece of lash advice? Wash them at least once a day—twice if you have oily skin. "A lot of people are scared to wash their lashes, so they end up with grimy- looking lashes," says Balan. "Lashes last longer if they're clean."
But that's no easy task. Lashes get caked with dead skin cells, facial oil, bacteria, eye makeup and foundation. Most of the build up is on the lash line, so the whole area needs to be thoroughly cleaned, Balan says.
But don't use makeup wipes. "They contain oil and using them on extensions is a big no-no," says Jill Radka, an esthetician and makeup artist at Amelia Paris in Glen Mills. "Those wipes will make your lashes fall out faster."
Balan suggests foaming face cleanser, organic baby shampoo or a product specially made for lash extensions. You can also create your own. "First, dilute Johnson & Johnson baby shampoo with water," Radka says. "Then use a spoolie or your finger tips to roll the mixture through the lashes."
Just be sure not to rub or wipe.
Another lash no-no is mascara. "One of the biggest mistakes people make is putting it on their lash extensions," says Radka. "The extensions have enough darkness and drama as is."
Balan agrees: "When I see mascara on clients' lash extensions, I cringe. It's not needed, and it damages the lashes."
Be careful with anti-aging eye cream, warns Balan. "Put it on 30 minutes before bed so it absorbs into the skin," she says. "Otherwise, lashes are lying in the cream all night."
And you should never curl your lash extensions. "That bends them in the wrong directions," Balan says. "Lashes come in different kinds of curl, so if you want something different, express that to your lash artist."
Finally, don't remove your own extensions. "No rubbing, no picking, no pulling," Balan says. "Have them taken off by a lash artist so your real lashes don't get harmed."
Balan's top-secret at-home suggestion: lash serum. Use it to build up thin, fine lashes, even when you're wearing lash extensions.  She recommends serums by Rodan + Fields, Latisse, Bella Lash and GrandeLASH MD.
Brow Magic
Having eyebrows professionally waxed is a great beauty booster. "Brows frame your whole face, and getting the right shape and color is really important," says Kim Sinicropi, owner of Grazia Skin Care Studio and Spa in Malvern.
That's especially true for those who've tweezed themselves into trouble. "Skinny isn't the same as having a brow shape," Sinicropi says. "Also, the brow arch can be misplaced or the tail can be missing."
Color is another issue. Like other hair, brows turn gray. Darkening them with tinting is a great and inexpensive option, Sinicropi says. But that should really be done in a salon. Brow powder is a good DIY solution, says Sinicropi, who prefers powder to pencil. "First use a wax pencil to tame the brows, then apply the powder," she adds.
Microblading is another option. The semi-permanent tattoos make brows look perfect 24/7, and they last about a year. Microblading has to be done by a certified professional like Sinicropi or Balan, the latter who pioneered the technique at Zazen. The cost is north of $400, so to get their money's worth, clients should follow Balan's guidelines.
First rule: Don't get brows wet for two weeks after the procedure. No sweating or swimming; salt water can pull out the pigment in the tattoos. Sleep laying flat on your back so the tattoo doesn't rub off on the pillow. Protect brows from the sun and keep them moisturized. "Use whatever products you use on your face," Balan says. "But make sure you put them into your brows."
Maintenance is minimal, and stray hairs can be removed with tweezing, an eyebrow razor or waxing.
Blowout Secrets
Get a good shower cap. Nothing kills a blowout faster than moisture, says Cheyenne Reczek, manager of Cherry Blow Dry Bar in Glen Mills. "People think they can clip their hair up in the shower and that will work, but that doesn't protect it," she says. Use a frizz-fighting shower cap, preferably one lined with terrycloth.
Invest in silk pillowcases. "They are the best bet for not messing up the style," says Monica Rivera, co-owner of Privè Salon & Style Bar in Newtown Square. "Cotton pillowcase can create frizz. Satin allows hair to glide smoothly and avoid bedhead."
Sleep in a scrunchie. Prevent tangles by putting hair in a high ponytail right before bed. "Rubber bands crease, but a soft scrunchie on top of your head will maintain the midshaft and ends of the blowout," Rivera says. "I love scrunchies—I swear by them."
Use dry shampoo. Go from greasy to glam with the right type. Apply the dry shampoo to the roots and work it through your strands, especially the hairline around your face. Get one enhanced with protein that acts as a root booster. "It's a great way to keep hair soft, strong and clean," says Reczek.
Don't shellac your tresses with hair spray. "Clients often get blowouts with waves or curls that they want to preserve," Reczek says. "But spray that makes hair hard and crispy eventually gets soft, making hair go limp and dirtying the whole style." Get a non-stick, alcohol-free spray. "You want hair spray that dries instantly so it doesn't get sticky but does create long-lasting, moveable hold that looks soft and natural," says Reczek, whose favorite is Blow Pro's Blow Out Spray, which has a silk protein that adds gloss and enhances texture.
Expert Exfoliating
Removing dead skin cells is one of the secrets to creating a healthy facial glow. Yet too many people exfoliate incorrectly or not all. "We do need to exfoliate to speed up cell turnover, which slows down as we age," says Sinicropi. "But over-exfoliating can harm the skin."
Start by getting a professional facial and a skincare analysis from an esthetician. Everyone has different skin—dry, oily, combination, sensitive, sun-damaged—and estheticians can recommend exfoliation products and regimens.
Generally, you should exfoliate just a few times a week, says Kristie Cole, owner of Cole Wellness Spa in Wayne. Evening is the optimal time. "That way, your nighttime hydration products sink into the skin while you sleep," says Cole.
Beware of over-the-counter exfoliation treatments. Most contain harsh additives that dry out skin. "Don't over stimulate or dry the skin," Cole warns. "That causes inflammation and the production of more oil—and that makes acne worse."
That's especially true for teenagers grappling with hormonal changes and pores that are still developing. Cole offers a special teen facial that detoxifies skin, then nourishes it and calms inflammation. Teens also get a heaping helping of education. "We want to make sure they're doing the right at-home care," Cole says. "A few changes to their routines can alleviate their acne."
Teens aren't the only ones dealing with hormonal changes. Their mothers may also need to change their beauty routines.
Masks with enzymes and botanical ingredients are good choices for exfoliating and moisturizing, Cole says. Sinicropi agrees, but cautions against using the wrong products. "An oily T-zone isn't a good place for a clay mask," she says. "On the other hand, charcoal generally detoxifies the skin, and hyaluronic acid is another good plumper."
Still, Cole and Sinicropi say to exercise caution. Treat yourself to a facial, they advise, and get an expert's opinion on what products to use.
Extend Your Hair Color
Is your salon color fading fast? "Your home's water is crucial," says Rivera. "If you have hard water or well water with copper or another mineral, that will show up in your hair color."
Blondes are especially at risk. "That tint can appear after just one shampoo, and it's not undoable," Rivera says.
Get a filter for the showerhead, Rivera advises, and use clarifying shampoo and color-safe conditioner.
Chlorine is another color killer. Rivera has a simple solution for people who swim frequently. Before you get into a pool, wet your hair in the shower or a sink. "Your hair is like a sponge," she says. "Fill it with non-chlorinated water first so it won't absorb the pool water."
Wash your hair immediately after the pool, and use a clarifying shampoo.
Even the best colorist can't prevent roots from showing, but concealer is a great option. Don't use over-the-counter brands, since they're permanent dyes that aren't matched to your hair. Instead, ask your colorist for a salon brand. Privè Salon & Style Bar carries Keratherapy's Gray Root Concealer, an inexpensive spray that's available in a range of colors. "It's a quick fix that shampoos out and doesn't effect your salon results," Rivera says.
Mismatched No More
Thanks to Rhianna's Fenty line and other cosmetic brands, foundations now come in many shades. Still, most women buy the wrong color. "It's the biggest mistake made because it's actually difficult to match foundation to your face," says Jordan Johnson, an esthetician and makeup artist at Amelia Paris.
Always test the shade. If possible, ask for help in color matching before you spend money on the wrong products. And don't try to look tan by using a darker shade of foundation. "Buy the right foundation, then add color with blush and bronzer," Johnson says.
Don't forget the neck. "It should not be a different color from your face," Johnson says. "Blend, blend, blend."
And don't skip powder. "Get one that's neutral for your skin so you can use it for touch ups," Johnson adds. "Don't use bronzer for touch-ups. It'll be too much."
Foundation isn't the only choice for coverage. Johnson suggests tinted moisturizers and BB creams.
The C Secret
"My biggest pointer is to use Vitamin C serum in the morning," Cole says. "It's a strong antioxidant that boosts hydration, reduces fine lines and brown spots, and creates a healthy glow."
Sinicropi concurs. "Everyone knows about getting Vitamin C through food or supplements, but few people know about it as an anti-aging tool," she says.
Get it in a serum that has a thin consistency so the skin absorbs it. And use it every morning before applying moisturizer, sunscreen and cosmetics.
Comments
comments