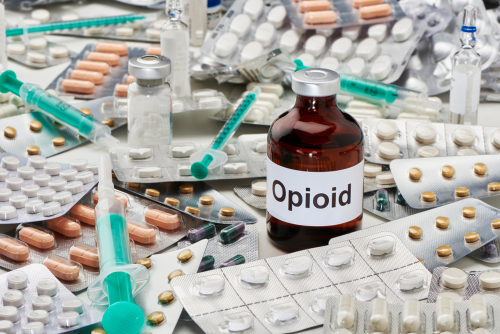 While America wages war on opioids, meth makes its comeback
For Capt. Mark Wollmershauser Jr. and the Tulsa Police Department, the late-2000s and early 2010s were an extremely dangerous time.
In Oklahoma, a state that is no stranger to the scourge of methamphetamine addiction, those years were the heyday of the "shake and bake" method — a rudimentary way of making meth using just cold medicine, some toxic chemicals and an empty two-liter bottle.
The technique is simple enough that many addicts can cook their own meth, but with one tiny misstep, the chemical reaction that occurs inside can cause deadly explosions.
By 2011, Wollmershauser and his narcotics unit were finding and dismantling hundreds of these vessels in meth labs around the city.
"People were not just burning themselves while cooking meth but were causing damage to other residents that had nothing to do with methamphetamine," he said. "It was a really horrible time."
When new laws were enacted to limit access to pseudoephedrine — an allergy drug used in making meth — the proliferation of these mobile labs waned. After responding to a high of 431 meth labs in 2011, his department encountered just 19 last year.
But Wollmershauser said that didn't spell the end of Tulsa's meth problem. In fact, officials across the state say they are seizing meth that is purer, cheaper and in greater quantities than ever before, with most of it coming from south of the border.
And while much of America is focused on combating the devastating impacts of opioid addiction, some states like Oklahoma are struggling to fight a new battle against an old foe.
The role of Mexican 'superlabs'
Richard Salter has been with the Drug Enforcement Administration for 27 years, most recently as the special agent in charge for the state of Oklahoma.
He said the meth problem in Oklahoma is getting worse, and points to Mexican cartels — in particular, the powerful Sinaloa cartel — as the reason.
As it became more difficult and dangerous to produce meth in the United States, cartels recognized an opportunity to fill the void.
"They came in with much purer, much cheaper meth and just flooded this region of the country," Salter said.
Comments
comments