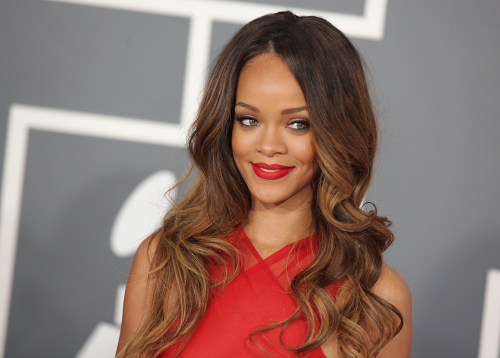 Rihanna Unveiled Part of Her New Holiday Collection and It's Stunning
Holiday season is quickly approaching (side note: How is it October rn?!) and you already know Rihanna has BIG plans for some amazing festive Fenty Beauty products. Case in point: On Wednesday, she gave fans a sneak peek of a of a new eye and cheek palette on her Instagram and it's SO gorgeous.
The singer/actress/boss beauty businesswoman unveiled it at an appearance in Sydney, Australia, where it's already available for purchase. However, for everyone here in the U.S. it won't be released until Oct. 12. That means you'll to wait just a *little* longer to get your hands on it, but in the meantime, you can keep staring at the mesmerizing metallic colors.
The shades are described as "fire and ice" due to the combination of fiery, deep hues, like copper and bright orange as well as cool-toned ones like blue and mint green. The super metallic colors can also be all be applied as eyeshadow, highlighter, or BOTH as Rihanna illustrated in her Instagram pic. And, it's the same cream-to-powder formula that she uses in her other palettes, so you know the application will be seamless and easy to blend.
The seven-shade duo palette is just the first product in a whole new #CHILLOWT holiday collection, so there's no doubt Rihanna has some more product teases in store for us. As a major surprise to fans, she recently dropped three additional Stunna shades in one week (aptly named #STUNNAWEEK), so basically if you keep refreshing her Instagram page religiously (like I do), there's no doubt she'll post about more exciting new products soon.
Comments
comments