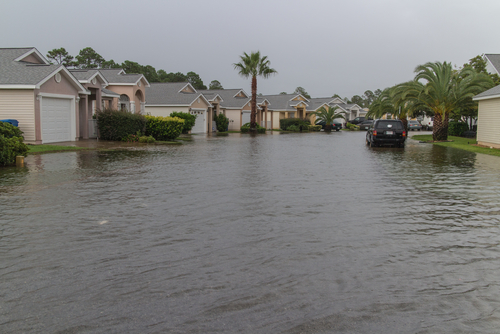 Hurricane Michael flattens beach town like 'mother of all bombs'
Hurricane Michael has all but rubbed a Florida beach town off the map after landing like the "mother of all bombs".
The storm smashed into the state's north-west coast near the community of Mexico Beach on Wednesday afternoon packing 155mph (250km/h) winds.
Over 1.4m homes had no power in Florida, Alabama, Georgia, Virginia and the Carolinas on Friday morning.
One of the most powerful hurricanes in US history, Michael is known to have killed at least 13 people.
Rescuers are still searching for survivors. The storm had moved out to sea off the Virginia coast by early Friday morning.
Michael, which fell just 2mph short of a top-level category five, ripped apart entire neighbourhoods, reducing properties to kindling and rubble.
The hurricane's shrieking winds and wall of water swept row after row of Mexico Beach beachfront homes off their foundations.
The storm was so powerful that it snapped boats in two and knocked over 30-tonne freight rail cars like toys.

By Gary O'Donoghue, BBC News, Mexico Beach
One of the first things you notice as you walk into Mexico Beach is the stillness.
No wind, almost no-one on the street, just the beating hot sun and the debris: debris everywhere, tossed and scattered – the calling card of a monstrous storm.
And then you hear faint bleeping sounds coming from all directions – a dissonant symphony of high-pitched notes that turn out to be myriad small alarms, still transmitting their warnings from the batteries which power them.
On the left, as we walk, there's a mattress slumped at the roadside, on the right a Dean Koontz novel lies in the dirt.
Picking our way through a mass of rubble and detritus that was once a house, we spot an American flag on the ground; in amongst it all there is also a toy car and a cracked glass plate from a microwave.
A little further on, and a woman, accompanied by a friend, is sifting through the remains of her home, loading what she can salvage into the boot of a car. This was her dream retirement place she tells me – the last four years spent doing it up. "I'll never step back in there," she says through her tears.
The sheer force of Hurricane Michael has been well analysed, but it's only when you see the everyday stuff of people's lives crushed, broken, smashed to pieces, that you realise they will be living with this long after we have gone.
One weeping resident of Mexico Beach pictured on CNN struggled to even find her street, let alone her home.
Tom Bailey, the town's former mayor, told the New York Times: "The mother of all bombs doesn't do any more damage than this."
Some 285 people in the community – population 1,000 – defied a mandatory evacuation order and stayed behind to ride out the storm.
Linda Marquardt, 67, who hunkered down with her husband, told AP news agency: "All of my furniture was floating.
"A river just started coming down the road. It was awful, and now there's just nothing left."
An insurance firm, Karen Clark & Company, estimated Michael caused about $8bn (£6bn) in damage.
Motorists had to be rescued on Thursday from cars trapped by high water in North Carolina, a state still reeling from last month's Hurricane Florence.
Flash flooding affected the big North Carolina cities of Charlotte and Raleigh and parts of Virginia. Police said there were five suspected tornados in Virginia.
But it was Florida's Panhandle that bore the brunt of the tempest. Thousands of National Guard troops, police and rescue teams are converging on the area.
US Army personnel have been using heavy equipment to clear away fallen trees so rescuers can reach any trapped residents.
Federal Emergency Management Agency (Fema) crews are using dogs, drones and GPS in the search.
Blackhawk helicopters buzzed overhead, adding to warzone-like scenes below.
"We prepare for the worst and hope for the best. This is obviously the worst," Stephanie Palmer, a Fema firefighter, told Reuters news agency.
Flooding destroyed 1,000 homes in the small town of Port St Joe, not far from Mexico Beach.
Mayor Bo Patterson said: "We had houses that were on one side of the street and now they're on the other."
The number of people in emergency shelters was expected to reach 20,000 across five states by Friday, said the American Red Cross.
Adding to the misery, swarms of gallnipper mosquitoes – which can be up to five times the size of normal mosquitoes – have hatched in the region.
The 13 known storm-related deaths so far are two in North Carolina, two in Georgia, four in Florida and five in Virginia.
Eleven-year-old Sarah Radney, who was visiting her grandparents in Seminole County, Georgia, died when a metal carport near their home was lifted by powerful winds and slammed through their roof.
A 38-year-old motorist in North Carolina was killed when a tree fell on his car near the city of Statesville.
Elsewhere in that state a car passenger died when a tree fell on the vehicle in the city of Marion.
Four people were killed in Florida's Gadsden County, including 44-year-old Steven Sweet, when a tree fell on his home.
On Friday, police in Virginia confirmed five deaths. James King, 45, drowned when his vehicle was caught in flash floods in Pittsylvania County.
The waters were too turbulent for rescuers to reach him, officials say. Three others drowned in that state.
Firefighter Lt Brad Clark died when a truck hit his fire engine on a rain-slicked road at the scene of a crash in Hanover County, Virginia, on Thursday night.
Comments
comments