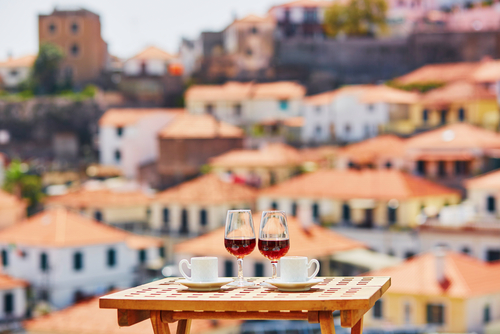 THE OLD-WORLD CHARMS OF A NEW-WORLD DESTINATION
When I took on a brief to cover Madeira and its wine festival, I wasn't expecting to be standing up in the back of an open-top jeep plucking passionfruit flowers off their stalks to drink the nectar inside. Nor was I expecting to still be standing in the back of said jeep while we weaved our way through mountains, villages and plantations, either like some sort of militia or the Man from Del Monte.
We were being driven across the island by the hospitable and mischievous Vald (short for Valdemar, he insisted we shorten his name "as every English person starts calling me Voldemort"). Vald is a Madeiran, and driver for Green Devil Safari, a fleet of 4×4 vehicles perfectly tuned to traverse whatever the steep, exotic mountains of the island have to throw at them. Potholes as deep as a bath, fern leaves larger than a car boot, turns in the road sharper than a u-bend? No problem for Vald and the group of whooping tourists under his care.
While it's not quite The Lost World, Madeira arguably was, until 1418, an undiscovered one. The earliest potential mention of the Madeiran archipelago is by Greek-Roman biographer Plutarch in AD75, who recounts conversations with Atlantic sailors about the legendary 'Isles of the Blest'. There's also archaeological evidence that the Vikings stopped on the islands sometime between 900 and 1030, undoubtedly taking a quick break from exploration and pillaging.
The final claim for discovery of the islands comes from a semi-historical English source (as per usual). As the story goes, in 1346, trader Robert Machim fell in love with Anne d'Arfet, a woman of higher social standing than poor Robert. They eloped, and fled England for France. This went drastically wrong, as their ship was driven away from the coast of France, and 13 days later, arrived on the coast of Madeira. Having escaped England, and found a place to spend their lives together, the star-crossed lovers promptly died of exhaustion. The story has been forever commemorated by the inhabitants of Madeira, who actually named the island's third biggest settlement, Machico, after the romantic pair.
While it's certain that the islands had at least been noted before the Portuguese arrived, there's no indigenous population on the archipelago, a pretty small batch of rocks more than 1,000 kilometres from Portugal, and on a latitude with Casablanca. There wasn't a huge amount of life generally until the 15th Century reign of Portugal's Prince Henry the Navigator. Two captains under his command, João Gonçalves Zarco and Tristão Vaz Teixeira, were driven off their usual course, and miraculously stumbled upon Porto Santo (Holy Harbour, named in gratitude to the divine intervention needed to save them from shipwreck). After catching their breath, they realised they were on to a winner, and brought an official expedition in 1419 to settle on Porto Santo and the larger island they had found: this would eventually become Madeira.
Madeira's volcanic base has created fertile ground for plant life, and the island's 24 (or 20, or 7, depending on who I asked) microclimates cater for what seems to be any nation's landscape. In the space of four hours, our jeep had topographically travelled across most of the world; one particularly odd moment was a blink-and-you'll-miss-it transition from the fresh, pine-filled air and landscape of the Scottish Highlands to the hot, yellowed plains of the Sierra Nevada. Pack a wardrobe, if you can.
For a more manicured look at Madeira, a stay at Quinta Jardins do Lago is a fascinating look at how locals have tamed the wild side of their home. Describing itself as a botanical garden hotel, the grounds of this 18th Century Quinta, or villa, overlook Madeira's capital, Funchal, and pack in as many aspects of the island's natural abundance as possible. Capability Brown would be in awe.
The quinta was also the home of Britain's General Beresford during the Napoleonic wars, and the era's architecture has been retained, giving the hotel an air of plantation opulence seen here and there across the island. The absolute star of the show, however, is Colombo the giant tortoise, who has just celebrated his 60th birthday. Named after Christopher Columbus, who visited Madeira during his time as a sugar trader, wily old Colombo is given free rein of the grounds, but understandably chooses to stay within relative proximity to his plush home in the centre of the hotel's gardens.
Alongside the verdant landscapes, Madeira has produced a few famous faces. Vasco da Gama was possibly the most famous, until Cristiano Ronaldo's free kicks and over-enthusiastic celebrations meant he muscled his way to the top. Thinking it was perhaps a misspent youth treading grapes for the local vineyards that made his feet so supple, I decided to become acquainted more intimately with the Vedelho grape by jumping into a massive vat of the stuff and squelching to my heart's content. Luckily, this wasn't frowned upon, as treading the grapes is part of the island's annual wine festival. An excitable group of young journalists, Madeirans dressed in traditional clothing, and septuagenarian cruise-goers all got stuck in, my shorts were ruined, and I was delighted. I even tried a shot of the resulting juice, and it didn't taste like feet, which was much more than could've been hoped.
Comments
comments