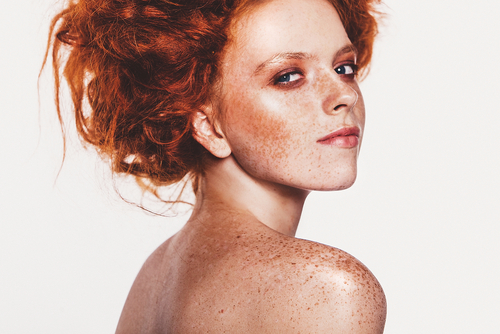 IS TRANSPARENCY THE BEAUTY INDUSTRY'S NEWEST TREND?
THE ORGANIC BEAUTY INDUSTRY IS GROWING, WITH NEW 'NATURAL' BRANDS CROPPING UP LEFT, RIGHT AND CENTRE, BUT ARE ALL OF THE INGREDIENTS USED ACTUALLY ORGANIC, OR ARE WE BEING 'GREENWASHED' INTO SPENDING OUR CASH ON UNCERTIFIED PRODUCTS?
Warning: this article may ignite a real-life Mean Girls Regina George Kalteen bar type realisation, except you haven't unknowingly been eating carb bars on the reg. It's less about what you've been putting into your body, and more to do with what you've been putting on it – for example, that 'all-natural' argan oil face cream you've been slathering on thick and fast…
The organic beauty industry is growing. According to the Soil Association Certification, sales in organic health and beauty products increased by over 20% in 2017, when the market was valued at £61.2 million in the UK alone. The way in which people shop beauty has changed, too. People worldwide are demanding transparency across every aspect of their lives, not least when it comes to beauty. From natural skincare and vegan make-up to sustainable self-care products, consumers now want to know how a product is made, whether it's ethical, and its ingredients before they decide whether they trust that a brand's proposition is worthy of their pound. But what does 'transparent beauty' really entail?
Krupali Cescau, Brand Director at brand experience agency, Amplify, attributes the change in consumer habits to increased education and information surrounding the impact of the ingredients we put in, and on, our bodies. "Food labelling and ingredient transparency have been a hot topic for years but we have also seen a growing focus on looking beyond the immediate; responsible sourcing, environmental impact and carbon footprints. For young people especially, it's no longer enough to take the brand's word for it – they feel that they have been lied to by governments, corporations and the media for long enough. When they choose any product, including beauty products, they want to feel informed and empowered to make the best choices about their own bodies and the world around them."
In other words, we want the truth. Gone are the days in which beauty brands could slap a logo on the front of a product, name check some exotic sounding 'natural' ingredient, and expect it to sell like wildfire. But that's not to say they aren't still trying, with their 'greenwashing' tactics (the act of coercing a customer into buying a product under false pretences). Take, for instance, Boots' Beautiful Hair Moisturise & Nourish Shampoo With Added Organic Argan Oil, which was rated worst out of 25 products in the Soil Association Certification's Campaign for Clarity report which calls out mislabelled products. Argan Oil is boldly called out on the packaging, but it's just one of 16 ingredients, five of which are on the Soil Association Certification's 'Terrible Ten' list that includes components that can cause allergies, damage your immune system, or be toxic to the environment.
"SAVVY-NESS IS A DEFINING CHARACTERISTIC OF TODAY'S YOUNG CONSUMERS. THEY MAY BE DRAWN TO GREENER, MORE NATURAL OR RESPONSIBLE BRANDS BUT THEY ARE NOT BLINDLY BUYING THEM" – KRUPALI CESCAU, BRAND DIRECTOR AT AMPLIFY
"Savvy-ness is a defining characteristic of today's young consumers. They may be drawn to greener, more natural or responsible brands but they are not blindly buying them," says Cescau. "Despite M.A.C stating categorically that they don't test on animals, a young person is only a few clicks away from finding out that in order to sell to the $30 billion Chinese market, M.A.C does indeed need to pay for animal tests (which are performed by third parties) to get a licence. From there, the power of social media takes over."
As the big beauty players attempt to retain control of the market – both organic and non-organic – via uncertified and mislabelled products, it's near impossible to identify greenwashing tactics vs. the real deal, particularly when the semantics of 'organic' and 'natural' beauty are something of an enigma. In the UK, USA and Australia, anything that's certified organic – whether that's food or cosmetics – is manufactured using sustainable practice, without herbicides or artificial fertilisers, synthetic colours, preservatives or chemicals, parabens and sulphates. You can rest assured that organic farms are one of the most environmentally, socially and economically sustainable methods of production. 'Organic' is a regulated term. However, the same can't be said for 'natural'. To put it in perspective, both poisonous mushrooms and snake venom are natural, but we wouldn't recommend rubbing either on your face. When the word 'natural' is used on a product without an official certification label it could mean pretty much anything. Scary, right?
Sophie Williams, Business Development Officer, Beauty and Wellbeing, at Soil Association Certification weignaturelhs in, "In April 2017, we highlighted widespread greenwashing within the industry through our Come Clean About Beauty campaign. We found a range of products on the high street that make organic claims on the labels but contain ingredients that wouldn't meet organic standards. Thousands of people signed a petition to call on these brands to use the terms 'natural' and 'organic' responsibly, or not at all."
So when it comes to decoding misleading labels, how do we know where to start? Thankfully there are many certification bodies helping to ensure that products classified as natural are formed from plants, flowers and minerals, with no trace of parabens, sulphates, petrochemical ingredients or any other harmful substances. It goes without saying that they should never be tested on animals either. While the Soil Association Certification has created their own COSMOS certification label that confirms a product is free from GM ingredients, chemicals, parabens, phthalates, synthetic colours, dyes or fragrances, Brussels-based non-profit Natrue aims to protect and promote true organic cosmetics by working with the European Parliament, and by releasing annual reports to educate consumers.
"OUR RECENT RESEARCH FOUND THAT 77% OF PEOPLE WOULD BE REASSURED IF A PRODUCT WHICH SAID 'ORGANIC' ON THE LABEL WAS CERTIFIED TO AN INDEPENDENT STANDARD" – SOPHIE WILLIAMS, BUSINESS DEVELOPMENT OFFICER, BEAUTY AND WELLBEING, AT SOIL ASSOCIATION CERTIFICATION
"We know from our latest Organic Beauty & Wellbeing Market Report that more people than ever are buying certified organic beauty products (24% growth year to date). There's a clear rise in the conscious consumer, as people are looking for an accredited logo when they shop and choosing products that are effective and align with their own values," says Williams. "Our recent research found that 77% of people would be reassured if a product which said 'organic' on the label was certified to an independent standard." Meanwhile, their wider Campaign for Clarity campaign found that 76% of their panel of 1000 felt mislead upon discovering their products were not certified and that such a realisation would cause 72% of them to lose trust in the brand. With the danger of such negative consequences, you'd expect beauty brands to reconsider the way in which they communicate their products – sadly, that's not always the case.
According to The Fashion Institute of Technology's proprietary FIT Transparency Perception Assessment Survey(2018), consumer trust is driven by three key factors; accountability, transparent communication and alignment with values. While FIT's Masters Program: cosmetics and fragrance marketing and management, 2018 Brand Transparency research identifies that 76% of consumers want brands to ensure safe ingredients. "The new expectation among 66% of consumers is that a brand will transparently share product testing practices, ingredient sourcing (65%) and environmental impact (54%). With the average consumer having four sources or touch points before making a purchase decision, the best way to ensure a brand is communicating the desired information is to include key content across the various touchpoints your consumers leverage. This could include product packaging, on a brands social platforms, online and with retailer partners."
Greenwashing and the mislabelling of products has proved costly for some brands, for example, Jessica Alba's – unfortunately named – The Honest Company that was sued for falsely labelling products as natural, while LUSH – who pride themselves on an all-natural approach – have come under scrutiny on many beauty blogs for the fillers and preservatives they add to their products to extend their shelf life. Or Glossier's Lash Stick that was labelled as vegan, until customers pointed out that it contained beeswax.
Of course, it's not all bad. There's a growing cohort of startups disrupting the beauty scene – whether that's through a what-you-see-is-what-you-get approach to labelling their products, by selling direct to consumers, or by speaking to their audience in alternative ways. Whichever way they're approaching things, there's a key overarching principle: transparency. From clear cut ingredients and pricing to honest communications – many brands are harnessing transparency as their cultural cachet.
Coffee-based, beauty brand Frank Body is an example of a brand that's using true transparency, non-toxic, natural and naturally derived ingredients (like robusta coffee grinds, antioxidant packed cold-pressed sweet almond oil, free-radical fighting vitamin E and sea salt) and a trademark millennial-friendly tone of voice as its ticket to success. Always speaking in the voice of Frank – the personification of frankness – Frank Body makes "natural skincare for the days you don't want to touch your legs and have them feel rougher than your last hangover".
"IT IS IMPORTANT TO CHALLENGE COMPANIES MAKING NATURAL AND ORGANIC CLAIMS" – SOPHIE WILLIAMS, BUSINESS DEVELOPMENT OFFICER, BEAUTY AND WELLBEING, AT SOIL ASSOCIATION CERTIFICATION
Danish skincare brand Nouri is also leading the way with its "100% natural means 100% purity" motto and small batch skincare solutions, formulated from natural ingredients that are free from parabens, mineral oil, petrolatum, phthalates, silicones, sulfates, synthetic preservatives, stabilizers, fillers, fragrances and colourants. Served in minimalistic packaging stamped with a start-by date and an expiry, they formulate their batches every 12 weeks in order to avoid the use of those harmful ingredients often added to extend shelf life.
So how do we ensure that we're not being greenwashed, and that we're buying products from brands we can trust, across the board? According to Cescau, brands need to become more aware of their audience. "They need to understand that they are dealing with a young audience with an inherent mistrust of advertising and growing scepticism of 'claim culture'. They are celebrating brands pioneering real-ness, diversity and body positivity and beginning to shun the unrealistic beauty ideals that have been forced on them."
For Williams, it's about trust-worthy independent certification logos. "These logos represent a rigorous process where everything from farm and lab to finished product is traceable. It is important to challenge companies making natural and organic claims. Asking questions can lead to change and eventually more genuine organic products available on the high-street." She's also a believer in online resources and apps that aid ethical choices, for example, ThinkDirty, an app that allows consumers to scan the barcode of a particular product in order to gain impartial information.
As consumers, we have the right to question what we're putting onto our bodies on a daily basis, not least when it comes to beauty and thankfully it's becoming easier to do so. So if you can't find a valid certification stamp on that 'all-natural' argan oil face cream, trade it in, in favour of a transparent skincare regime from a trusted beauty start-up that's consciously going against the grain. Worried about hidden ingredients? Look to the apps and certification bodies rallying to eradicate greenwashing, while educating us with the knowledge we need to make intelligent decisions. Above all, companies need to take responsibility to honestly say, "this is a natural product" for transparency to become more than just a trend, but as Williams points out, "consumers have the spending power, so purchase with power!"
Comments
comments