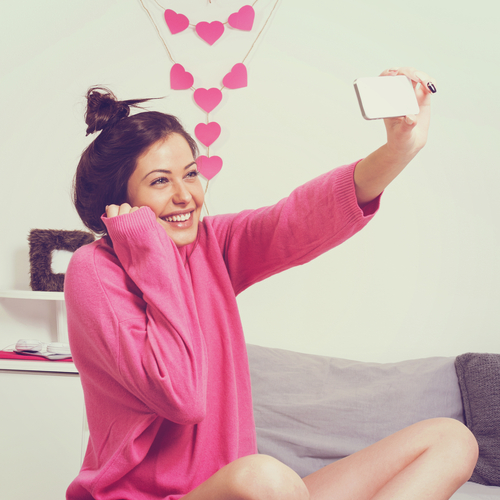 The New Beauty Is From Everywhere and Nowhere
Social media is shaping a new global beauty aesthetic, and we've never looked more alike
Carefully cradling my head in latex-gloved hands, the doctor asked me what my ethnic background was. After replying, the jigsaw that is apparently my face fell into place and became easier for him to fix. My chin needed a lot of work. Botox could open up my hooded eyes, and some filler in the tip would lift and make my sloping, aquiline nose appear smaller.
The 10-minute nose job, hot on the heels of now ubiquitous lip fillers, is fast becoming one of the world's most popular noninvasive cosmetic procedures. It involves dermal filler being strategically injected to heighten, lengthen, slim, or smooth out bumps. With zero downtime and the option for reversal, the appeal is clear, and the results can be nothing short of remarkable.
Aside from sparking a new, all-engulfing complex with my nose, my self-esteem-sucking consultation revealed that even without any input from me, there already seemed to be a cultural blueprint in place for what my face should look like. A racially ambiguous ideal that aims to soften some ethnic traits while amplifying others.
This lurch away from Eurocentric beauty ideals hasn't come suddenly. It's occurring off the back of a diversified celebrity treadmill, thanks to A-list juggernauts such as Jennifer Lopez and Beyoncé. The internet has blown away many of the geographical and cultural confines of how we perceive beauty. The monolith that is now the K-beauty movement in the West arguably wouldn't have blown up without the help of social media. Similarly, Huda Kattan — the highest-paid influencer on Instagram and the businesswoman behind the enormously successful cosmetics line Huda Beauty — incorporates her Iraqi heritage into her products by providing all the tools needed for the trademark Arab style of thick manicured brows, full lashes, and dramatic contour.
But while our access to beauty in different cultures has no doubt diversified, our reaction appears to be enforcing a universal beauty ideal that looks like an exquisite corpse game of cherry-picked "good" features from different ethnicities. Social media accounts such as Found BAE and Found Baddies produce an uncanny stream of photos of beautiful young women with cookie-cutter features, often accompanied by a caption identifying their ethnic background.
The flag emojis may be trying to say, "Look at how beautiful diversity is!" but the look is eerily uniform: full lips, tiny Disney princess noses, catlike eyes, caramel skin, and painfully hourglass figures. This homogenized mass of the ethnically ambiguous "Instagram baddie," as it's now been coined, could, in different lights, be of Latin, Black, Arab, or Asian extraction in a way that is just as unattainable and exclusionary as the leggy blonde bombshell of the 1990s.
The harbingers of the trend are, of course, the Kardashian-Jenners, whose monopoly of the "Instagram look" via racial shape-shifting has evolved into a kind of pathological pursuit — and a lucrative one at that. Kylie Jenner has leveraged her pout to build a cosmetics empire, even after sheepishly admitting in 2015 that she regularly uses lip fillers.
The family has denied having any surgical work done on their bodies to achieve the infamous Kardashian kurves. However, their cosmetic practitioner, Simon Ourian, has made a name for himself by adding volume to backsides across Los Angeles. Using the same nonsurgical technique that can enlarge lips and slim noses, a comically large syringe of hyaluronic filler is used to create the kind of bottom that, although associated with the bodies of women of color, has been popularized by Kim Kardashian.
Kardashian's unabashed flirtation with race — in particular, Blackness — has frequently sparked outrage, from darkening her skin in photoshoots to her famous and ever-changing rear. Her 2014 #BreakTheInternet shoot for Paper, in which photographer Jean-Paul Goude recreated his iconic portrait of Black actress Carolina Beamount balancing a champagne glass on her bottom, did, indeed, break the internet.
But Kardashian's homage stirred up difficult questions about the difference in perception that a privileged, ethnically white woman provoked for displaying her naked butt. The shoot has since become one of many where she treads an uncomfortable line between appreciation and appropriation. But despite her divisiveness, Kardashian's transformation from curvy Armenian "it" girl into the super-exaggerated, racially ambiguous doll she is today has indelibly changed the face of beauty, and of aspiration.
The proliferation of filters and how often we're taking selfies has warped our perception of how we actually look.
Another bizarre addition is Lil Miquela, a "virtual influencer" with 1.5 million followers created by Los Angeles–based tech company Brud. Miquela's often uncomfortably accurate ability to fit into the influencer mold, peppering her profile with captions on mental health awareness and activism, is further intensified by the choice to make her ethnicity as vague as possible. Rumored to be based on Emily Bador, a biracial model, Miquela boasts a following 10 times the size of her white A.I. "rival" Bermuda, but she has also avoided the ire of Black "virtual supermodel" Shudu. First appearing wearing idzila neck rings, dark-skinned Shudu was heavily criticized once it had been revealed she was the pet project of white photographer Cameron-James Wilson. Lil Miquela, however, sits in a literal gray area with her creation as the perfect influencer by being an attractive, ethnically ambiguous robot built to neither offend nor alienate, making for pretty creepy marketing.
Cosmetic practitioners have raised concerns about facial filters and photo editing apps. Our desire to achieve "baddie"-level selfies is now being informally referred to as "Snapchat dysmorphia."
"The first instance was maybe four or five years ago", says Neelam Vashi, director of the Boston University Cosmetic and Laser Center. "Rather than bringing in pictures of celebrities, patients started to bring filtered selfies. You have to make a judgement call on what is a healthy level of dissatisfaction. Taking hundreds of pictures with these filters, to the point that it's becoming a repetitive act, is similar to the mirror checking that you'd see in body dysmorphia."
This is not to say we're desperate for permanent puppy ears or flower crowns. Instead, the proliferation of filters and how often we're taking selfies has warped our perception of how we actually look. Snapchat's default "beauty" filter, for example, subtly slims the face and nose, widens the eyes, and enlarges the mouth, while adding a sepia tint that both tans and blurs out blemishes. Meanwhile, photo editing apps such as FaceTune make it easy to casually tinker with your own skin tone and enlarge or reduce whatever features you want, all with a Photoshop-level finish.
Vashi, however, isn't convinced that this is part of a trend toward racial ambiguity. "There are certain traits or aspects of beauty that everyone finds universally attractive, such as averageness and symmetry or sexually dimorphic features. We tend to find very feminized, fine features in women cross-culturally beautiful."
"But that Instagram look, and what these filters are doing, is giving us a neonate appearance. If you think about a baby's face with the big eyes and a tiny button nose, it may say more about our need for youthfulness than it does about racial ambiguity."
Renee Engeln, a professor of psychology at Northwestern University and the author of Beauty Sick: How the Cultural Obsession with Appearance Hurts Girls and Women, has a slightly different take, pointing out our innate desire to fit in by adhering to what's popular. "Humans are social creatures by nature, and we have a powerful drive for social acceptance," she says.
Perhaps this amalgamation of traits from different ethnicities as "the new beautiful" is a reaction to our world getting smaller. Or it may be a desire to embrace a beauty ideal that reflects the ever more diverse communities we live in. Or maybe it's just another weird and impossible beauty standard that we'll eventually abandon and throw onto the "WTF?" pile, along with womb-crushing corsets, Pamela Anderson–esque boob jobs, and heroin chic.
Thankfully, the very thing driving our desire to fit this problematic mold could also be what snaps us out of it, says Engeln. "One of the good things social media does is allow people to seek out feeds that represent more diversity. So you don't have to have a feed where everyone's face looks the same. You can just opt out."
Comments
comments