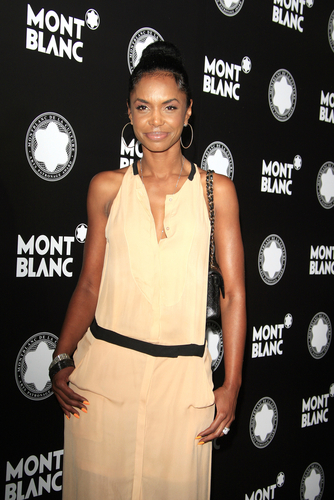 Kimora Lee Simmons says she rushed to Kim Porter's home the day model died
Kimora Lee Simmons recalled rushing to Kim Porter's home last week only to find out her longtime friend had died.
Simmons penned an emotional Instagram post on Monday about Porter, who died Thursday at age 47.
"At your homegoing celebration today it became all too real that you are not coming back," Simmons wrote, in part, in a lengthy Instagram caption along with several photos of Porter. The late model was Sean "Diddy" Combs' ex-girlfriend and mother of their three children.
"I cannot stop crying but I will be strong for you. Gone WAY too soon. Wtf. I am in shock. To my beautiful friend and sister, I love you," she added. "This is unbelievable. When I first heard the news, I was angry that someone would play such a stupid ass joke."
Simmons said she was told Porter was sleeping, prompting her to rush to her friend's home on Thursday.
"They said you were in your room sleeping. Aoki and I rushed to your house to tell you to 'get up and come your ass outside!' But soon as i arrived I realized you would not come," Simmons said. "Every room I walk into now I think, 'ok, I will just go and get Kim.' But I see that I cannot. This is all too close and too sad."
Simmons said she and Porter were "so alike in so many ways" and have dealt with several life events together.
"We've been married, given birth, raised families, gotten divorced, experienced death and everything in between-together. You are a great mama. Between us we have 8 kids who are all cousins. We are, and will always be-a family. I will look after yours and you will look after and guide us all," What a beautiful, loving, sassy soul to have lost. We love you forever. May God bless your journey. We will never stop crying for you," the fashion designer said.
On Sunday, Diddy broke his silence on Porter's death, saying he's been "trying to wake up out of this nightmare." He paid tribute to the mother of his children by posting several photos and videos of her.
"I don't know what I'm going to do without you baby. I miss you so much. Today I'm going to pay tribute to you, I'm going to try and find the words to explain our unexplainable relationship," he posted on Twitter.
Porter and Diddy dated for 13 years and share three children — 11-year-old twin daughters Jessie James and D'Lila, and son Christian Combs, 20. She also shared 27-year-old son Quincy from her previous relationship with R&B singer Al B. Sure!
According to TMZ, citing law enforcement sources, police received a call to Porter's Los Angeles home around noon. Per the site, the 911 call reported "a patient in cardiac arrest."
A source also told the outlet that Porter had been suffering from "flu-like symptoms" for several weeks, but it's still unclear how she died.
Comments
comments