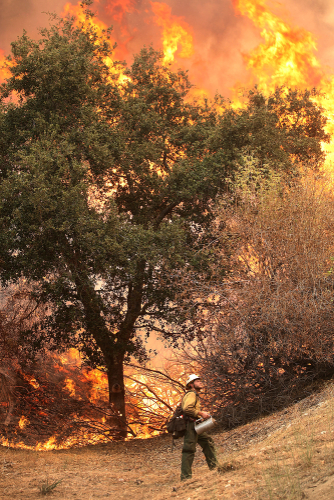 Interior Secretary Zinke blames 'radical' environmentalists for contributing to wildfires
"The radical environmental groups … would rather burn down the entire forest than cut a single tree," Zinke said.
nterior Secretary Ryan Zinke on Tuesday in part blamed "radical environmental groups" for contributing to wildfire conditions.
Zinke, in a conference call on Tuesday, said "every time there is a thinning project out, who's suing?" when he was asked about President Donald Trump's much-derided tweets and commentsabout "forest management" made as the deadly Camp and Woolsey fires raged and during a visit to the state last weekend.
"When lawsuit after lawsuit by, yes, the radical environmental groups that would rather burn down the entire forest than, than cut a single tree or thin the forest," Zinke told reporters. "And it's easy to find who, who is suing, and who promulgates these destructive policies."
His comments came as as firefighters were making progress in battling two major wildfires in California, one of which is the deadliest in recorded state history with at least 79 dead.
Comments
comments