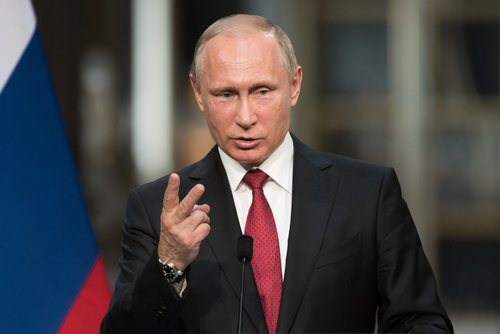 Ukraine-Russia sea clash staged, says Putin
Russian President Vladimir Putin has accused Ukraine's leader, Petro Poroshenko, of trying to boost his ratings ahead of 2019 elections with a naval confrontation off Crimea.
Russian FSB border guards opened fire on two Ukrainian gunboats and a tug before seizing the Ukrainian crews.
"He had to do something to make the situation more tense," Mr Putin told an investment forum on Wednesday.
Ukraine has denied the charge, calling it a Russian "act of aggression".
Mr Poroshenko has declared martial law for 30 days in response to the crisis.
The decision, backed by parliament, affects 10 Ukrainian border regions, and the Ukrainian leader made clear in a TV interview he thought the country was under threat of "full-scale war with Russia".
"Don't think that it is fun," he warned.
All 24 captured Ukrainian sailors have now been given two months in pre-trial detention by a court in Russian-annexed Crimea.
What happened off Crimea?
At least three of the Ukrainian sailors were wounded on Sunday as tensions spilled over near in the Kerch Strait, the passage between the Black Sea and the Sea of Azov off the coast of Crimea.
The peninsula was seized from Ukraine in 2014 and annexed by Russia shortly afterwards.
The three boats were sailing from Odessa to Mariupol, a major Ukrainian port on the Azov sea, when they were confronted by four FSB vessels.
Both countries agreed to share the sea in a 2003 treaty, but Russia's decision to open a bridge across the Kerch Strait this year exacerbated tensions.
Ukraine says Russia is deliberately blockading Mariupol and another port, Berdyansk, preventing ships from getting through the Kerch Strait.
What did Putin say?
"It is undoubtedly a provocation," the Russian president said, adding that it was organised by Ukraine's authorities "and, I think, the incumbent president in the run-up to the Ukrainian presidential election in March 2019".
Mr Poroshenko was languishing in fifth place according to opinion polls, he asserted, adding that the Ukrainian president's decision to impose martial law after a mere "border incident" had not even taken place at the height of the conflict with pro-Russian separatists in the east in 2014.
He insisted that Russia's military response was appropriate as the Ukrainians had "trespassed" into Russia's territorial waters, arguing that even before Crimea was annexed they were Russian waters.
"This political froth will die down," he suggested, hours after Russia announced that it would send a new S-400 surface-to-air missile system to Crimea next month, to join the three already deployed this year.
How has Ukraine reacted?
Martial law is being implemented across Ukraine's border regions.
The state border service said it had been put on full combat alert and a number of other potential restrictions could be imposed.
Mr Poroshenko initially called for a 60-day period of martial law but when domestic critics suggested he wanted to delay the March 2019 presidential vote he halved the period, so that "it will not overlap for one day with the start of the election campaign".
Condemning Russia's "act of aggression", Ukraine has pointed to the fact that the Black Sea is free to all shipping and also that under the 2003 Sea of Azov treaty both countries have access to it.
Western governments have backed the Ukrainian argument and US President Donald Trump has said he may cancel a planned meeting with Mr Putin on the sidelines of the G20 summit in Buenos Aires later this week.
"Maybe I won't even have the meeting. I don't like that aggression. I don't want that aggression at all," he told the Washington Post.
Comments
comments