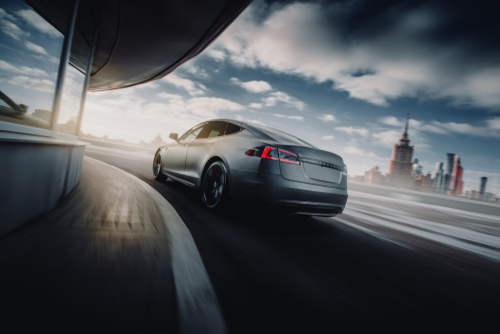 Tesla rival Faraday has come unplugged
Battery-electric car company Faraday Future appears to be teetering on the brink of insolvency, according to one of its co-founders, who tendered his resignation Tuesday.
Nick Sampson's departure came barely a week after an unspecified number of Faraday employees were laid off, with a second mass "furlough" in the works at the beginning of November. Though billed as temporary, the company is out of cash and there is no clear source for the funds it would need to survive.
"The company is effectively insolvent in both its financial and personnel assets, it will at best…limp along for the foreseeable future," wrote Sampson, following his resignation, adding that he "will leave the company, effective immediately."
Founded in 2014 as a Tesla competitor, Faraday has gone through a series of financial setbacks that have forced it to repeatedly delay plans for the roll-out of the autonomous and all-electric FF91 supercar that was supposed to have gone into production by the end of this year.
If, as now seems likely, Faraday can't find yet another White Knight to bail it out, the company that insiders call "FF" would join a large and growing list of once-promising battery-car companies that failed to challenge the established automotive order. That includes start-ups like LeEco which, like Faraday Future, was initially backed by Jia Yueting, an Asian entrepreneur who was widely known as "China's Steve Jobs." But when the tech billionaire ran into financial trouble two years ago, he was forced to pull back on his promised support for the two companies, throwing both into chaos.
Things weren't supposed to work out that way when Faraday unveiled the FF91 at a splashy event at the Consumer Electronics Show in January last year. If anything, it promised to launch production of the autonomous electric supercar two years later at an all-new assembly plant outside Las Vegas. But, within months of the unveiling, things started to unravel. Faced with personal financial issues and troubles with Chinese regulators, Jia had to back away from his commitment to both LeEco and Faraday. And FF soon announced plans to abandon the Nevada plant.
It subsequently lined up a seemingly promising new backer, China's Evergrande Health Industry Group, and so, with a promised $2 billion in new funding, it announced it would buy an existing factory in Hanaford, a small town in the San Joaquin Valley.
But, once again, things didn't work out as planned. After pumping in $800 million, Evergrande decided to back out of the deal, leaving Faraday even deeper in the hole, even as work on the FF91 moved rapidly forward. The company sued the Chinese backer in Hong Kong but, just last week, won what could best be described as a Pyrrhic victory, with a court giving Faraday preliminary permission to start searching for a new backer.
Barring a last-minute reprieve in the form of a new cash infusion, analyst George Peterson of AutoPacific, said "I don't see how they can survive."
The company declined to say how many of its approximately 1,300 employees were laid off last week and how many more will be affected by the upcoming "furlough." But it did confirm that another senior executive, Peter Savagian, Faraday's senior vice president of technology and product development, resigned on Monday, a day before Sampson tendered his own resignation. Industry sources say a number of other ranking managers and executives have also departed in recent months as the carmaker's financial woes have worsened.
Faraday spokesman Jacob Brown told NBC News the company is having to consider "drastic measures," though he added that Faraday's remaining management team is looking to raise "$500 million, which will jump start everything and, hopefully, get everything started back up again."
The odds aren't looking particularly good, said Peterson. The environment has changed dramatically since the beginning of the decade, when a number of potentially promising start-ups targeted the battery-car market, betting they could get a jump on traditional automakers reluctant to give up on traditional gas and diesel technology.
There's a long list of battery-car start-ups that have come unplugged, including Bright Automotive, AMP, Coda and Fisker Automotive — though the assets of the latter company were purchased by Chinese investors and have been brought back to life as Karma Automotive.
California-based Lucid Motors recently grabbed a lifeline thrown it by the Saudi Arabian sovereign investment fund in the form of a $1 billion investment. But it is far from certain it will ever make it into production, never mind turn into a successful enterprise.
Of all the battery-car start-ups, the only one given a fighting chance is Tesla, which recently shocked investors by delivering a $312 million third-quarter profit, rather than the widely forecast loss. Even then, plenty of short-sellers continue to be betting against the company, and the Justice Department is investigating whether Tesla has fudged its production numbers, something that might impact that reported profit.
Even if the numbers prove accurate, Tesla still has to face down a wave of new electric models coming from established automakers like General Motors, Toyota, and Volkswagen.
If Tesla survives, Peterson said it's likely to be difficult, if not impossible, for other start-ups to pry open the door.
Comments
comments